One reason why I love children's books is their power to move, affirm, delight and inspire. It amazes me the scope of emotions and topics they cover. When I needed help explaining to my daughter what voting and election day were all about, they were there.
I turned to books like If I Ran for President by Catherine Stier and illustrated by Lynne Avril and Grace for President by Kelly DiPucchio and illustrated by LeUyen Pham. My daughter could see herself in the picture of the brown-skinned Grace who decides she wants to run for president one day after hearing there has never been a woman U.S. president. She could see her baby brother in the face of the boy on the cover of If I Ran For President. In those images, she saw an America of possibility, a place where any child can aspire to hold the highest office in the land.
Yesterday, we had an election night party. We let our daughter vote on her favorite colors, snacks, TV shows and activities. We sang My Country Tis of Thee and America the Beautiful. We talked about the American flag and what freedom and justice mean.
Before Sen. Obama became President-Elect Obama, my 4-year-old asked me to write down her request of him should he win.
Dear Mr. Obama:
Please give the children food and drink, play time, a place to be safe and love. Thank you.
She fell asleep before the results were announced — and Barack Obama strode into history as the first African-American president-elect. But to see her laying on the couch clutching her Obama doll, with an American flag pi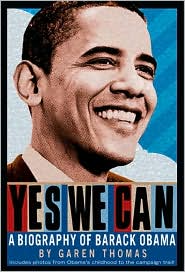 nwheel and her red, white and blue bear by her side touched me more than words can say. 
I'm so full today that I struggle to explain the enormity of this moment.  The road has been so long and pocked with sorrow and sacrifice that I don't know where to start. But there's been hope and promise on this journey too, that sustained us like the enduring faith and soaring Negro spirituals that let our ancestors know that liberty was on the way. President-Elect Barack Obama is the face of hope, change, freedom and much more.
I'm blessed that I don't have to struggle to find the words to explain Barack Obama's amazing journey. Children's book authors are there for me again. Here are two books that explore the incredible life of President-Elect Barack Obama:
Barack Obama: Son of Promise, Child of Hope is a beautiful picture book collaboration of award-winning author Nikki Grimes and award-winning illustrator Bryan Collier.
Here are some reviews:
 "One day Hope stopped by for a visit," begins this biography, narrowly framed as an exchange between an African-American mother and her son. They sit together on a "frayed" sofa in a "tenement" as she tells him who "Braco-what?" is and why he is so special; at the end she blinks back tears when he tells her that he, too, wants to be president when he grows up. (Hope later talks to Barack Obama, as does God.) Grimes (Bronx Masquerade) approaches her themes with a heavy hand, starting with her treatment of race as she describes "his mama, white as whipped cream,/ his daddy, black as ink" (she gets at awe similarly: "Barry's mom married/ a man named Lolo/ and-Oh! The wonderland/ he took Barry to: Indonesia"). Collier uses watercolor and collage, a choice he explains as a metaphor for the way Obama has "piece[d] life's issues together to create a courageous vision for the world." There is much to find in each composition (artfully placed photo images, batik patterns, etc.), but the illustrations often feel static and a few (like the one in which a single tear streams momentously down Obama's cheek), stagy. Ages 5-10."
— Publisher's Weekly
"When David wonders why all those people on TV are shouting one man's name, his mother tells him Barack Obama's story. Accompanied by Collier's trademark, powerful collages, Grimes's storytelling voice, heavily tinged with the gospel rhythms of the black church, relates the particulars of Obama's youth, from his childhood in Hawaii and yearning for his estranged father, to his days as a community activist in Illinois, in the Senate and, most briefly, his presidential campaign. David's questions and his mother's responses punctuate each double-page spread, never letting readers forget the story's frame. It's a contrivance that works, perhaps because it's so obviously informed by the author's own passion, described in a concluding note. Based primarily on Obama's Dreams from My Father (2004) as well as other sources, this work stands on shaky nonfiction ground, as Grimes admits to taking artistic license; most troubling are unsourced quotations within the text. Still, of the three candidates' picture-book biographies out this season, this stands as the one most likely to communicate to children on a visceral level. (author's, illustrator's notes, resources, timeline, family tree) (Picture book/biography. 5-10)"
— Kirkus
For older readers, Garen Thomas has written a wonderful biography of Barack Obama called Yes We Can. Check out the reviews below: 
"Readers in search of insight to this political icon's personal history will not be disappointed. From his personal trials and tribulations regarding identity issues of race and home to his struggles accepting his absentee father and his successes and setbacks in the academic and political arenas, Thomas recounts Obama's life story in compelling detail. Although he has seen his share of disappointments and tragedies, Obama's commitment to the importance of family and the need for change in America shines brilliantly. First identifying in kindergarten his desire to become president, this biography reveals exactly how far Obama has come, how hard he has worked to earn the Democratic nomination, and how close he is to accomplishing his dream. Thomas demonstrates an extensive knowledge of Obama's personal and political lives. The biography is at once entertaining and informative, with a healthy mix of personal anecdotes and political and social discussions. Although it broaches topics such as racism, apartheid, poverty, and the politics of America, it does so in a fair and balanced way. The book is peppered with thought-provoking quotes from an array of Obama's speeches, photographs from his childhood to the present, and text-box insets that provide additional information on subjects with which readers may not be familiar, such as superdelegates and campaign fundraisers. Written in narrative form, it is a quick, engaging read that with a bit of encouragement will appeal to a wide range of readers."
— Voya
"Gr. 5-9. Thomas describes Obama as a "new leader who seems to be granting Americans a renewed license to dream," and maintains an admiring tone throughout. She opens with a look at his Kenyan father and American mother and covers Obama's childhood, education, and early influences. The author also relates his efforts as an adult to learn about his father and his African heritage and to find his place in America. The last chapters chronicle Obama's rapid political ascent and his early victories in the Democratic primary, briefly mentioning some campaign controversies, such as his relationship with outspoken minister Jeremiah Wright. Each section of the book opens with a quote from Obama, and the text is supplemented with black-and-white photos of the senator and his family and friends. Although Thomas does not document her sources, an author's note explains that she draws both from Obama's own memoirs and other published and interview sources. While there is little here that has not been widely reported in the media or adult titles, Thomas's clear prose will help students learn more about the first African American to gain a major party nomination for the presidency."
— School Library Journal