This post has been revised at the request of the author. His statement is below. Thank you for your support:
I just wanted to t
ake the time out to thank every single person that has supported the Ruby and the Booker Boys series since the release of the first two books two years ago. I want to give an extra special gigantic hug to everyone who has come out in support of the continuation of the series, the eventual release of book five, and beyond. My intent, over the past month for doing interviews about the need for the sales in the bookstores for books #3 and #4 to mirror the high amount of sales in the school market was in no way, shape or form intended to throw anyone or entity under the bus. But more so to show that there is an enormous audience that has been begging for decades to see a series like Ruby and the Booker Boys.
The truth of the matter is almost EVERY author goes through what I'm going through with Ruby in regards to marketing and promotion. You have to go in never expecting anyone to care for or know your audience better than you do. The problem is, because of a lack of resources, and other than luck and prayers, we were not able to receive or create the kind of buzz that needs to be built around a successful book or series. Word of mouth has been and always will be the best form of promotion. Most authors are just regular folks that just so happen to be blessed enough, like I was, to land a book deal. All we can hope for is that kind and avid readers/supporters of literacy for children like yo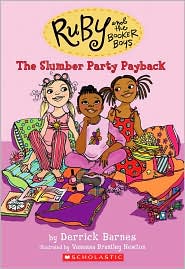 urselves will tell everyone they know to spread the word.
The thing is, this series is like one of my children. I've put a ton of love, passion and creativity into the creation of the characters and sincerity behind the stories. If there is an artist alive who doesn't feel the same way, they are not fit to consider themselves an artist.
With your most appreciated support, I will continue to push for this series to be around like some of the staple chapter book series. Maybe someday we'll see Ruby backpacks, dolls, Booker Boys video games, television shows, the whole nine. I want to take this thing as far as it can go. The true goal of any artist is to hopefully create something that outlives them. No matter what I pen, that is my prayer, as well as to ask the most high to continue to bless me with opportunities to inspire and to be inspired.
Peace and many, many blessings,
Derrick Barnes
You can visit Derrick at www.derrickbarnes.com.
You can fan Ruby & The Booker Boys on FaceBook.