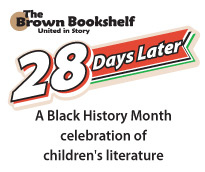 During the twenty-eight days of Black History Month, we profile a different children's or young adult author and children's illustrator, looking for the best new and unnoticed works by African-Americans. From picture books to novels, books fresh off the presses to those that have lurked in the background unsung for months or years. Specifically, we look for:
New books
Books that have "flown under the radar"
Children's or Young Adult books written/illustrated by an African-American (or someone of the African Diaspora)
Books published by a traditional publisher for the trade market
Nominations will be accepted from September 30th to November 1st. To nominate, post a comment here at the website, or email us at email@thebrownbookshelf.com. You can nominate as many books as you like.
Please check out past 28 Days Later campaigns to see who's already had the spotlight.
– The Brown Bookshelf
NOTE: Please note that due to the limited resources of the team, we can only take nominations for traditionally published books. We may highlight a small number of self-published authors for the 28 Days Later campaign, but these authors will be nominated and picked by the Brown Bookshelf team. If you have any questions on this matter, please email us at teambrownbookshelf@gmail.com.