I first became aware of Janet McDonald with her memoir, PROJECT GIRL. I related to her girl-woman journey to Vassar College, NYU Law School, and living abroad in Paris. Through her words, I learned of my own inner strength to accomplish my goals, and most of all that it was possible to achieve them.
So, I was very excited when I found out that Janet had published a YA novel. She transferred her authentic voice to feisty and funny characters. In the worlds that Janet created, she showed how despite inner obstacles or external circumstances, a teen girl can achieve what matters most—self-respect, love, and acceptance.
Whether it be the entrepreneurial sisters Keeba and Teesha of TWISTS AND TURNS, hilarious Aisha of CHILL WIND, or witty Raven of SPELLBOUND, Janet always made a point of presenting a multi-faceted teen girl and the lessons learned on her journey.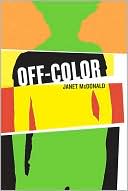 Janet passed away in Paris, France on April 11, 2007, which was a great loss to young adult literature. Her last book, OFF-COLOR, was published last Fall from Farrar, Straus, and Giroux and tells the story of 15 year old Cameron who has to move from her working-class neighborhood to the projects. As with most of Janet's novels, Cameron finds strength with the revelation of her true self. It is one of her best works showcasing what Janet did best—mixing humor, realism, hope, and honesty.
In an interview, Janet reveals why she wrote several novels for teen girls:
"Maybe since I had so many problems growing up and didn't have anything to read that spoke directly to me about my world, I want to put something out there for other girls who might need some kind of encouragement or recognition."
Although Janet is no longer with us, at least her words can live on in the teen girls who read her novels.
Karen Strong is the moderator of the AACBWI List Forum. She is a professional writer for the software industry and currently completing a young adult novel. Her post is the first in an occasional series of guest blog entries by children's book authors, librarians and industry professionals.