Series like NEATE and Kid Caramel published by Just Us Books and Hyperion's Willimena Rules! by Valerie Wilson Wesley helped open the door for more chapter book diversity. Today, more publishers are responding to the need.
The offerings include series created by celebrities — Whoopi Goldberg's Sugarplum Ballerinas and Amy Hodgepodge by Kim Wayans & Kevin Knotts — and series by emerging and established stars in the kidlit field. I'm proud to salute the four series below, including three by previous 28 Days Later honorees.
Please spread the word about these great chapter books and share them with children you know:
 =====================================================================================
Make Way for Dyamonde Daniel (Putnam Juvenile, 2009) by Nikki Grimes, illustrated by R. Gregory Christie. Rich, the second in the series, debuts in late October.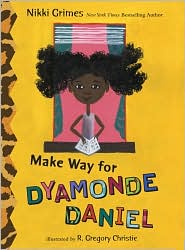 The Buzz on Make Way for Dyamonde Daniel:
"What's the matter with the new boy? wonders third grader Dyamonde Daniel. Free always looks angry and never talks in class, only communicating in grunts. Dyamonde knows what it feels like to be new: her parents' divorce caused her to relocate from Brooklyn to Washington Heights. Yet her friendly overtures are rebuffed each time. When Free scares one of the little kids in the lunchroom, Dyamonde has had enough and confronts him about his grouchy behavior. It turns out that the classmates have much in common, including their unusual names and a longing for their old schools and friends. Dyamonde, smart, assertive, wild-haired, and skinnier than half a toothpick, is a memorable main character, though she sometimes sounds too mature for her years. Yet her actions and feelings ring true. Christie's illustrations flesh out the characters, and along with patterned page borders, contribute child appeal. This is a promising start to a new series of transitional chapter books; suggest it to readers who enjoyed Karen English's Nikki & Deja (Clarion, 2008), another early chapter book about the ups and downs of friendship between two African-American students."
– School Library Journal
"Smart, confident Dyamonde sits in her third-grade classroom and wonders why she's been at her new school for weeks and still doesn't have a best friend. In walks Free, a new student who's so withdrawn and irritable that Dyamonde secretly names him Rude Boy. When plucky Dyamonde challenges Free, he begins to open up and slowly becomes a friend. Any child who is a "new kid" could benefit from contrasting the two main characters: Free tends to look backward to his old life and inward to his emotions, while Dyamonde looks forward to a new best friend and outward to the people and possibilities of her new neighborhood. Clean, direct prose and strong, clear characterizations make this an appealing early chapter book, while Christie's stylized, dynamic drawings give it a fresh look. A welcome addition to the steadily growing list of beginning chapter books with African American protagonists, this is a promising start for the Dyamonde Daniel series." 
– Booklist
 ======================================================================================
Ruby & the Booker Boys: Brand New School, Brave New Ruby (Scholastic, 2008) by Derrick Barnes, illustrated by Vanessa Brantley Newton. Also, check out other titles in the series including Trivia Queen, 3rd Grade Supreme; Slumber Party Payback and Ruby Flips for Attention.
The Buzz on Brand New School, Brave New Ruby:
"Ruby Booker wakens to the strains of her favorite song and loudly sings along to celebrate her first day as a student at Hope Road Academy. Her three older brothers have already established themselves at the school through leadership, academics, personality, and pranks, but Rudy wants to find her own way to shine, in her third-grade classroom and beyond. After going out on a limb to be noticed, though, she realizes that she may have landed in trouble. There's plenty to like in this, the first volume in the Ruby and the Booker Boys series, from the warm portrayal of the African American Booker family at home and at school to the buoyant character of Ruby herself. With large print, wide-spaced lines, and effective black-and-white drawings at intervals, the book will appeal to readers moving into chapter books."
– Booklist
======================================================================================
Nikki & Deja  (Clarion, 2007) by Karen English, illustrated by Laura Freeman.  Also, check out Nikki & Deja: Birthday Blues and the forthcoming Nikki & Deja: The Newsy News Newsletter.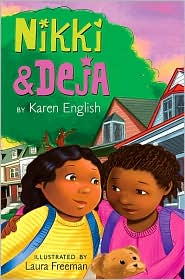 The Buzz on Nikki & Deja:
"As in Hot Day on Abbott Avenue (Clarion, 2004), English explores the intricacies of childhood friendship, capturing the dialogue and experiences with near-perfect tone. Nikki is a budding writer, and Deja wants to be a decorator; the two third graders are best friends and neighbors. Unfortunately, when a new girl moves to their street, this friendship begins to unravel. Antonia isn't very friendly, so in retaliation, Nikki and Deja form an exclusive drill team club and vow to keep her out. When it comes to light that Nikki has no rhythm, the girls' insecurities come to a head, fueled by Antonia's manipulations. Eventually, Nikki and Deja realize how much they miss each other and make up. Nikki and Deja are still learning how to navigate complex relationships, alternating between codependence, jealousy, and stubbornness. And like most youngsters when faced with new emotional experiences, they don't always behave in the best manner possible. The story balances all this angst with humor: a scene in which the girls discover that their teacher actually—gasp!—shops at the same grocery store is priceless. Freeman's black-and-white illustrations depict a multicultural cast. Put this into readers' hands and they'll most likely see the ups and downs of their own friendships reflected."
– School Library Journal
"Accesible writing, authentic characters, an easy-to-identify-with plot and Freeman's appealing black- – and-white illustrations come together smoothly in this straightforward friendship tale."
– Kirkus Reviews
===============================================================================
Sassy: Little Sister Is Not My Name (Scholastic Press, 2009) by Sharon M. Draper. Also, check out Sassy: The Birthday Storm (debuts Oct. 1) and the forthcoming Sassy: The Silver Secret.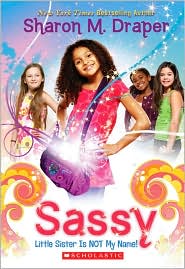 The Buzz on Sassy: Little Sister Is Not My Name:
"Sassy finds her school uniform boring, and she loves shopping at the mall, dressing up, and eating out at fancy places. As the youngest in her African American family, she hates being called Little Sister, but it is hard to get her busy parents to hear her. In fact, she feels pretty invisible at home, except when her beloved Grammy, who first turned her on to reading, comes to visit and performs as a professional storyteller in Sassy's school. Draper is an award-winning teacher and writer, and the classroom scenes, including the teacher's mistakes, are as much fun as the family uproar. Told in Sassy's lively voice, this first title in the new Sassy series is more than a situation, and in the story's dramatic climax, it is the smallest kid who saves the day. Young grade-schoolers will eagerly wait for more about resourceful, "sparky" Sassy and her search for herself."
— Booklist