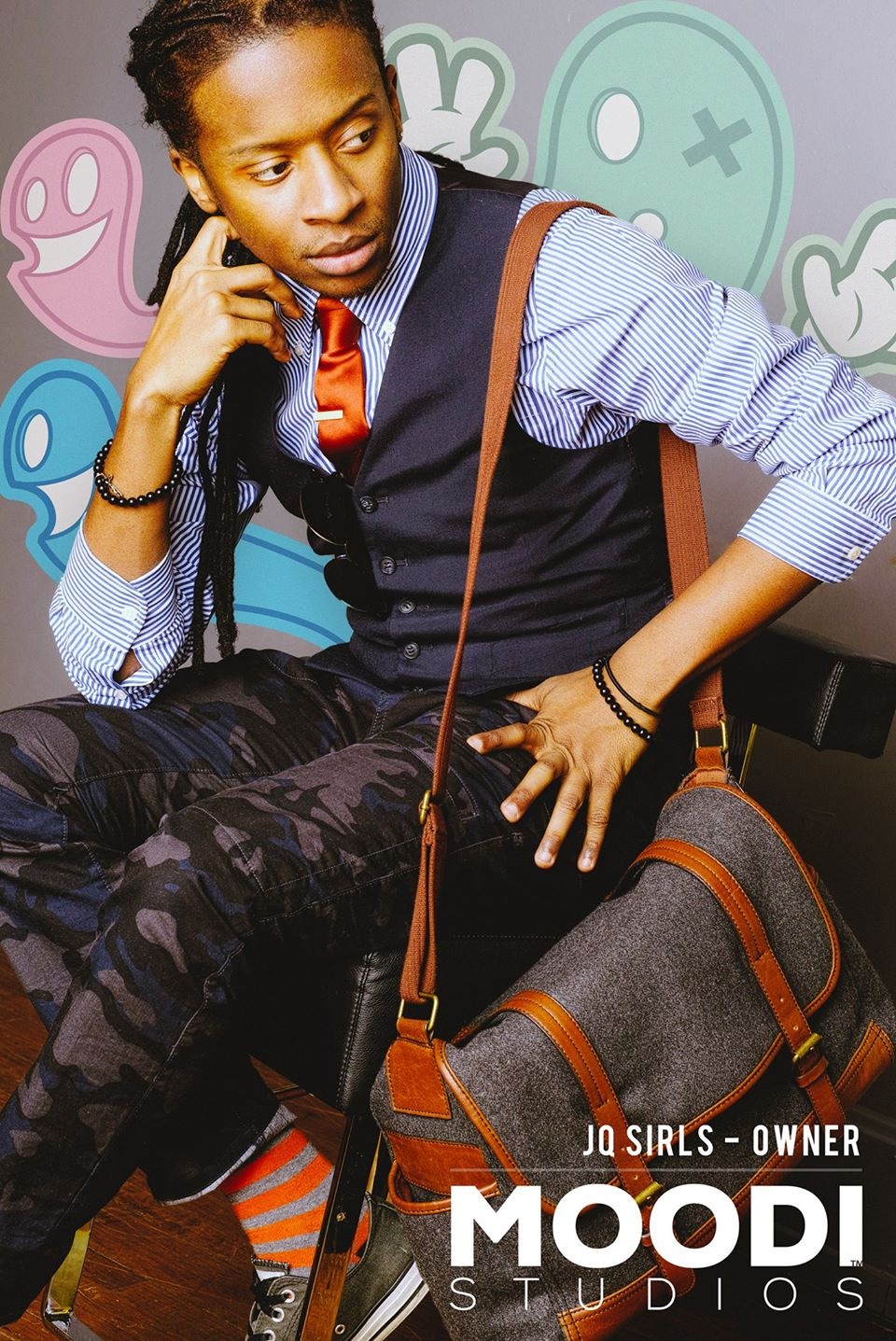 Why I chose Kickstarter to fund my Children's Picture Book
by JQ Sirls
There are many reasons why I decided to go in the route of Kickstarter, all of which stem from a common idea about people in my generation (millennials). People of my parent's generation often claim that we are lazy, entitled, ungrateful, selfish, the list goes on. The truth is that we are a highly observant and instinctual group of people, who have watched how the effects of following certain traditions harmed our parents, grandparents and families in general. 
I witnessed past generations endure jobs that they hated, while missing special moments with their families, only to be laid off later on down the line, for someone younger who will accept less pay. I chose to honor their sacrifice, by using it as a trampoline to aim higher, so that no one in my family will ever have to endure that pain again. I took control of my own destiny by starting my own multimedia company that also publishes books. I would not only publish my own books, but in time, merge multimedia with physical product development to potentially create a whole new market for children's storytellers.
Yes, I could have published traditionally, and done exactly what history's insanity cycle said was the correct path to comfort and happiness. But I witnessed too many others get burned from following that path. Many authors and illustrators of color follow the traditional path of publishing. They publish to critical acclaim, they win many awards, only to end up wondering why their books aren't given the same marketing support as fair skinned creators. I did not want to become another goldfish in the same ocean. These are just a few of the many reasons why I chose Kickstarter over traditional publishing. It was my goal to shift history's insanity cycle, and to create a better path for tomorrow's children's book creators. For the children's book creators who came before me, I want to make them proud.
In 2007, my company, Moodi Studios, wrote and successfully funded our first picture book, No Monster No. The story is about a bold little girl who takes the monster under her bed to school and teaches him manners. I'd heard about Kickstarter through friends whose projects had been successfully funded. I was raised on two core principals: do better than the best you can with what you have and no matter what, keep moving forward because motion itself is a professor. So, without any extra marketing funds or heavy marketing experience, I started a campaign. However, the first campaign failed, and boy-oh-boy, was that an emotionally heavy learning experience. But without that failure, I wouldn't have learned the steps that allowed my second campaign to soar beyond expectations.
Here's what I learned:
1. Focus your fundraising on professional colleagues and social networks. And don't rule out total strangers who are meeting you and your work for the first time. Imagine going to a department store and being exposed to something really cool. You talk about it, share it, and support it with a purchase. Then after you make that purchase, it's like you justify it by getting others to agree with how cool it is and have them get one too. It's kind of like that. They don't  necessarily know you, just the work you represent. Close friends and family will likely be the last to support you — if at all. Keep them informed, though. When they see your success, they may want to join in at a later time.
2. No one is too little or insignificant. You will need to promote your Kickstarter campaign in various
ways — but for now, lets focus on blogs and social networking (Twitter, Facebook, Pinterest etc). When you create a crowd-funding campaign, you are asking hundreds of people to be somewhat tech-savvy and pay for something they can not interact with. That requires trust. Social Media and blog articles create that trust, and trust is equivalent to the rarest stone on earth. Blogs allow you to communicate who you are, what you do and what you are trying to say. Much like what's happening with myself and this very article. Social media, on the other hand, is like cable television where everyday people are searching for new channels to 'follow' for new content. Like television, many people do not want to think. You have to think for them. Your job is to create specific content that cater to the specific needs of a specific audience. You then have to remove the bells and whistles of distraction and communicate your topic simply and effectively. I am still learning this. Once you do that, your following that will come to see you as the foremost authority of a certain topic or product (think Apple and a new iPhone or Oprah and practically anything). Your following will buy whatever you sell and pledge on your crowd-funding campaign through trust. However, If you focus only on big blogs, like Huffington Post, or Buzzfeed, and promote on social media with no clear niche definition, you could miss the golden opportunity to grow outrageously. Smaller blogs (blogs with very little following) should never be counted out as they need content as bad as you need crowd-funding pledges. If the blog grows, you grow. Social media is crowded with millions of people who do millions of things. You will stand out through consistency of posts, clarity of topic, and discipline of work-ethic. If you plan on crowd-funding your book, Trust is your best friend.
3. Define it as it is—crowd-funding is pre-ordering. Never look at your campaign as soliciting  for donations. You are selling a product and getting pre-orders for that product. Market or sell it as anything else and you destroy the cool-factor and lose the magic, as you look like your are begging. Your product is amazing and one of kind. When people make a pledge, they are securing a copy of your first edition. I can't stress this one more.
4. Don't assume that everyone knows about Kickstarter and what it is. Even though Kickstarter has had millions of dollars pledged from millions of users, you have to assume and act as though NO ONE has ever heard of it or crowd-funding before. Then, you must assume that more than half of your potential pledges are people who think the internet is out to get them and steal all their money. Go with that assumption from the beginning and have a clear, holding-of-the-hand method to address it.
5. Create an amazing video.

Luckily for us, we had a cinematographer, video editor, audio engineer, and motion graphic artist on hand to create a nice video. However, with the first campaign, I failed in not having a great shot of me reading the book to kids. I added these features just days before the campaign ended, only reached half of my goal, making it unsuccessful. But I did use the same video for the second campaign that I started just two weeks later that eventually became funded. 
Here is what I learned from the second campaign (that succeeded).
1. There is power in happiness and a positive mind. Basic laws of attraction work here. You have to believe and be happy. It's infectious and people are drawn to it like a magnet. They want what you have. The first campaign I let lack of support and struggle turn me into a stressed out bitter guy — totally the opposite of my own message with Moodi Studios. The second campaign, I approached it with peace and tried to remain childlike and optimistic. My faith changed for the better and I noticed other people noticing it.
2. People tend to help those who help themselves. Many people were moved by my determination to get back up and try again just weeks after the first project failed. If you believe in it this much, then it's worth pledging in to find out why.
3. Don't just post, become social. Don't get on social media and talk at people like a club promoter. Engage in things with them and build a conversation. Let your profile or page say all that is needed to bring them to Kickstarter, with a post or two a day. But engage with people on their topics and ideas. Post a comment and retweet. Being self-centered will not create a following. I highly recommend the book Jab, Jab, Jab, Right Hook, by Gary Vaynerchuk. Whether or not you choose crowd funding, it's a must read if you have a product or service you are selling.
4. "Thank you" goes a long way. There is nothing else more to write on that.
5. Like-ability is golden. You have to be likable and charming. If you aren't, then let your campaign be led by someone who is. Be completely honest with yourself and set your ego aside for the success of the project. No one should want to punch you in the face after watching your video. 
And the biggest step of all:
6. Trust your instincts and embrace failure.I cannot stress that more. If you allow it, your instincts will tell you step-by-step what works and what doesn't work. They already know what you want to do as they are the compass to how you will get there. Kickstarter success is primarily instinctual. It's entire model is to grab and touch the hearts (and wallets) of people. But you have to embrace fear and failure to hear your instincts clearly. My biggest fear during my first campaign, was failure and the embarrassment of everyone seeing that failure. My ego, pride and hinge of doubt caused me to become deaf to my instincts and walk with panic. Following your instincts involve further risk, and when you are already in the midst of a larger risk, taking another is scary. However, when I eventually saw failure and embarrassment from the first campaign, my greatest fears came to pass and they didn't kill me. I was just fine. The book didn't explode and life as I know it didn't end. I jumped off a cliff, expecting wings, but fell on my face instead. From there I learned that as long as you trust your instincts and jump, you can survive the fall. So keep jumping and embrace the fall. Embrace failure.
www.moodistudios.com