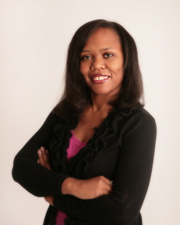 As a kid, I remember seeing a textbook illustration of enslaved people picking cotton. They were expressionless, nameless. When I write a story that explores slavery, I want to show the opposite.
I want to create fully-developed characters that hit you in the heart. I want kids to connect with their feelings. I want children to have a new understanding of familiar objects like a conch shell or a broom and their meaning in enslaved people's lives.
I want to crush the myths of the "happy slave," "helpless slave," "hopeless slave" and honor the unbreakable spirit of children, women and men who survived the unthinkable through intelligence, creativity, resilience, faith and love.
It's said that buying a book is a political act. Writing one is too. I try to show unsung parts of history to take kids on important journeys and celebrate how much family and freedom matter. I work hard and pray that I do the stories of my ancestors justice. Slavery was twisted, brutal, horrifying. How do you share the truth in a way that young children can understand?
Three of my picture books delve into slavery –Hope's Gift, Ellen's Broom and Tea Cakes for Tosh. Hope's Gift, illustrated by Don Tate, is set during the Civil War. My editor Stacey invited me to submit a story about a child growing up at the time of the Emancipation Proclamation. Humbled and honored, I plunged into research. I visited a North Carolina plantation site, spoke to curators, read slave narratives and books about the experiences of enslaved children and antebellum Christmas traditions. I studied Harper's Weekly articles and illustrations, learned about the significance of conch shells during slavery and the formation of U.S. Colored Troops.
I did so much digging that at first my story was weighed down by details. The history was there, but it didn't come to life. My editor told me to put my notes aside for a while and feel. That's when the real story took flight.
Hope is an enslaved girl, but bondage cannot break the love that holds her family together. One Christmas night, Hope's father makes a heartbreaking decision: He runs away to join the war and help bring freedom to his family and others. Hope, her mother and brother experience overwhelming loss.
But like her name suggests, Hope feels something else too. She holds the conch shell Papa gave her to her ear, hears the swooshing and remembers his reassuring words: "Nothing can keep freedom from coming. Nothing."
When the plantation owner discovers that Papa has run away, Hope hears him holler a chilling warning: "Said when he finds him, Papa gonna wish he never got that fool notion to run." Don, the artist, pictures the overseer with a whip in his hands. Mama protectively hovers over her children. The threat of brutality is right there in your face. In picture books about slavery, showing reality is important.
What we write and illustrate helps shape what children understand. Later in the story, Hope goes from minding Henry and other kids to working in the fields with Mama from "pink light to purple dark." Mama nurses Hope's cotton bur-pricked hands at night. There's fleeting joy when they hear in the fields that President Lincoln is going to free enslaved people on New Year's. But when the day comes and they're still in bondage, Hope holds back her tears, soothes her brother and reminds him of Papa's words.
That scene was important to me. I remember thinking as a child that the Emancipation Proclamation liberated enslaved people all at once. I wanted to show that gaining freedom was an arduous process. And enslaved men, women and children were agents of change.
Rather than helplessly wait to be freed, enslaved people became Union spies, scouts, sailors and soldiers like Papa. Others waged their own acts of opposition right where they were. It empowers children to know that enslaved people fought for freedom. Don did a beautiful job displaying the full range of emotions in the story from the agony of being enslaved and the heartbreak of Papa being gone to joy when he returns.
It was crucial to show context in Ellen's Broom too. Set during Reconstruction, the story celebrates the right of freedmen and women to have their marriages legally recognized. It wasn't enough to show Ellen's pride at her parents finally having the law honor their sacred bond. I had to reveal why it means so much.
Mama and Papa talk about the broom hanging above the fireplace in their cabin and explain how things used to be: "Husband and wives could be ripped apart, sold away at any time. It didn't matter if they cried or even begged to stay together. Master had the final say."
Artist Daniel Minter, who won the Coretta Scott King Illustrator Honor for our book, shows a wrenching scene of a husband and wife being separated.
The husband, in chains, looks back at his wife who is screaming for him as the plantation owner yanks her away. Why is having their marriages made legal so important? Because no one can ever forcibly tear them apart again.
In another spread, Daniel shows the thrill of Mama and Papa jumping the broom together. Their open-mouthed smiles display their commitment to a life together and spiritual victory over an institution bent on breaking them.
Ellen is charged with carrying their wedding broom on their walk to the courthouse. Now that she understands the pain of what they've come through, Ellen helps make their triumphant journey even sweeter.
My last book that touches on slavery is Tea Cakes for Tosh. I grew up making delicious, golden cookies called tea cakes with my grandma just like my character Tosh. Each time his grandma Honey makes them, she tells Tosh the story of their great-great-great-great Grandma Ida and he feels like he's flying back in time. Tosh sees Grandma Ida, an enslaved cook, creating tea cakes for the plantation owner and his family. Honey tells him that Grandma Ida tasting or sharing them would be considered stealing.
But one day, she slips tea cakes into her apron pocket as an act of resistance. Honey reveals the danger: "She risked being whipped to give her children a taste of sweet freedom. Grandma Ida would give each child a tea cake, a promise of days to come."
Artist E.B. Lewis gives Grandma Ida a somber expression as she carries tea cakes on a tray. It shows that making the cookies is not something she's doing for fun. She's enslaved and doesn't have a choice. As the book shifts to present, E.B.'s gorgeous illustrations make you feel the closeness between Honey and Tosh and how much the story of Grandma Ida and the tea cakes mean. Near the end of the book, E.B. shows Grandma Ida again.
This time, she smiles as she gives tea cakes to enslaved children – an act of bravery and love. The last page is Honey and Tosh hugging as Grandma Ida's promise has been realized through them.
Writing about slavery and freedom is not easy. But I think about the kids I serve and the girl I used to be and try my best to get it right. For children's book creators of color writing and illustrating these books is a way to be an agent of change too. Instead of leaving it to others to tell our stories, we're giving a piece of who we are back to ourselves.
(x-posted at We Need Diverse Books)