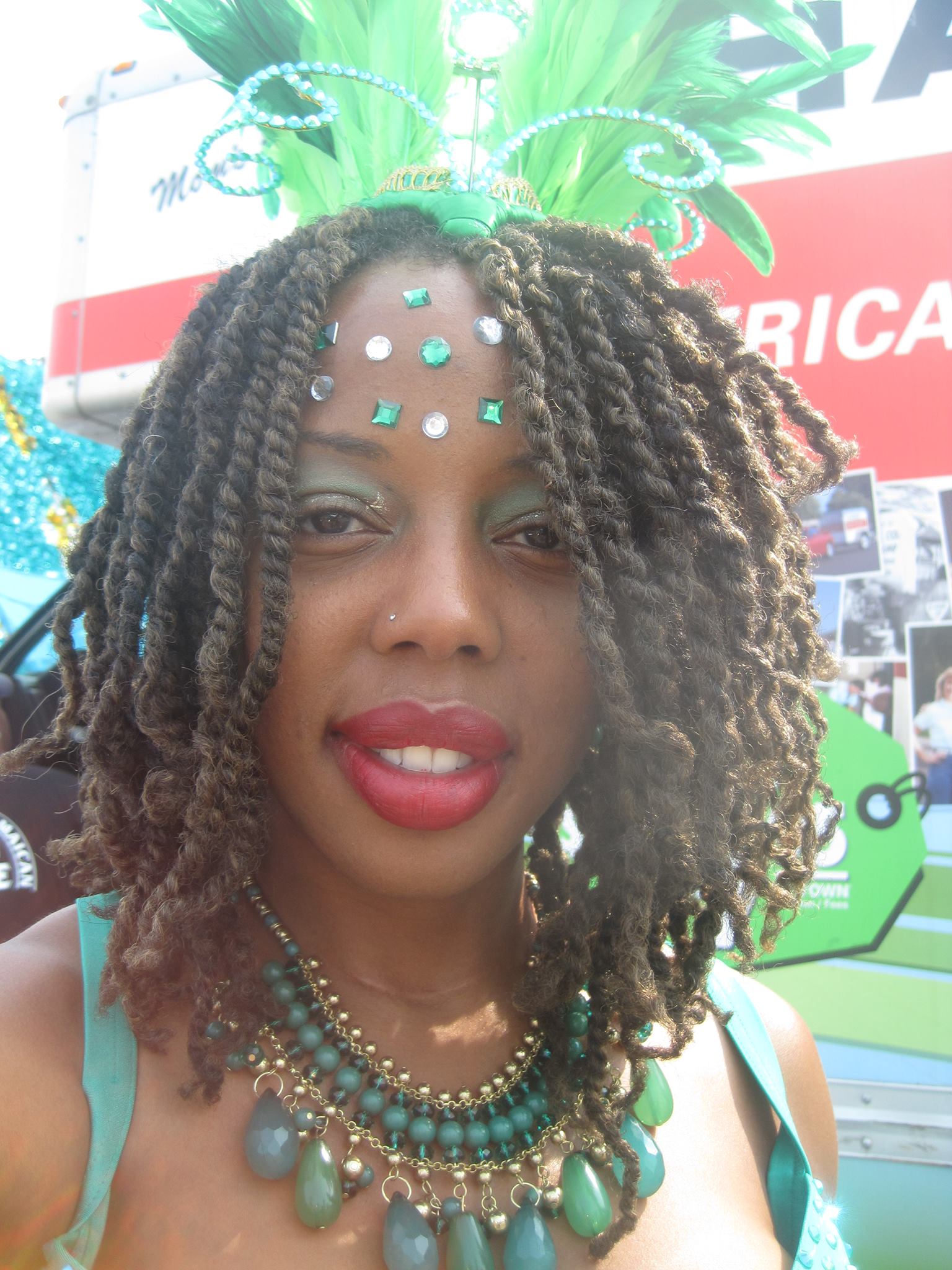 When author/illustrator Don Tate invited me to write a blogpost about Malaika's Costume, I thought.  Of course.  Why not?  Why don't I take this opportunity to ask all of the questions, the sorts of questions I get asked all the time, the sorts of questions I wished I was asked about this book?  Ladies and gentleman.  I present to you, the selfie-interview.  Here it goes.
Interviewer Nadia:  Today, you launch your very first picture book Malaika's Costume.  Congratulations. 
Nadia L. Hohn: Thank you.
IN: But I am trying to get the record straight.  I heard a rumour that you launched two other books less than two weeks ago.
NLH: Yes, that's right.
IN:  Wow!  And those were your first books?
NLH: Yes.  Music and Media books in the Sankofa Series.  They're for the educational market.
IN: Well, it must be a very busy and exciting time for you.  Why don't you tell us more about Malaika's Costume?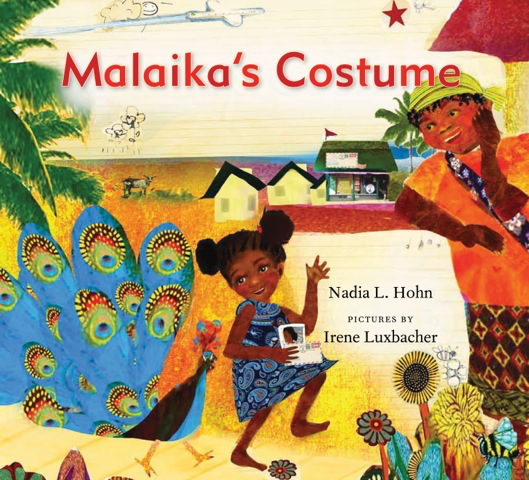 NLH:   Malaika's Costume is the story about a little girl who lives with her Grandmother in the Caribbean.  Plus, it's Carnival season, the first Carnival since Malaika's mother has moved to Canada for work, to send money home to support the family.  When the money doesn't arrive in the mail to pay for Malaika's kiddie Carnival costume, she has to figure out what to do. 
IN:  What inspired you to write the book?
NLH:  I used to write stories and make books as a child.  One of the few books I still have that I wrote and illustrated for a Grade 5 project is called "The Greatest Carnival Ever".  So I always loved the idea of a book culminating with a Carnival.  Years later in the winter of 2010, I took a writing course at George Brown College with author Ted Staunton.  He gave us a picture book assignment and this is when I wrote Malaika's Costume.   I remember getting very excited as I worked on the details of the story.  I have also played Mas'– which means I wore a costume and danced– in the Caribana parade a few times, Toronto's Caribbean Carnival and loved the experience
.

IN: We noticed that Malaika's mother does not live with her, in fact, she lives in Canada.  Why did you choose that location?  How common is it for parents, especially mothers, to live in other countries than their children? 
NLH:  One parent immigrating, usually the mother, to work and send money home to support their loved ones is a very common experience, especially in the immigration of Caribbean peoples to the UK, US, and Canada in the 1950s to 1980s.  They sometimes called them "barrel children".  Parents and relatives abroad would send money and fill the barrels with clothing, toys, and items and ship them back home for their families.  Canada is my home so naturally I chose it although I have many relatives in the US. This is a common story of immigration within my family.  It still happens today with Caribbean and other ethnic groups and communities.
IN:  And suspense ensues.  Exciting.  Nadia, you're from Toronto, Canada.  I am sure many people have said to you, Wow.  There are Black people in Canada?  So I am not going to ask you that but how big is the Black community in Canada?
NLH: Other than Drake, there are around a million people.
IN:  LOL.  Really?  Please educate our audience.
NLH:  The African-Canadian or Black community in Canada lives mostly in big cities like Toronto, Montreal, and Vancouver but there are Black people living throughout the country in smaller communities.  Black people have lived in Canada for hundreds of years and are the descendants of enslaved Africans, Black Loyalists, and escapees in the Underground Railroad.  Today we are mostly Caribbean and African immigrants or "first gens" like myself.
IN:  From where?
NLH:  Jamaica. 
IN:  Island in the sun… Well, your book has definitely got the Caribbean flavour.  A lot of our readers are of Caribbean descent, on what island does Malaika's Costume take place?
NLH:  I leave it unnamed purposely.  I want my Caribbean readers to see a little of their own island it.  Yet, I wanted to honour the traditions and culture of the islands whose features I name so there is a glossary at the front.
IN: Malaika's Costume was illustrated by Irene Luxbacher and published by Groundwood Books.   I know this is a story close to your heart and it must have taken a lot of trust to work with your publisher. 
NLH: This is true.
IN: What was it like working with Groundwood? 
NLH:    I think the experience has been a very positive one. I had a lot of input and at the same time learned to trust the professional judgements of the publisher and illustrator.  I learned to share the telling of my story. 
IN:  The bond between Malaika and her grandmother is very strong.  Were you close to your grandmother and what inspired you to make their relationship a central part of the story?
NLH: Intergenerational bonds are so important.  My grandmothers each immigrated to and lived in New York City and Florida so I didn't get to always see them.  I did visit them from time to time and they both have passed away but I wish I got to know them more.  I also have grandparents that I have never met, nor seen photos.  Perhaps there is a bit of longing and liberty with those relationships in the book.  I also show how grandparents often "step in" when a parent or parent(s) are away.  This is so common in the Caribbean and in other places.
IN: And where is Malaika's father?
NLH: I can't giveaway all of my secrets but you may find out in another book.
IN: You write this book in a lyrical style… patois… Creole.  We don't see that very often in picture books.  To have a book written in the spoken language… Caribbean-English or Ebonics… that's rare.  How have the reviewers and critics responded?  How open was your publisher receptive, open to you writing in this way?
NLH: I wrote this book in what I call "patois lite".  I don't use alternate spellings, the phonetic spellings you can often see on signs in the Caribbean.  Instead, I use certain language that often happen in the English-speaking Caribbean and when I do read-aloud, I use my "Caribbean voice".  So far critics have called the way I write "colloquial" and one reviewer said she found it "jarring " on the first read but by the second read, she liked it and found it the charm of the book.
IN:  Who do you think will like this book?
NLH:  I think children ages 3 to 7 will definitely like it.  I tested it out on my own students and a New York City school I visited in February.  I also think folks of Caribbean background and immigrants will identify with the story.  Teachers and librarians will love it for the diverse content.  And children's book lovers will love that it is a "fresh" voice— a patois-speaking little girl— a story told from her perspective.  It's a window to another culture and way of being.
IN:   I also know you started a group called Sankofa's Pen.  Can you tell us about it?
NLH:  I originally called this group African-Canadian Writers for Children and Young Adults (ACWCYA) when I found myself signing my book contracts in 2014.  At the time I belonged to other associations but really wanted to find a community of Black authors who might write about similar topics as I do.  The Black children's and young adult author community in Canada is very small but it does exist.  We meet face-to-face a few times a year and have an active facebook group.  You don't need to be Canadian to join.
IN: What's next for you?
NLH:  Currently, I am promoting Malaika's Costume.  My launch is in Toronto this Saturday, March 5 however I am also planning a tour and hope to do signings and readings in a few cities both north and south of the border.  The sequel of the picture book will be out in 2017.  I am also working on a few other writing projects and still teaching full-time.   
IN:  Well, you definitely keep busy.  Thank you for your interview.
NLH:  It was a pleasure.
IN:  We just had an interview with our guest, Nadia L. Hohn, who is the author of a picture book Malaika's Costume which will be in stores and on sale March 1, 2016.  For more information on Nadia Hohn and her books, please visit: www.nadialhohn.com