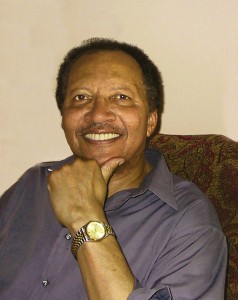 Very recently, a nephew came to live with me.  He's quiet, stays in his room, and basically comes downstairs to eat and hang out in the backyard.  Most of the time, his earbuds are in, and therefore I believed he didn't want to have a face-to-face conversation.  One day, he was sitting at the counter in my kitchen, eating lunch, when I noticed him staring at something.  He took his earbuds out, picked up a book and asked,
"You read Walter Dean Myers?"
I just shrugged, stuck in stupid, totally surprised on so many levels.
He grinned, "I've read all the books in my school library written by him.  SLAM, FALLEN ANGELS, SCORPIONS.  Have you read MONSTER?  Everybody says that's really good.  I can't believe he's gone.  You have any more of his books?"
And so, our conversations began.  Thank you, Walter Dean Myers.
He has reached thousands of young people through his writings and teachings.  And in honor of his contributions to children's literature, I would like to kick off our "Throwback Thursday" with The Brown Bookshelf's 2008  28 Days Later spotlight of one of the most prolific writers of all time. — C.A.
*         *         *
Walter Dean Myers has had the type of career that most authors can only dream of. Since becoming first published in 1969, Myers has won five Coretta Scott King Awards, two Newbery Honors, and was awarded the first American Library Association Michael L. Printz Award for Monster. In 1994, Myers received the Margaret A. Edwards Award for "lifetime contribution to young adult literature," and in 2008, the American Library Association chose Myers to present the 2009 May Hill Arbuthnot Honor Lecture–an honor given yearly to an individual of distinction in the field of children's literature.
Not one to limit himself to strictly novels, Myers has also excelled at both short stories and poetry. His novel
in verse, Street Love (Amistad/HarperCollins, 2006), was named an ALA Best Book for Young Adults, a Kirkus Editor's Choice, and was named to the Horn Book Fanfare List for 2006. Likewise, his most recent collection of short stories, What They Found: Love on 145th Street (Wendy Lamb Books/Random House, 2007), was also hailed by critics, receiving starred reviews from Booklist, Kirkus, School Library Journal, and the Bulletin of the Center for Children's Books.
Known for capturing the emotional and physical heart of Harlem in his novels, Myers returns to a familiar topic, basketball, in his new novel Game (HarperTeen, 2008). From the HarperTeen website: "Drew Lawson knows basketball is taking him places. It has to, because his grades certainly aren't. But lately his plan has run squarely into a pick. Coach's new offense has made another player a star, and Drew won't let anyone disrespect his game. Just as his team makes the playoffs, Drew must come up with something big to save his fading college prospects. It's all up to Drew to find out just how deep his game really is."
KLIATT gave Game a starred review, saying, "Myers…clearly knows basketball, and he nails the court action… A great choice for sports fans." School Library Journal adds, "As always, Myers eschews easy answers, and readers are left with the question of whether or not Drew is prepared to deal with the challenges that life will inevitably hand him."