Thank you for celebrating our 28 Days Later campaign. It's our 12th year honoring outstanding Black children's book creators. We're filled with pride at the amazing work they do and are inspired by their stories of grit, perseverance and creativity.
Ten Black children's book authors and illustrators make up our Brown Bookshelf family. Our mission is to raise awareness of the many Black voices writing for young readers. Sometimes we forget people may want to learn more about us too.
Co-founder Paula Chase Hyman wrote an article, Can You Hear Us, Now?, for the National Newspaper Publishers Association (NNPA) that shares how we were created and what our work means to our team.
Here's a window into what's new in our world:
Conference Presentations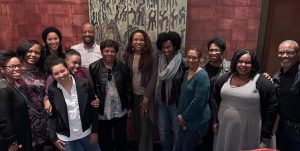 Last year, we presented at NCTE in Houston, Texas. Our session was titled Using Black Children's Literature to Amplify All Student Voices. Thank you to everyone who attended.  Here's a link to the book list and resources we shared. Immediately following our session, we signed books at the Blue Willow Bookshop booth. Thank you to Blue Willow and all of the bookstores that support our work.
At NCTE, we also hosted a gathering of Black children's book creators at the House of Blues. Great company and conversation. We hope to have another conference meet-and-greet this year.
In February, several of us were part of the 27th annual African American Children's Book Fair in Philadelphia led by Vanesse Lloyd-Sgambati. Held the first Saturday each February, it's an affirming and empowering event that connects thousands of adults and children with Black children's book creators. Thanks, Vanesse, for always supporting us.
Our next team presentation will be at the American Library Association in Washington, DC. We're thrilled to be sharing on Sunday, June 23 after the 50th anniversary Coretta Scott King Book Award breakfast. Learn more this CSK milestone year here. Our session is titled, Looking Back, Moving Forward: The Brown Bookshelf Shines a Light on Black Children's Literature. It runs from 1-2 p.m.
Here's the latest on some of the members of our team:
Don Tate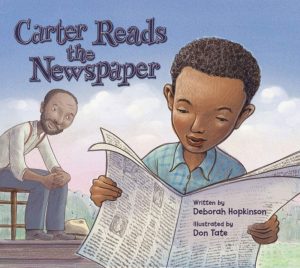 My newest picture book biography, Carter Reads The Newspaper (Peachtree), celebrates the life of Carter G. Woodson, known as the Father of Black History. Read more about the process of creating the book at the Children's Book Council's From The Sketchbook. Also, download a free poster.
Kelly Starling Lyons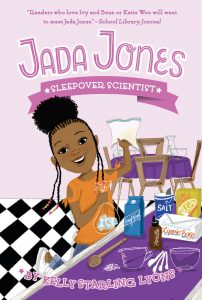 I'm so grateful for the support my Jada Jones chapter book series has received. I love the kind reviews, pictures and notes people have sent and posted. I was honored to have it included in Scholastic Book Club and be in Target stores. In January, book 3,
Jada Jones: Sleepover Scientist
, debuted. We had a blast at the Quail Ridge Books launch party as kids made slime and celebrated the return of Jada. June will bring the latest adventure,
Jada Jones: Dancing Queen
. In that story, Jada and the Student Council Crew create a fun challenge to give back, but why does it give Jada the jitters?
I'm also thrilled to share I have two new picture books releasing this year.
Going Down Home with Daddy
, illustrated by Daniel Minter and published by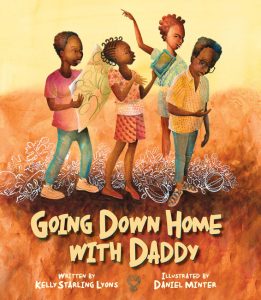 Peachtree, debuts April 1. Check out reviews
here
and
here
. Paying homage to my husband's heritage and my own, the story follows Lil Alan as he looks for a way to honor his family's legacy at the reunion. So excited to be working with Daniel again who won the CSK Illustrator Honor for our picture b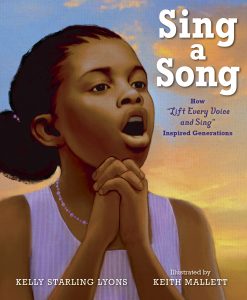 ook,
Ellen's Broom
. In August,
Sing a Song: How Lift Every Voice and Sing Inspired Generations
, illustrated by Keith Mallett and published by Nancy Paulsen Books, hits shelves. This story was inspired by the history of the Black National Anthem and imagines five generations of kids passing the song down. Keith's art, like Daniel's, blew me away. Both are available for pre-order now.
To learn more about me and other forthcoming projects, please visit www.kellystarlinglyons.com or follow me on Twitter @kelstarly.
Tameka Fryer Brown
By this time next year, my third picture book, Brown Baby Lullaby, will have been released! It is beautifully illustrated by A. G. Ford and will be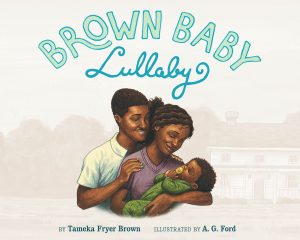 published by Farrar, Straus & Giroux in January 2020. I am so excited for this celebration of brown babies to make its way into the hands and hearts of readers. And to Cynthia Leitich Smith and Gayleen Rabakkuk — thank you for hosting BBL's cover reveal on Cynsations! To read more about Brown Baby Lullaby and the inspiration behind it, check out this feature on Cynthia's blog.
I'm also excited to announce my fourth picture book, Twelve Dinging Doorbells, which is currently scheduled for release in the fall of 2022. It will be illustrated by the supremely talented Ebony Glenn and published by Kokila — the new PRH imprint that is already making waves as it focuses on "centering stories from the margins".

I'm ever thankful for the blessings of 2018…and hoping for similar abundance in 2019. For more information about my literary journey, please visit tamekafryerbrown.com
Gwendolyn Hooks
For all those who love and share books for young readers—thank you! And congratulations to my colleagues at The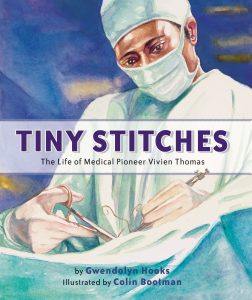 Brown Bookshelf for their wonderful contributions to children's literature.
In 2018, I spoke at two universities. Years ago, I left Oklahoma State University while working on my mathematics degree and returned last year as a children's book author. I shared my career with students working toward elementary education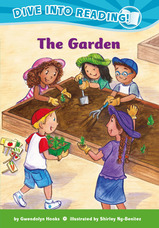 degrees.
I traveled to Rochester, Michigan and visited future Library Media Specialists at Oakland University. I congratulated them on their career choice. Young readers, authors, and illustrators need them. I felt their enthusiasm and their love of books.
Tiny Stitches-The Life of Medical Pioneer Vivien Thomas (Lee & Low Books) is a Louisiana Young Readers Choice Selection. My first time on a state list! Huffington Post listed it as a book kids should read.
My latest book in the Confetti Kids series is The Garden (Lee & Low Books). Booklist said it's ". . . a cheerful introduction to gardening and eating a healthy diet."
UPCOMING – Fall 2019                                                                        
Ona Judge Outwits the Washingtons: An Enslaved Woman Fights for Freedom (Capstone) is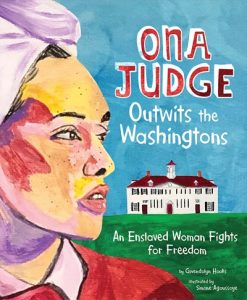 a picture book biography illustrated by Simone Agoussoye. Ona was one of the Washington's enslaved workers who lived with them during his presidency. By the end of his second term, Ona decided to free herself and escapes to New Hampshire. Never to return.
My early reader The Buddy Bench (Lee & Low Books) shows how students can welcome the new kid. Wander on over to the Buddy Bench! It's illustrated by Shirley Ng-Benitez
Nathan and the Secret Project (Benchmark) After Nathan was hurt and lost his dog in an accident, his family moves to a new city. He meets a friend and together they investigate the mysterious Doctor Trams—why is he collecting so many dogs?
To learn more about me and other forthcoming projects, please visit www.GwendolynHooks.com.
Olugbemisola Rhuday-Perkovich
I'm very thankful for all of the reader support for my 2018 releases! Special shout outs to all of the educators who shared my books in their classrooms and libraries–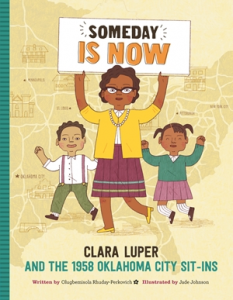 thank you! I've had wonderful experiences visiting with readers, in person and online.  Someday is Now, illustrated by Jade Johnson, received starred reviews from School Library Journal and Kirkus, and was named a Notable Social Studies Trade Book for Young People. Naomis Too was awarded a beloved Nerdy Book Club award in the middle grade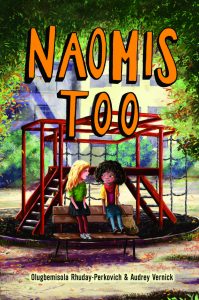 category. I'm currently working on the middle grade novel Emmett, which is inspired by an upcoming feature film, a couple of not-yet-announced projects, and had a wonderful time as editor of The Hero Next Door, a middle grade anthology out this summer from We Need Diverse Books–with phenomenal authors like Rita Williams-Garcia, Ronald L. Smith, and Lamar Giles.
For updates and more, please visit me on Instagram at @olugbemisolarhudayperkovich,  and my website: olugbemisolabooks.com.
Jerry Craft
February 5, 2019, marked the launch of New Kid, a middle grade graphic novel that I wrote and illustrated for HarperCollins. It's the story of a seventh grader named Jordan Banks who loves nothing more than drawing cartoons about his life. But instead of sending him to the art school of his dreams, his parents enroll him in a prestigious private school known for its academics, where Jordan is one of the few kids of color in his entire grade.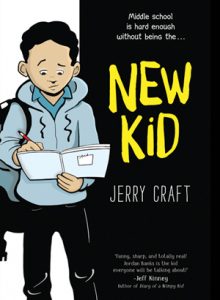 As he makes the daily trip from his Washington Heights apartment to the upscale Riverdale Academy Day School, Jordan soon finds himself torn between two worlds—and not really fitting into either one. All while learning lessons about microaggressions, socioeconomic disparity, and privilege.
New Kid has received starred reviews from Kirkus, Shelf Awareness, School Library Journal, Publishers Weekly, and Booklist, with the latter describing  it as, "Possibly one of the most important graphic novels of the year."
Horn Book Magazine says, "Craft's full-color comics art is dynamic and expressive. This school story stands out as a robust, contemporary depiction of a preteen navigating sometimes hostile spaces yet staying true to himself thanks to friends, family, and art."
For the latest news, look for "Jerry Craft" on Facebook, Instagram, and Twitter, or visit www.jerrycraft.com