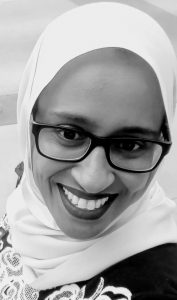 The Brown Bookshelf is proud to introduce the children's book author, Siman Nuurali to our readers.  She has written the SADIQ series of  four  books published by  Picture Window Books, a Capstone imprint. Originally from Kenya, Siman writes from her home in Minnesota.
The Journey
I had never really thought about getting published up until I received the offer to write Sadiq from Capstone. I think almost every writer simultaneously feels like the story in their head is entirely magical, to be shared with the world but also feels like it will never be. I almost certainly had never even considered writing for children. All the work I had done up until that point had been short stories and poetry, none of which I had ever shared. This was my first pitch to a publisher and even though it was concept work, I still did not think I had a chance or that I would ever in a million years be the person who would be picked. My journey to publishing has been relatively short and shorter than most but I am so grateful that I was given the opportunity to tell the story of Sadiq which ultimately is the story of my own children.
The Back Story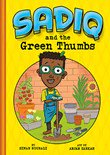 My friend Ellyn (and her wife Kate) were on their honeymoon in New Zealand and saw a tweet from Beth Brezenoff at Capstone asking for Somali American authors to contact them. El took a screenshot of the tweet and texted it to me telling me to reach out. I tried to argue I wasn't an author, I had never been published, I didn't write for kids and basically came up with every excuse I could think of. El wasn't having it and insisted I reach out asking me, "what do you have to lose?" and she was right. So I reached out to Beth and sent some sample writings I had and at their request a sample chapter of what Sadiq would look like. I then promptly forgot about it because I didn't think there was any way I would ever hear from them again. Weeks later Beth emailed to offer me the contract to write about Sadiq and I accepted!
The Inspiration
Books have very often for me provided a space I could escape to that was comforting and safe. My father taught me how to read when I was quite young and ever since then they have been my constant companions. I mostly grew up on abridged versions of the classics and later on delved into fantasy when I discovered Tolkien around age 11. I am so inspired by all the authors who write in the fantasy genre especially epic high fantasy because I can't imagine the talent it would take to engage in such intricate world-building. I am also inspired by literary fiction giants like Ian McEwan, Kazuo Ishiguro, Rohinton Mistry, and Haruki Murakami. It's sometimes discouraging not to find as many African authors but I always go back to the books I read when I was younger by Ngugi Wa Thiong'o, Chinua Achebe and Elechi Amadi.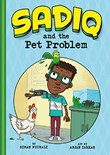 The Process
I don't really have a process and tend to just jump into a story. The hardest part for me is always the beginning but once I have that I find myself following the rest of the story. Sometimes this means that I can write myself into a corner or don't really know how to finish the story but it works for me. I also prefer writing late at night after midnight, mostly because the house is quiet and I can hear how the words sound in my head. I do my writing in bed, sitting up while listening to music mostly because that's my favourite space to exist in. I almost always start with a concept and then build within it because I find that the concept creates the boundaries of your story for you almost like an enclosure. You can then place your plot and characters within and move them around at will. The idea of an enclosure can seem restrictive but it isn't because it can always be torn down and rebuilt in a different way or in a different place.
What do you wish the kidlit industry better understood about publishing Black children's books / Black authors / Black illustrators?
I think there are any number of things I wish the publishing industry understood about Black children's books, authors, and illustrators. Perhaps, primarily I wish that it was a lot more widely known the impact it can have on a child to see themselves reflected positively in a character in a book. It is an entirely magical experience and by not providing avenues for there to be more books written for and by Black people, we are depriving a significant percentage of the population of the joy to be found in books. Those same kids then grow up to have kids who also lack the same access they did and the cycle continues unabated. There is privilege in being able to somehow walk through doors that allow us to gain access to the publishing world and perhaps it would be better if that world came to us instead.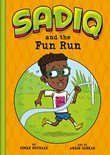 Siman also shared her family life in Minnesota:
We enjoy Monopoly, Mancala, Pente, and Risk. Those are the current favourites. We also have a Lord of the Rings game but that only comes out on days we know we could play for hours because it takes forever to finish it.
My kids are pretty geeked out about my books. They do talk about them (and me hopefully) to their friends and teachers but I think for the most part they think it's this cool thing I did. I think the novelty has worn off.
My middle child will read anything she can get her hands on. The two older kids prefer fantasy but will also read any genre. One really likes Manga. The twins are a bit younger and are just happy to read picture books.
I have only presented one school visit so far and it was brilliant! I would love to do more school visits in the future and share the Sadiq books. I am still very new to this world so I'm still learning the ropes!
Living in Minnesota has been an adventure; mostly because of the winters J My family has absolutely loved living here and while it is very different from our lives in Kenya, we consider both places to be our home!