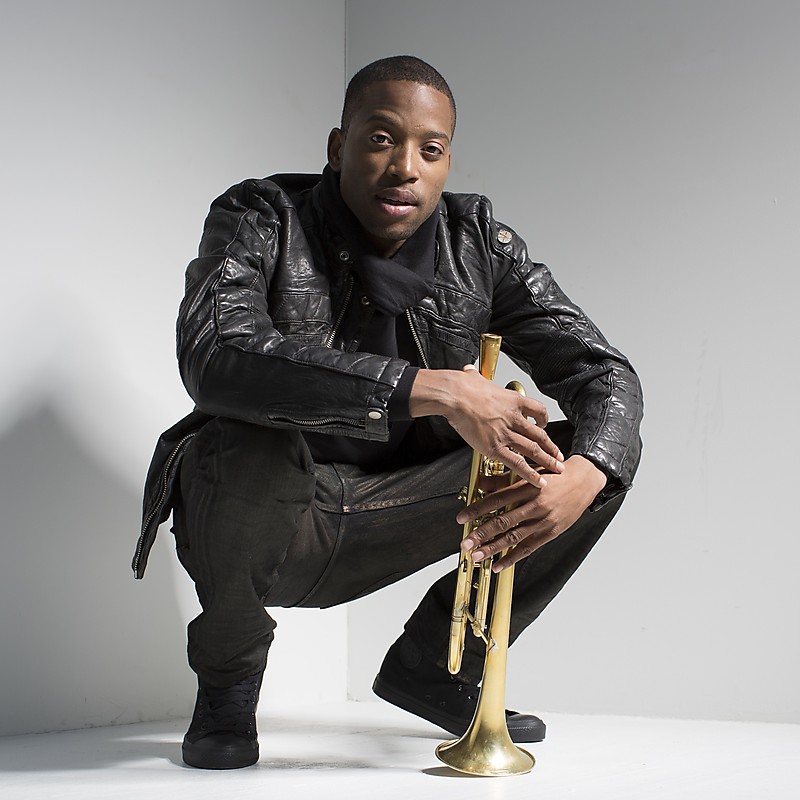 Troy "Trombone Shorty" Andrews was a child prodigy who began playing the trombone at the age of four, a discarded trombone that was twice as long as he was tall. By age six he was leading his own money-earning band, and by ten he was a bona fide touring musician. Today, at 30 years old, he is a Grammy-nominated multi-instrumentalist, playing not only trombone, but trumpet, drums, organ and tuba with his current band, Trombone Shorty and Orleans Avenue.
Andrews credits his singer-songwriter grandfather, Jessie Hill, and his bandleader brother, James Andrews, as significant influences. Of his brother James—also a trumpeter—he often asserts, "He taught me everything I know." Young "Shawty" performed with many heavy hitters, including Bo Diddley, Wynton Marsalis, and Wycliffe Gordon; he learned much about the craft of making music through their mentorship. Over the years, however, Andrews has blazed a distinctive path in the jazz world, fusing elements of modern rock and hip-hop to formulate a sound he calls "SupaFunkRock".
At the same time he's been forging innovative sounds, Andrews has also maintained his dedication to New Orleans by working to preserve its musical traditions. For the city he says "raised him", he has established the Trombone Shorty Foundation "to preserve and perpetuate the unique musical culture of New Orleans by passing down its traditions to future generations of musicians." The foundation sponsors two intiatives in particular: The Fredman Music Business Institute (providing top-level music industry training to high school students) and Trombone Shorty Academy (a partnership with Tulane University to provide musically gifted high schoolers with mentorship in various areas, including reading/writing music and performance).
In line with his mission to perpetuate New Orleans' unique musical culture, Andrews has written an autobiographical picture book: Trombone Shorty. It is the story of how a young Troy Andrews became Trombone Shorty, and how practice and persistence transformed a dream into the reality of being an internationally celebrated artist.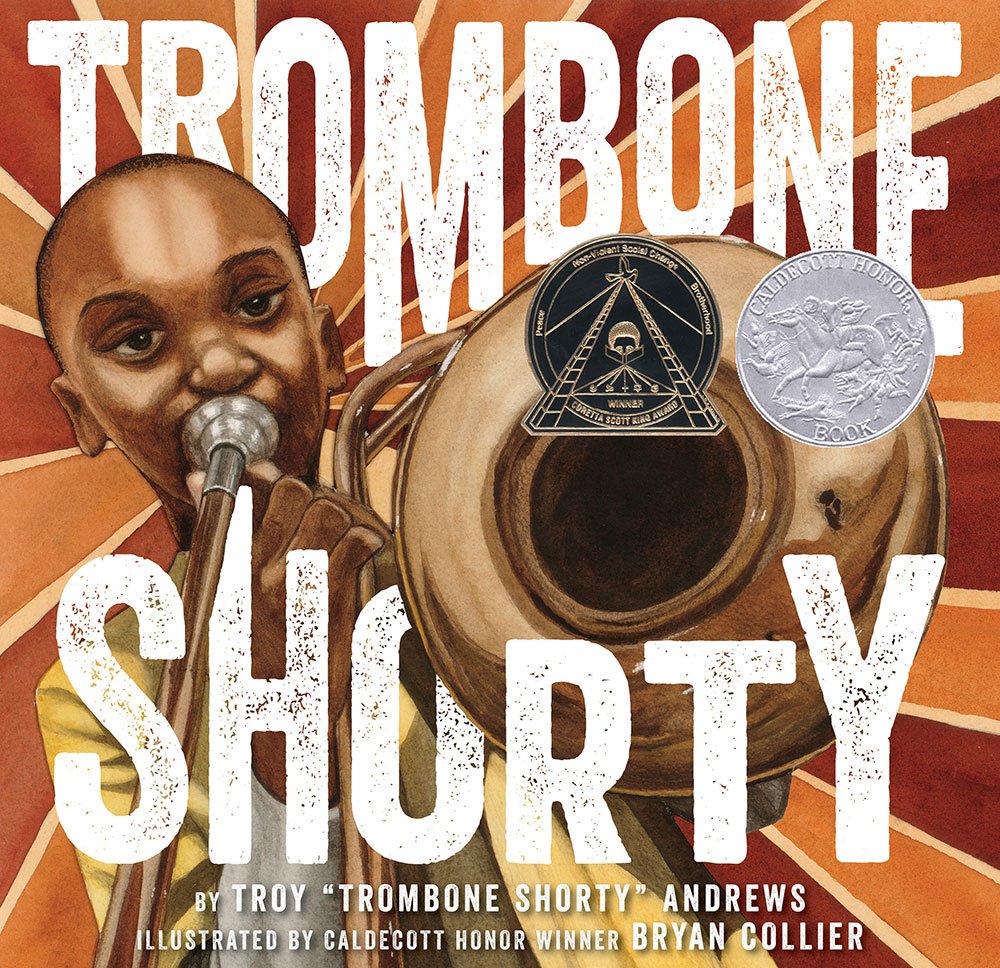 Trombone Shorty—illustrated by Bryan Collier and published by Abrams Books for Young Readers—is a 2016 Caldecott Honor Book and winner of the 2016 Coretta Scott King Illustrator Award.
The Buzz on Trombone Shorty:
"Where y'at?" Troy Andrews, aka Trombone Shorty, opens his book with this phrase, letting readers know that it's New Orleans parlance for hello. In this stunning picture book autobiography, multi-instrumentalist and vocalist Andrews shares the story of his early years growing up in the Tremé neighborhood of New Orleans. Andrews desperately wished to emulate the musicians in his family and those he saw performing all over his city, so he and his friends made their own instruments out of found materials, played in the streets, and marched with bands. When one day he found a battered, discarded trombone bigger than he was, Andrews finally had a real instrument to play, and he practiced day and night, acquiring the nickname Trombone Shorty from his older brother. The moment Bo Diddley pulled Andrews on stage to play with him during the New Orleans jazz festival was a turning point, and he hasn't stopped performing since. Collier's beautiful watercolor, pen-and-ink, and collage artwork picks up the rhythm and pace of Andrew's storytelling, creating an accompaniment full of motion and color. Each spread offers a visual panoply of texture, perspective, and angles, highlighting the people and the instruments. Andrews's career is still on the rise, his music gaining an ever wider audience, and this title will be an inspiration to many. VERDICT Coupled with a selection of Trombone Shorty's music, this work will make for fun and thoughtful story sharing. A must-have."— School Library Journal
"This well-told and exquisitely illustrated story of a musician with a steep career trajectory will inspire young readers to pursue their passions, despite the challenges."— Kirkus, Starred Review
"If a fairy tale were set in New Orleans, this is how it would read."—Publisher's Weekly, Starred Review
Learn more about Trombone Shorty:
An Interview with Vibe Magazine – Text
An Interview with Vibe Magazine – Video:
[youtube https://www.youtube.com/watch?v=DtlLT16yei8&w=560&h=315]
Trombone Shorty at age 13:
[youtube https://www.youtube.com/watch?v=k9YUi3UhEPQ&w=420&h=315]
Trombone Shorty performs at the White House:
[youtube https://www.youtube.com/watch?v=nkWA539sezY&w=560&h=315]