I was in my 20s when I received a book that would change my life — Something Beautiful by Sharon Dennis Wyeth. That was my first time seeing an African-American girl on the cover of a picture book.  Entranced, I read page after page until I reached the end. Then, I smiled, stroked the cover and read it again.
That book sent me through so many emotions — wonder, sadness, delight and finally contentment. The story was told with such economy and grace. It touched my heart and lingered long after I put it down. I decided right then that I had to write for children too.
So I am thrilled to honor Sharon Dennis Wyeth as one of our vanguard authors. She has written nearly 50 books and inspired not just me, but children and adults around the globe. Parents Magazine, Reading Rainbow and the Children's Book Council, to name a few, have all honored her work. But her ultimate measure of success is character: " . . . I believe that if a person is able to embody their work with something of themselves, they're making a mark in this world."
Her stories, filled with heart, integrity and lyricism, have left an indelible impression. Whether picture books, middle-grade or YA, they come from a special part of her and touch a special part of us.
Please join us in celebrating Sharon Dennis Wyeth on Day 22:
What did reading mean to you as a child? How did it inspire your dream of becoming a children's book author?
Reading was a refuge during a period when there was violence in my home. When I was reading fairy tales I was able to experience the terror I had to keep under wraps. Fairy tales told me that a child could make it through horrible times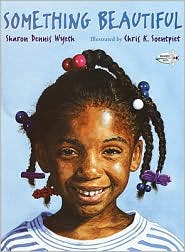 and yet survive. Laura Ingalls Wilder sparked my interest in history and reminded me of the good times I had on my grandparents' farm where cooking was done on a wood burning stove and farming was accomplished with a horse drawn plough. Reading was also the one sure way I had to please my youthful parents who, in spite of their stormy relationship, offered up all they had to their children. I have a memory of my father and mother teaching me how to write my name before I was even three. I knew how to read well before kindergarten because they taught me. I associate reading and storytelling (along with listening to records) with love.  
It would have been impossible for me to conceive that I would one day write books. The library was a palace to me. Since I owned very few books, those shelves were lined with treasures. In spite of my advanced vocabulary, I doubt I even knew the word author when I was young. Yet when I left D.C. to go to school at Harvard, I announced in a dorm room at Radcliffe that I was going to "write books for children." I shocked myself and felt ashamed of lying–it was the first time I'd ever articulated such an ambition even to myself. I guess my intuition was speaking up for me because a few years down the road I had become just that, a person "who writes books for children."
Please tell us about your road to publication. How did you get your break?
Oh, please. There was no road. I bush wacked. Having made a false start in the New York theater…well, not false….I made a genuine attempt to become an actor at a time when it was very hard for people of color to get roles. Now, you might think because I have so little melanin in my skin I would have had it easy. But I wanted to have my cake and eat it too. In other words, I wasn't about to "pass" and that's what it would have felt like accepting a white role without revealing my authentic identity as a black woman to the producer who hired me or the agent who might represent me. And taking on a role written for a woman of color, well, it was absurd to think the audience would buy that. The one part I played that was tailor made for me was that of the half white sister in Langston Hughes' play Mulatto.
In the small theater I started with some friends in Chelsea (that's a whole 'nother saga!), I performed Strindberg and Chekhov and wrote and directed an adaptation of Melville's Bartleby the Scrivener, the guy whose famous line is "I prefer not to." That started me writing in earnest. I wrote a play called Room, a one woman show I also performed. (By the way, all of this is my road to publication.) Then I wrote Tapper a full length play.  By then my partners and I had closed our little theater because the landlord had tripled our rent.
I was ecstatic when Sam Barton of Amistad World Theater in New York (neither Sam or the theater are around anymore except in some folks' memories) did a staged reading of Tapper  a play that was in so many ways my own story—a light skinned black woman obsessed with the disappearance of her father. At that time I was teaching speaking voice to support myself. I'd soon marry Sims Wyeth whom I'd met in acting school and had been one of my partners in the little theater.
Though I was still getting work as an actress here and there, more and more writing took me over. Every morning I hopped up, sometimes before dawn, to sit with my work at the dining room table. I could get four hours of writing in before going off to teach speaking voice or whatever.
When Sims and I got married and I became pregnant, I decided that I wanted to stop acting and I needed a way to make more money. A friend told me about a job writing mass market books based on soap opera story lines. I was over persistent and finally got a shot. I wound up writing nine of those, one each month. That work gave me experience in structuring a story. I also found out that if need be I could write real fast.
I kept my ears open and heard about a packager who was looking for people to create proposals for books series for younger readers. They paid a small fee for the proposal but promised the writer that if the idea sold, she'd get to write the books in the series. Parachute Press was the company and I'll always remain grateful to them. I wrote a proposal fleshing out an idea they had for a group of girls in boarding school who had boy pen pals. I created the characters, setting and plots for six books in the course of a weekend. Two weeks later I got the news that Delacorte has bought the series. 
Another series (Annie K.'s Theater) quickly followed based on an idea of my own about kids who put on plays. At that point I had a deep desire to write a novel using some of the material from my childhood. Since I'm a person of color, this decision planted me squarely in the multicultural genre. My first single title novel of this kind, also published by Delacorte, was The World of Daughter McGuire. My first picture book Always My Dad  soon followed. After that I just kept going.
Each of my books has been a challenge not only because I'm a self taught writer, but because I use emotionally charged material taken from my own experiences. The Pen Pals series was something I could write quickly. Books dealing with the issues I knew from the inside–divorce, bullying, racial identity–took much longer because they were so painful to probe. I see now that through my writing I've been healing myself.
While we're on it, I can't omit the fact that so many people reached out to me in the beginning. If Mary Pope Osborne hadn't handed on my picture book Always My Dad to her editor Anne Schwartz, I'm not sure it would have ever been published. Michelle Poploff, my editor at Delacorte, exercised extraordinary patience when I struggled to complete the novel that became Orphea Proud. Arthur Levine offered me a two book contract at the beginning of my career on the basis of proposals. Though he moved on before I completed those books, the promise of continued publication guaranteed me a career.
You write on your website that: "All of my experiences have contributed to my work as a children's author." You've had many jobs from being an actress and television writer to family counselor and playwright. How does that rich background help inform your stories?
My love of drama feeds my story telling. I have a good ear for dialogue which I developed writing plays. Acting requires flexibility and emotional responsiveness. When I put characters on the page I write them as if they are actors engaged in improvisation. I allow them to speak through me. That kind of experience doesn't always occur, but once I'm on the track my characters show me what they're made of.
My challenge at times is letting go and allowing things to happen on the page, to resist self-editing in early drafts. The time I spent as a family counselor deepened my understanding of family relationships and lent a perspective to what my own family had been through when I was a child. It was a job that let me give freely. An author of children's books is also a counselor in some way. My audience is so impressionable; I'm aware of the responsibility. In difficult moments when I've questioned why I became a writer (generally when my income is uneven), I try to convince myself that the some of the books I've written help people. That makes me feel like I'm giving something back, that I've done something worthwhile with my life.  A lot of teachers and family members and fellow writers have sustained me over the years. My former agent Robin Rue was extremely supportive.
Your picture books, Always My Dad (illustrated by Raul Colon, published by Knopf) and Something Beautiful (illustrated by Chris Soentpiet, published by Doubleday), were inspired by parts of your life. What did it mean to you to see those books in print?
I felt so grateful! Writing Always My Dad was a painful process because the relationship with my father was so complicated. But
putting down the loving memories I had of him released me from ambivalence. The book with its stunning illustrations by Raul Colon is still a balm to me when I read it. It reminds me that my father did love me even though he wasn't around much. Even at my age, that's important somehow.  
Something Beautiful is a book about my old neighborhood Anacostia in Southeast Washington, D.C. It's also about my mother's love, a steady force in my life. She was always there for me and my brothers in every way. My mother also loved beauty, visual art, music, theater, fashion. When I read that book out loud, I imagine how delighted she would be if she were in the audience. In some way it is a testimony to her sensibility.
You recently read Something Beautiful to children in Cameroon. What was that experience like? Why do you think that book continues to resonate with so many people?
First of all you have to understand that I was in a highly emotional state when I was in Cameroon during the end of December and early January. I'd had my DNA analyzed in 2006 along with the DNA of several family members and received the news that I had ancestral ties to the Tikar tribe in Cameroon as well as the Hausa and Fulani. That was huge for me. Then when I was invited to tour the country recently it was a dream come true. All my life I've wanted to know the story of my ancestors from Africa.  It was the missing piece in my personal narrative. Truly, not knowing the location or any of the particulars of my African ancestry left me feeling incomplete as a person. So when I was in Cameroon it was as if a vital piece of the puzzle that had been missing for years was finally in place.
 When the group I was with visited the school in Kribi, Cameroon, I was so moved by the children all of whom are orphans. They performed for our group, reciting both in French and English, singing and dancing. Though I've read Something Beautiful before hundreds of audiences, reading for the first time in a place that my ancestor once called home touched me to the core. At one point I could scarcely hold back my tears. It felt as if I had come home. The book was my offering. I am sending one hundred copies to the school.
True, Something Beautiful has resonated for a lot of people. I'm so grateful it has remained in print. What can I say? The concept of beauty has captured human beings since the beginning of time. As a child it captured me when I learned to spell the word in kindergarten. For years and years it was an inner mantra. I spelled beautiful  to myself walking down the street. When I decided to write the book, it took so many drafts not only to get to the real story but to grapple with the quality inherent in an object or person that made a human being regard that person or thing as beautiful.  I' m not a philosopher after all, so it took months and months of pondering.  It's an intriguing question for many people. Maybe that's why the book has engaged so many readers. It prompts them to ask themselves:  what is beautiful to me? Another reason for the success of the book is Chris Soentpiet's extraordinary illustrations. He renders everyday objects as luminous. What we view as ordinary becomes sacred.  I'd have to add that beauty brings hope. I believe that firmly. Artists have the ability to create beauty,  to find beauty in unexpected places and to reveal it to others.  
How did your Corey's Underground Railroad Diary (Scholastic) trilogy come to be? Why is it important to write history stories for children? What do you say to people who think children don't connect with tales from the past?
I was contacted by an editor at Scholastic and invited to submit a proposal for My America using the theme of the Underground
Railroad. I was ecstatic. The ideas for the characters, the title of the series, even the voice came to me immediately. Within an hour of speaking to the editor, I had the pages I would submit. My character Corey leapt off the page and into my arms. I knew right away that my story would take his family to Canada where they'd live free lives.
While I was writing scenes detailing the hardship and danger of their lives as enslaved people, I knew, as the author, that by the end of the book this family would experience freedom. Though the characters are fictitious, the act of taking them to freedom in the story gave me a sense of power and extraordinary joy.
I've visited many schools where the series is featured and the kids love these books. They enjoy learning about history through a narrative and are often prompted to begin their own research. So, I'm not sure who's spreading it around that children don't like historical stories. A good story is a good story. And children need to know where they came from. The past informs the present, right? So much of our behavior, our attitudes towards ourselves and others has to do with past behavior and attitudes. Bringing personal history and social history to light provides possible explanations for why things are the way they are, giving us a chance to make a change for the better if it's needed.
Some people would like to forget the past. But the past teaches us lessons. As my understanding of the experience of enslavement deepened, my regard and admiration for my ancestors deepened as well. Surviving that kind of life required faith, resilience, and ability to endure. That's a legacy I want to own and to tap into. If I cut off the past, I cut off the people who lived then. Those people need to be honored. Disparaging history is dangerous. Ignoring where you came from can get you lost. Like it or not, personal history roots us just as social history gives us the lay of the land. Children deserve as much clarity as we can give them about these things.
What inspired your young adult novel, Orphea Proud. Will you write more for that age level?
Orphea was very hard for me to write. The book was originally inspired by the setting, a place I call Proud Road in the novel. I
modeled it on the small town in Virginia where I spent time with my father's parents. There was such a sense of security and unconditional love there. When I was younger, at times I felt like an outcast, maybe because I was bullied. So, I wanted to write a book about a girl who felt cast out and alone and who discovered healing through art.
The character Orphea is a poet and I've always loved poetry. After writing that novel, I began to write my own poetry and I haven't stopped doing that. The theatrical frame of the book comes from own experience in the small theater I described.  I'm not sure when I'll write another young adult novel. It's my way to let the work dictate its form and genre. I have to say I feel very identified with characters that are a bit younger. Sometimes I wonder if I'm still eleven years old.
You've written books in several middle-grade series including the Pen Pals series and Annie K.'s Theater. What are the demands of that work? How can someone interested in that genre get a foot in the door?
The demands of writing for middle-grade are the same demands I've experienced in all my projects. One of those is finding the right voice. By that I mean the voice that the reader will identify with, the voice that the reader you have in mind will be able to hear. I have voices in my head nearly twenty-four hours a day. When I wake up in the middle of the night I'm talking to myself in poetry or I'm making up the words to a song or I'm inventing a dialogue between two characters. I'm not talking out loud, don't get me wrong. But the voice inside my head is very loud and insistent and has great clarity most of the time. It's a story teller's voice and the same one I use when I'm writing.
When a story teller writes,
she's talking to somebody, keeping their attention, making them think, making them laugh, comforting them, so many things….Think about that middle grade reader while you're writing and I believe it'll help you find the voice that he or she can hear as well as the story that he or she can identify with and want to follow.
Getting your foot in the door? Well, stick it in when you get a chance. If I had started out to become a children's author, it wouldn't have happened because I didn't know the route. And there's still no clear route as far as I can see. But if you have a fever to write and a vision of what you'd like to produce, you will find the way. Writers find one another and create groups and networks. And believe it, there are people out there, editors, who need fresh ideas, fresh voices. They are waiting to get excited. Just get yourself there. But first you've got to write and that is hard work. Writing children's books isn't simple.  
You've written nearly 50 books and won many honors from places like Parent's Magazine, Reading Rainbow and the Children's Book Council. What writing accomplishments make you most proud? How do you measure success?
I'm proud of all my work. I respect my books once they're independent of me. I don't sit around telling myself how I could have
done it differently. As for the honors, it was so wonderful when Always My Dad made Reading Rainbow. I went on the set and that doesn't always happen and I'm a real fan of Levar Burton's. I've also been keenly aware of the honor bestowed upon me when I was asked to be a keynote speaker for a group like NTCE or IRA. I love teachers and librarians.
 How do I measure success? It's clear to me that material wealth is not number one on my list. Not that I've given up on that score. But I believe that if a person is able to embody their work with something of themselves, they're making a mark in this world. I believe that honesty with one self is huge and a lifelong endeavor of mine. I also value compassion. In feeling compassion for others we have to be compassionate with ourselves, to own our weaknesses and to accept our strengths with gratitude.
I guess I measure success in terms of character. Having the personal security that allows generosity is a trait that I admire. I also value gratitude and humility. I feel sorry for know-it-alls. There's so much I don't know which means there's so much more to learn. I think giving to others and being true to yourself are marks of a person I would regard as successful. I also think there's a lot to be said for finishing projects you start and having the courage to get them out there. I admire people who stand up for what they believe in, too.
What was the racial landscape of the children's book industry like when you entered the field? What gains have you made you proud? What do you hope the future brings?
When I entered the industry there was a new excitement about books featuring protagonists of color. The timing was fortunate for me.  After Pen Pals I wanted to write something that sprang from my own experience and there was space for that. I am proud to be a small part of that changed landscape in children's literature that has promoted harmony, provided comfort and allowed for a broadened perspective in young minds and in the minds of their teachers and parents. There are so many great books out there by writers and artists of color. I hope that it continues and that the  market one day perceives a good book as simply that and not written for someone particular. I write for all children. Laura Ingalls Wilder was writing for me, wasn't she? As far as I'm concerned, she was.
What have been some of the most meaningful moments of your writing career? What have been the most challenging?
I think I've covered some meaningful moments. A real challenge was one of my first middle grade series novels. Not one of my own series but a series that had been established where I was contracted to write a single book.  I had to revise over and over and get it in quite quickly. Though I gave it my all,  I never could please the editor. But I learned a lot.
For people of color hoping to turn their writing dream into a career, what's your advice? How do you become an author with staying power?
I would say the door is wide open for people of color, much wider open than before. That said, it's a difficult world to break into. So often people phone me or write to me to say that have "a children's book" they've written or have always wanted to write and they want to know how to get it published. Those facts are readily available. Write, revise, submit, expect rejections, keep on going.  
The person I respond to is the one who wants to make a life's work out of writing for children, because that's what I've done and that's what I know. If my ambition had been to simply get a publisher for one story that I thought might be good for children, I wouldn't have had anything published. I have written children's books because I am compelled to do so. It takes that kind of motivation and motivation is the source of my "staying power." Before I showed Always My Dad to an editor, I had revised it on my own without showing anyone at least twenty times. In my desk drawer are ten manuscripts that never reached anyone's desk because it wasn't their time.
There's no great big pay check guaranteed in this business. For some of us it truly is a calling. I also write poetry now and memoir, hoping for publication but with the knowledge that there is no guarantee. But I've got to write it and I've got to get it out there and all that takes time. So I make additional income in other ways by teaching and coaching, hoping for bigger book sales.
What keeps me going is temperament. I am persistent, stubborn and rely upon common sense and native intelligence. I maintain an interest in what makes people tick. I connect with people wherever and whenever I'm able. This isn't always easy for me because as a writer I require solitude and I am not thick skinned socially.  But I watched my mother work to raise four children while putting herself through school at night. I come from people who often faltered but knew how to pick themselves up and keep moving.
Bottom line is that unless you're a celebrity and have built in marketability, in order to get work published you've got to produce the work and believe in it enough to get it into the right hands.  I'm a creative artist and that's what creative artists do. I don't write because it's a glamorous sounding profession. I write out of necessity and a sense of obligation to my family, my community, to myself and, yes, to the past.  
Do you have other books in the works? What can we look forward to next?
My next picture book is The Granddaughter Necklace published by Arthur A. Levine Books.  I'm  hoping for a 2012 pub date or early 2013. I'm extremely excited about the book. The illustrator is Bagram Ibatoulline . I'm also completing a memoir at the moment. I have a collection of poems as well. I have an idea for a middle grade novel. While I'm working on one project, I'm often sketching out others.
What's your greatest joy?
My greatest joy is family. That has to be the answer. I also love my standard poodle Little Bear.  He's part of my family too.
 The Buzz on  Corey's Underground Railroad Diary series:
"Secretly taught by his father to read and write, a nine-year-old slave keeps a diary but knows that he must hide it from his owner. Corey's spelling and grammar improve over time as he learns from others and from observation. In addition to recording life on a Kentucky farm in 1857, the journal traces the boy's flight to freedom by way of the Underground Railroad. The writing is sparse but compelling, pulling readers along every dangerous step of the way. Wyeth infuses the narrative with historic references to people like Frederick Douglass but also acknowledges the nameless men and women who believed in freedom enough to risk their lives to help others. The historical note and photographs strengthen the link between fact and fiction."
— School Library Journal (Review of Book 1: Freedom's Wings)
"In 1858, nine-year-old Corey Birdsong and his family flee Kentucky and their lives as slaves. With the aid of the Underground Railroad, the Birdsongs arrive in Amherstburg, Canada. There, an entire community of people of color welcomes them and helps the family build new lives in freedom. Children need not be familiar with book one of Corey's diary, Freedom's Wings (2001), to take up this continuation. Through Corey's entries and the informative notes, children find out about African Canadians, like those in Corey's new home, who owned land and businesses, had their own churches and schools, and eagerly helped newcomers like the Birdsongs get on their feet. In the course of his diary, Corey escapes a slave catcher and helps a friend steal away from Kentucky to freedom–episodes that add excitement as well as historic relevancy. A solid addition to the My America series."
— Booklist (Review of Book 2: Flying Free)  
For more about Sharon Dennis Wyeth, please visit: www.sharondenniswyeth.com.