I take strange pride in having the anchor of this month-long celebration of books. Today's feature is longer than we usually make them. I hope you agree that it's worth the time it will take to immerse yourself in it. I hope that it will take you back to the essence of why we, all of us who champion books for young readers, do it.
From the moment I heard about Project LIT, I was enamored. Making sure kids of color saw the many facets of themselves in books is why I began writing YA fiction. Jarred Amato has created an almost cult following with this initiative. When he recently announced that he'd begin adding books for elementary-aged readers I may have whooped in victory.
Today, as we close out this year's 28 Days Later, Jarred talks about the conception of Project LIT, how you can be a part and finally asks, What if?
OUR JOURNEY
Our journey begins in Nashville, TN. Specifically, Maplewood High School, where my incredible students and I first read and discussed this article. I wish y'all could have been there for our conversation.
Where do book deserts exist? Why do they exist? What happens when children do not grow up around books? Does our society really want all children to be literate? What can we do together to solve this problem?
At this moment, in August 2016, Project LIT Community was born. We worked together to draft a mission and vision, design a logo, and set a few short-term and long-term goals, including a book drive. We haven't let up since.
Our initial aim was to eliminate book deserts and promote a love of reading here in Nashville, and over the course of the 2016-17 school year, we collected more than 15,000 books, set up a dozen LIT libraries (converted USA Today newsstands) in community centers and YMCAs, and planned four community-wide, Project LIT Book Clubs to celebrate incredible books like The Crossover by Kwame Alexander, March by John Lewis, and Ghost by Jason Reynolds.
Our students led the way as we applied for local grants, designed t-shirts, spoke at community events, and shared our journey on social media. By May 2017, we had developed a model Project LIT "chapter" — one step, one book, and one conversation at a time — and in June, we launched our chapter leader application (it's still the pinned tweet in our @projectLITcomm Twitter profile) so that other educators and students could join our grassroots movement.  
Over the past 18 months, our passionate, persistent chapter leaders have continued to connect and collaborate online (especially during our Sunday night #ProjectLITchat) and in person at local and national literacy events, including our inaugural Project LIT Summit, as we share book recommendations, strategies, resources, advice, and inspiration.
Each chapter can and should look a little different (we're big believers in people, not programs), but we're all unified by our belief in our students and, of course, great books. Books that encourage us to fall in love with reading again or for the first time. Books that affirm and value all students, cultures, and identities. Books that spark important, necessary conversations. Books that promote empathy and kindness. Books that students will choose to pick up over their smartphone. Books that encourage students to write stories of their own. Books that matter.
We work together to solve problems and overcome challenges (lack of funding, scripted curriculum, and racism, to name a few) in order to provide our students with as many positive literacy experiences as possible. Our Project LIT Community believes wholeheartedly that if we increase book access (and access to high-quality, culturally sustaining books, in particular) and improve reading attitudes, it will inevitably lead to better reading outcomes.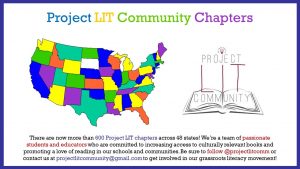 As of January 2019, there are more than 600 Project LIT chapters across 48 states — public and private, urban and rural districts, elementary, middle, and high schools — all committed to empowering our students as readers, writers, and leaders.
OUR WORK
So, what exactly is Project LIT Community? That's a great question! We see it as a national, grassroots literacy movement, a growing team of educators AND students who work together to increase access to culturally sustaining books and promote a love of reading in our schools and communities. (And here's how our chapter leaders describe our community.)
Our community is collaborative, not competitive. We're committed to centering culturally sustaining texts along with our students.
Students like Rodrea, Jakaylia, David, TJ, Jay,  Lauren, Adrian, Ty, Calvin, Chelsea, De'Sean, Angel, Faith, Paisley, De'Montre, Toniya, Kiara, Talaysia, Gerrick, Lesly, Ra'Shawn, Iyonna, Antonio, Sakora, Sean, Olivia, and Jayalen.
It's impossible to describe how much our Project LIT founders, now seniors on their way to college, have accomplished together. Here are a few of the highlights.
Despite a number of local challenges, our Maplewood students led a community-wide book club every month for the past two years (The Crossover, March: Book 1, Ghost, Booked, All American Boys, The Hate U Give, Solo, A Long Walk to Water, Dear Martin, March: Book 2, Long Way Down, The Poet X, Born A Crime, The 57 Bus, I am Alfonso Jones, and Speak).
Our Maplewood students organized book clubs on three college campuses (Fisk, Lipscomb, and Vanderbilt) and attended author events with three of our favorites (Kwame Alexander, Jason Reynolds, and Nic Stone).

Our Maplewood students participated in literacy panels, spoke at workshops and community events, and planned a national conference.

Our Maplewood students read and wrote a TON, and they crushed the ACT, outperforming their peers by more than 5 points on the Reading and English sub-sections, proof

Our Maplewood students delivered books and read to local elementary schools, and they're currently creating their own Dear Martin curriculum to "teach" to nearby middle schoolers.

Our Maplewood students started a movement.
They're now joined by thousands of students across the country. Shout out to the Project LIT youth in Denver and DC, the Bronx and Baltimore, Little Rock and Los Angeles, Chicago and Columbia, Boston and Detroit, Atlanta and Indianapolis, Las Vegas and Louisville, St. Louis and Syracuse (and we could go on) who are reading and responding to incredible texts in incredible ways, who are leading book clubs and facilitating conversations, who are showing their peers and adults that reading can and should be cool, who are mentoring "LIT buddies" and giving back to others, who are running social media accounts and writing books of their own, and who are doing the work and effecting real change in their school and community. We see you!
And as we move forward, we envision students (with the support of amazing educators) leading Project LIT chapters in even more schools and communities around the world!
OUR COMMITMENT
Recognizing that each chapter leader enters this work at a different point in their educational journey, we all commit to:
Empower

students as readers, writers, and leaders

Promote

a love of reading in our schools and communities

Read, discuss, and celebrate

books that make our students feel seen, heard, affirmed, and valued

Develop

authentic reading identities by increasing access to high-quality books, building community, and fostering a sense of belonging

Support and inspire

one another as we grow as anti-bias/anti-racist educators

Rewrite

the narrative about which texts and authors are deemed worthy of academic study

Amplify

voices and stories of students and educators of color

Advocate

for literacy policies and practices that will challenge the status quo

Champion

young people and books that reflect their lived realities, communities, and identities
OUR WISH LIST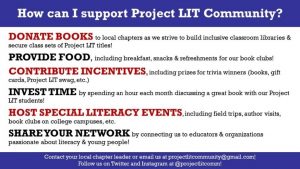 2. Did we mention books?! We hate that many of our Project LIT chapters have to hustle for books each month. Right now, educators are building Amazon Wishlists and creating Donors Choose fundraisers (and even that's in jeopardy lately), but we'd love to make it easier for our chapters to build badass classroom libraries and host Project LIT book clubs.
Shout out to the schools, districts, community members, and non-profit organizations who have already stepped up to support their local chapters and worked with us to flood ALL schools and communities with culturally sustaining books.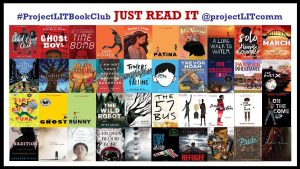 3. We'd love for those in power to make real room for our Project LIT books (and so many others) in our classrooms. Yes, we're talking to you, department chairs, school and district literacy leaders, curriculum developers, policymakers, and anyone else who continues to make it difficult for our students to read, discuss, and celebrate books that matter. We're tired of harmful practices and policies that prevent students, particularly our students of color, from becoming passionate, proficient readers.
It's not enough that we we our bookshelves with diverse titles. It's not enough that schools offer optional book clubs before and after school. While those can be good places to start (and often the only place to start), students deserve time, access, choice, and community during the school day. Of course, not every teacher is ready or interested in moving away from the "classics" (that's a blog post for another day), but why can't we start with those who are and go from there?
4. We'd love to do more to support our Project LIT educators, so that we can better support our students. While we learn so much from our online community, we know tha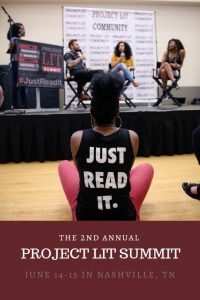 t nothing beats face-to-face collaboration. We also know all of us have plenty of room to grow as educators. Therefore, we'd love to offer free professional development and team-building opportunities for our chapters. Connection and belonging are so important, especially in this work, so whether it's local meet-ups, author visits, regional Project LIT events, or our national Project LIT summit, we want to bring our community of students, educators, and authors together as often as we can!
5. We'd love to connect with anyone who is willing to ask, "What If?"
What if…we invested in inclusive libraries?
What if…we gave all students choice in what they read?
What if…all students could see themselves in books?
What if…we celebrated and cheered on readers the same way we champion our athletes?
What if…we flooded ALL schools & communities with great books?
What if…we truly trusted and empowered our teachers? Our students?
What if…we stopped policing kids' reading?
What if…we admitted that the traditional English model, running back the same texts and the same essays and the same units year after year, is easier and cheaper and safer, but not always better?
What if…we acknowledged that just because a certain book "worked" for you, or for me, it doesn't mean that it needs to be read by ALL?
What if…we stopped trying to make school, especially English class, so boring?
What if…we defended our students as passionately as we defended the "classics"?
What if…we recognized that a text is not rigorous if no one reads it?
What if…we made room, and I mean real room, for new and important texts in our curriculum?
What if…every school made their love of reading visible to students and families?
What if…we committed to giving children so much access & choice & time & love & support that they all said, "Yeah, I'm a reader!"
What if…we recognized that there is no silver bullet out there, no scripted curriculum or computer program, that will turn a non-reader into a proficient one?
What if…we listened to our teachers? To our young people?
What if…all children, K-12, received a brand new book of their choice every single month?
What if…the books on our shelves were as diverse as the students in our classrooms?
And what if…teachers didn't have to buy those books?!
What if…we all provided our students with as many positive literacy experiences as possible, day in and day out?
What if…we all worked together to make our communities LIT, one book and one conversation at a time?
Project LIT in the Press
Project LIT Overview Video – "What If?"
Ed Dive: How a Nashville educator turned a class project into a nationwide movement
Novel Idea: Schools are using diverse authors and titles to spark student interest in reading
Seeding Book Deserts with Diverse Books
Project Lit' takes aim at Nashville's book deserts
There's a (Project) LIT Movement Spreading Like Wildfire and I'm Here For It
Reading Is LIT: How a Classroom Project Can Impact an Entire Community
Mr. Amato & Project LIT Community honored by Penguin Random House
What is Project LIT Community?
Project LIT: How a Classroom Project Sparked A Movement
Shifting the Culture of Reading in a School: Project LIT Bronx
Grassroots Movement Grows Young Readers and Young Leaders
Literacy empowers young people as readers and leaders, so that they're prepared…and inspired to change the world
When School Gets Real: Teachers Connect Classroom Lessons to Current Events
Best-Selling Author Jason Reynolds, Parnassus Books and Project LIT promote reading at Lipscomb University