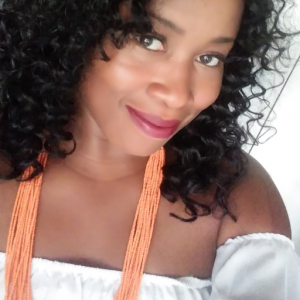 Tonya Engel
is a self-taught artist living in Houston, Texas. Folk artists of the deep South have influenced her work, as well as contemporary masters such as Marc Chagall, Frida Kahlo, Romare Beardon and Gustav Klimpt. Her bold style is figurative, textured, colorful, and ripe with symbolism.
The Journey
I ALWAYS wanted to illustrate children's books. More than anything, I just knew that my life would in some way surround art-making in some way. Unfortunately, I didn't have a lot of encouragement or examples of working artists around me. When my father asked me as a kid- "really, how many professional black female artists do you know?!" I couldn't answer that question! I questioned myself- but still I kept practicing my drawing despite little support.
The work to get there began when I had the opportunity to work in an art supply store in Houston out of high school. I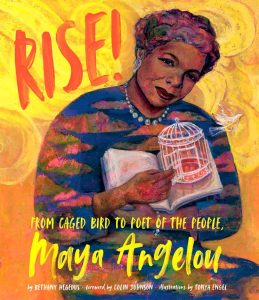 had drawn my whole life and it was there that I was able to explore all of the mediums and materials available. I was exposed for  the first time to a variety of new experiences; meeting working artists, participating in exhibitions and art contests, life drawing classes. Simply placing myself into this environment led to meeting important mentors, and my very first paid commissions.
By the time i moved to New York in 2006, I had been a full time artist for a few years. I felt that was the time to pursue my dream of illustrating in combination with my fine art and was introduced to my agent at Morgan Gaynin through a peer and a dream was born when they first helped land my first book "Our Lady of Guadalupe" among many many articles and periodicals over the years.

The Back Story
I auditioned for the part! I didn't know it at the time- I thought they were simply asking me to show them a sample of how I would go about a particularly difficult image to convey- the scene in the book where Maya is violated by her mother's boyfriend, Mr Freeman.
The magic in children's books is that there are times when subtleties can speak louder that direct messages. U don't want to frighten the daylights out of children who are reading RISE, but you want to be clear when carrying the mood of an experience through to them,. The publishers liked what I created and told me the "part" was mine soon after.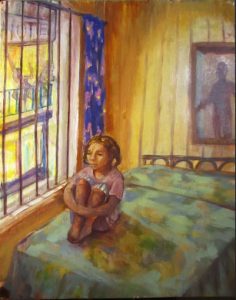 Audition piece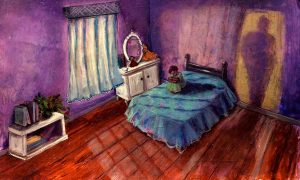 Final Piece
The Inspiration
Dreaming of becoming an illustrator, I would visit the Brooklyn Public Library (I lived in NY from 2006 to 2016). There I would haunt the children's book isles for new books or come back to old ones I loved. Snowy Day ( Ezra Jack Keats), Where the Wild Things Are (Maurice Sendak), anything by Jerry Pinkney, I had discovered some new artists like Sophie Blackall, and Brad Holland whose work reminded me of one of my favorite fine artists, Julio Larraz. I was and still thoroughly entranced by Faith Ringgold wonderful quilt paintings turned into books!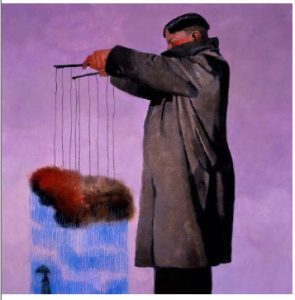 Brad Holland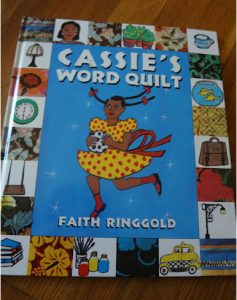 Faith Ringgold
The Process
In the beginning I JUST GO! I try to keep it loose and organic at first while using watercolor or watered down acrylic washes as the underpainting. This process works best at the time of first sketches because it allows the free-est and most obscure & unexpected things to come to the surface. I then roughly sketch the formations that I can see while the words on the page are pinging around my head.  I add some bolder details in at the end of the sketch with ultrathin charcoal pencils.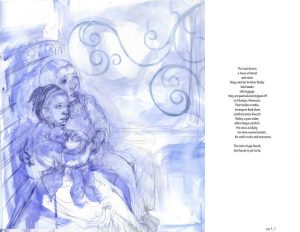 1st stage of sketches for "RISE.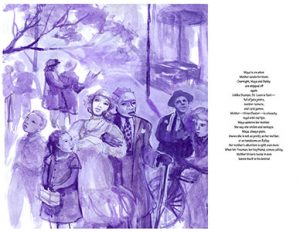 1st stage of sketches for "RISE
Reviews:
An important and powerful addition to any biography collection.– SLJ
This deeply important story will foster further discussion around racism, sexual abuse, and courage.–Kirkus
In Engel's colorful paintings, strong women are rooted like trees, injustices are weighed in scales, and words soar and fly, representing the magical realities, emotional expressiveness, and deep resonance of Angelou's poetic vision.–Publishers Weekly
https://www.youtube.com/watch?v=x2g_ioacjLk&feature=youtu.be