As a mom, Freddi Williams Evans made sure her children's world was filled with books. She read to them often and found herself swept away by the stories too. Evans searched for books that showed reflections of African-American kids and culture. She found some, but knew there could be more. Evans decided to add her voice.
Despite receiving rejections for first efforts, she persevered. Her break came when she wove a story inspired by family history. Her first book, A Bus of Our Own (Albert Whitman, 2003), illustrated by Shawn Costello, explores the life of Mable Jean, a black girl who has to walk five miles to school and endure jeering from white children who ride on a bus. Mable Jean asks a question that rallies African-Americans in her rural Mississippi community and changes her future and that of other black children in the area. That debut title won honors including a Notable Social Studies Trade Book for Young People and the Oppenheim Toy Portfolio Platinum Award. Evans was on the scene.
Her most recent title, Hush Harbor: Praying in Secret (Carolrhoda, 2008), illustrated by Erin Bennett Banks, continues her tradition of celebrating unsung heroes and moments. In the moving and acclaimed story, she creates a special window into a sacred space enslaved people created for themselves.
We are happy to salute Freddi Williams Evans on day 19 of our campaign:
What early influences helped ignite your interest in writing?
My passion for history and with my desire to preserve some of my family's stories served as an early impetus for my writing.
I read that you grew up hearing stories from your relatives about enslaved ancestors. Could you please talk about that? How did that experience affect you and your future goals?
The stories that I referred to were about relatives who lived as children in the early 1900s. I was particularly intrigued with their stories about the games that they played, their schooling, and holiday traditions at Christmas. Of course, they had to make all of their toys – even the balls that the boys played with. This was also true of the Christmas decoration for their trees and the gifts that they received.  My goal is to share those kinds of experiences with the children of today.
What inspired you to write for children?
When my children were young, my reading list consisted mainly of their books – and lots of them. In addition to not having time to read adult books, I feel in love with children's literature. I particularly looked for books with African American characters and storylines; but in the 1980s there weren't as many available as there are now. My desire to write about the characters and stories that I wanted my children to read inspired me to write for young readers.
How did your first picture book, A Bus Of Our Own, come to be? Please share your path to publication. What were the toughest and most rewarding moments?
A Bus of Our Own is based on a true story from my family and community in rural Mississippi. I first heard about the story at my uncle's funeral when, during a tribute, someone thanked him for bringing the first school bus to the "colored" children. I began asking my family members about the bus immediately after the funeral and each person sent me to another. The sacrifices that parents made and the fact that the community came together for the children's education were powerful and commendable. While this was not the first story that I wrote, I'm happy that it was my first to be published.  
Getting the book published was not an easy task because I received lots of rejections and made many re-writes. I persevered because of the story itself and the layer of themes that it embodies. It's a story about determination, education, family, community, church, school, segregation, sacrifice, team work, self reliance, and more.  The toughest moments were when family and friends inquired about the status of the book before I found a publisher. I would say, "Oh, I'm still working on it."   The most rewarding moments were when I returned home for a book signing or presentation at a school or church. Initially, family members including Mable Jean, the main character in the book and my cousin in real life, attended many of those events. She also signed books with me.
What surprised you most about the children's book industry?
I was surprised about the length of time it takes for a book to get published. After signing the contract, it takes at least two years if the illustrator is available.
Your beautiful books like A Bus of Our Own, The Battle of New Orleans: The Drummers Story (Pelican, 2005) and Hush Harbor: Praying in Secret capture  historical moments. Why is it important to write history stories for children? What do you say to people who think children don't connect with tales from the past?
It is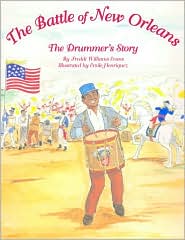 important to expose young readers to historical texts that show the values, strength and courage of African Americans in the midst of struggles and injustice. Culturally conscious books not only inform children, they also empower them. 
 Children may not be able to connect to stories from the past, but they can learn from them. Historical texts that are grounded in truths and based on what really happened enable children of all backgrounds to better understand the past and ultimately better understand the world around them
What's your mission?
My mission as a writer is to preserve and promote untold and under-told stories of the African American experience. Some of the themes that resonate in my work are community, family, perseverance and courage; and my intention throughout is to engage, enlighten and inspire young readers.
Please take us into your writing life. What's a typical day like for you? How much time do you devote to researching and writing? What's your writing space like?
My f
ull-time job as a public school arts administrator soaks up my day hours. So, my writing and research are done after school, week-ends, holidays, and summers. As all of my books for young readers are historical fiction and my work for adults is non-fiction, I devote the majority of my time to research. This includes libraries and archives in and out of town (New Orleans). The bulk of my writing takes place in my office at home which is book shelves on three of the four walls.  
Your books have won many accolades from starred reviews to notables lists. What writing accomplishments make you most proud? How do you measure success?
I am very honored by the recognitions that my books have received. However, the one that stands out to me is the 2003 Living the Dream Book Award because my book was selected by the students at two schools in Manhattan, New York,  and I had the opportunity to travel there and meet them. I determine success in writing by the responses that I receive from students – who are after all my targeted audience.  
You do a lot of arts education and work with young people. What feedback do you get from them about your books? What kind of books do they hunger for? How do books affect them and their lives?
When students hear that I am an artist and an author, they immediately think that I am a visual artist and that I illustrate my books. Students appreciate the fact that these stories are based on real events and/people. During my presentations, they get to view photographs of the real characters setting involved in the stories.
I believe that students would like any books that have contemporary and timely themes.
For instance, a book about the Saints Football Team winning the Super Bowl would be a great hit in New Orleans now.  I believe that books remain relevant in children's lives – and always will, despite the world of media and technology.
What gains for African-Americans in the children's book industry have you made your proud? What do you hope the future brings?
I am very proud to see the increase in African American authors and illustrators who are writing about and depicting our history and culture. These authors and illustrators enable African American children to identify with heroic characters who look like themselves.   It is my hope that the future continues to bring great books, but most importantly African American children who are avid readers and who will embrace the wonderful literature that is available to them.
Do you have other books in the works? What's next for you?
Yes. My first nonfiction book for general audiences, a history book on Congo Square in New Orleans, will be published in 2010.  
What's your greatest joy?
One of my greatest joys is to see the stories that are on my heart and in my mind come to print and touch the hearts and minds of others.
The Buzz on Hush Harbor:
Enslaved Africans in the antebellum South were forbidden to gather for fear that they would plan uprisings so they met at night in secret locations called "hush harbors" to practice their religion. Evans captures the drama and tension of one such meeting as word is quietly passed through the cotton fields and anticipation builds. Simmy, a child assigned as lookout, describes the meeting, first with its joyful singing and prayer, the behavior of those moved by the Spirit, and the terror when the barking dogs of the "paterollers" are heard. Banks's highly stylized paintings are wonderfully expressive and amplify the deep emotion of the situation. Her palette of yellows and browns shows people who are swathed in moonlight yet avoids the dimness that night scenes sometimes have. An extensive author's note outlines African religion from the arrival of slaves in America to the founding of the First African Baptist Church.
— School Library Journal
"Meetin' tonight," Uncle Sol whispers to his fellow slaves in the cotton fields. It's going to be down in the hush harbor, where slaves sneak away to pray and praise the Lord. Evans takes a little-discussed topic—the faith practices of eighteenth-century slaves—and turns it into a moving narrative, if not quite a story. Young Simmy is given the job of lookout as the slaves gather to pray for Mama Aku, who is ill. As the worshippers sing and pray, Simmy spots a rustling in the bushes—it's a runaway slave, who warns them about the dogs and guns of nearby slave catchers. Simmy's quick actions allow the slaves to get home, where they learn that Mama Aku has died. Still, they'll continue to pray, sing, and shout in the hush harbor. Illustrated with extremely stylized pictures that don't prettify their subjects, this captures some of the fear and horror associated with slavery. However, it's the detailed author's note that will really give kids insight into the subject. A good choice for both religion and history shelves.
— Booklist
When enslaved Africans were brought to the United States, they brought with them their cultures and traditions. Slaveowners worked diligently to strip them of both, but the Africans found ways to maintain their history and evolve in their new environment; worshipping together secretly in remote locations was one of them. 'When the oil lamps went out in the big house and the overseers' cabin, folks who had a mind to go stole away one by one, with Uncle Sol leadin' the way.' A young boy narrates the tale of one such illicit prayer meeting, his joy and fear of discovery both clear in text and illustrations. Banks's oversized, almost muralistic figures reflect the strength of the Africans' spirits and their tremendous physicality. The red outlines used throughout evoke both warmth and danger as the characters steal away to their meeting place. Evans handles the issue with clarity, understanding and pride, briefly touching upon Africans' attempts to escape the slavery system. The author's note provides additional information for interested readers. This is a fine addition to any collection.
— Kirkus