When she was starting out, Joyce Hansen struggled to become a published author. Like many new writers, she received rejection letter after rejection letter. But Hansen found story gold when she drew from the richness of her Bronx childhood and the young people she taught. Those memories and observations inspired her first novel, The Gift-Giver, which began a distinguished children's book writing career that has spanned more than 20 years.
Hailed for the authenticity of her fiction novels and the sensitivity and realistic detail of her non-fiction books, Hansen has won many awards. But what matters to her most is the reaction of children: Did she help them see themselves? Did she encourage them or turn a reluctant reader into an eager one?
On her website, Hansen writes: "I want my readers to sense the possibility of hope, to be aware of how the human spirit can rise to great heights–to see how some people manage to survive the madness and create a sane space where there is still beauty, love, peace and even joy."
As testament to her success, Hansen's The Gift-Giver (Clarion, 1980) is still in print. She has become a beloved author and inspired generations of readers and writers.
Please join us in celebrating Joyce Hansen on day 15 of our campaign:
How did your childhood shape your path to writing?
I was blessed with a mother who loved books and writing. She read to me before I knew how to read. My father was a photographer who told my brothers and I stories through his photography and his memories about his childhood.
How did your experience as a NYC school teacher inform and inspire your work?
My early work was very much inspired by my students, and I think it still is. I was afraid to retire from teaching in 1995 because I wondered whether I'd still be able to write books for children.  A story walked before me everyday. I also had a good sense of what the children liked, and I wrote with the goal of creating books for those children who rarely saw themselves in the books they read.
 Please tell us about your journey to publication. How did The Gift-Giver come to be? What was your break?
I wrote The Gift-Giver as a creative project  when I was getting my Master's degree in English Education.  I was trying to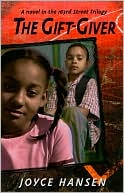 write at that time, but had not thought about writing for children.  I had been trying to write for a few years and didn't have anything published.  I had a box full of rejection letters.  My professor liked the little children's book I'd created for my project and said he thought it was publishable.  It was a story based on my growing up in the Morrisania section of the Bronx,  at least one hundred years ago.  The characters in The Gift-Giver are based on my childhood memories coupled with the children I saw everyday in school.  At one point in my teaching career, I taught in the neighborhood I grew up in.    My break came when I showed my good friend, the writer Brenda Wilkinson, the manuscript and she liked it.  She showed it to her editor and it was eventually published in 1980.  I'm amazed that it's still in print. 
 You first earned acclaim for stories like the wonderful books in your 163rd Street trilogy — The Gift-Giver, Yellow Bird and Me and One True Friend — that were hailed for their authenticity and emotional depth. How did you develop your voice?
Thank you so much for that compliment.  I didn't think about it consciously, but I guess I developed my voice as I remembered what it felt like to be a middle school kid  and a teenager–I recalled the things that bothered me and most youngsters–growing pains, making friends one day and falling out with them the next, trying to make sense of the world and your place in it, hiding vulnerability with attitude.      
What were the challenges and rewards of writing your first historical fiction novel, Which Way Freedom? What advice can you offer for writers hoping to create books in this field? 
Which Way Freedom? was  quite a challenge because I really wasn't sure what I was doing.  But it was a book I had to write whether anyone wanted to publish it or not.  I have always loved history and writing this book gave me the chance to pursue both history and writing.  I wanted to write historical fiction because I felt it was a good way to teach youngsters our history.   I started out with a small idea.  I wanted to write a book, set during the American Civil War and I wanted to have,  at some point in the story,  a very exciting scene where a group of enslaved people escape.   I didn't develop a story until I began to research the Civil War era.  My advice to those who want to begin writing historical fiction is to first find a solid history book about the historical setting of your story.  This is just to give you an overview of the historical time, and the bibliography should lead you to other books and primary sources.  As you read and take notes decide how you're going to narrow and focus this whole period.  Think about your characters who will tell the story.  How will they fit into the setting.  In Which Way Freedom? I had to figure how my three main characters, enslaved children, fit into such a large catastrophic event as the Civil War.  While you want your historical information to be as accurate as you can make it, in the end it is the characters who will take center stage and bring the history to life.   Also, where you can, identify things in the present that still inform the past.  I had one of the characters in my story escape a Confederate Army camp by floating in a basket "boat" made with sweet grass. People in the low country of South Carolina still make sweet grass baskets.  
 How was writing your first non-fiction novel different? How much research was required for books like Breaking Ground, Breaking Silence: The Story of New York's African Burial Ground?
My first non-fiction book was Between Two Fires and was about Black soldiers in the Civil War.  I learned how to apply fictional techniques to a nonfiction book. Breaking Ground Breaking Silence was a real challenge.   How could I write about the discovery of bones and a burial ground and make it interesting to  young readers.  I wrote this book with Gary McGowan who was one of the archaeologist working on the  African burial ground that was discovered in lower Manhattan, in New York City in 1991.  Gary provided the archaeological information and I researched the history of New York City during the period when the burial ground was actually in use.  We tried to tell parallel stories of the burial ground and the early history of New York City in  an engaging and interesting way. 
 What was the racial landscape of the children's book industry like when you entered the field?
 When I entered the field in 1980, I had the benefit of walking through a door previously opened by African American writers such as Virginia Hamilton, Mildred Taylor, Brenda Wilkinson, Eloise Greenfield, Lucille Clifton, Walter Dean Meyers, Rosa Guy  and others.  There were still not a lot of us and with the exception of Hamilton and Taylor who had both won Newbery Awards, our books were not as widely publicized  or pushed.  I've always felt that the books were viewed as written primarily for African American children.  If a teacher had no Black children in her class, then it's most likely she wouldn't use one of our books.
 What gains in the field have made you proud? What do you hope the future brings?
I think now our books are more widely read. I hope they are.  We have an African American President now.  Can some people still feel that a book written by a black writer with African American children cannot be read and enjoyed by white children also?  I'm also proud of younger writers on the scene now and the interesting books they're producing–writers such as Rita Williams Garcia and Jackie Woodson.     
What lessons have you learned from reading other writers? How has that influenced your work?
I've been an avid reader all of my life.  I read other writers in order to learn how to tell a good story.
In an autobiographical statement on the Scholastic site, you write that "Those of us who write for young people have a special responsibility because the word is so strong. We must use our words to help our children acquire a richness of soul and spirit, so that perhaps one fine day we will learn to live with ourselves and one another in peace and harmony." How do we meet that responsibility?
We have to give our young people stories that validate them and help them to make sense of the world.  At the same time we have to help them understand  that we share a common humanity, as opposed to the differences that send us down the paths of chaos and war.
You've won multiple Coretta Scott King Honor Awards and earned ALA Notable honors. What does that acknowledgment of your work mean to you?
It means so much to me, and encourages me to keep writing. 
How do you measure success? 
Real success for me is when young people tell me that they were encouraged and helped by something I've written.
What have been the proudest and toughest moments of your career?
The proudest moment of my career was when I received a Coretta Scott Honor Book Award for Which Way Freedom?.  I was just hoping that no one would say that the book was awful.   I'd never written historical fiction before.   You can't imagine how shocked  and proud I was when the book was given that honor.  I still have the letter from the Committee telling me that I won the award. 
For people hoping to turn their writing dream into a career, what's your advice? How do you become an author with staying power? 
 First of all don't put off the writing waiting until you have more time to write.  Most likely, you'll never have more time.  Be disciplined and have a regular routine for your writing.  Read a lot.  Analyze  how  some of the best authors develop their stories. 
What's your mission? What do you hope young people take away from your stories?  
In my contemporary stories, I've focused a lot on peer pressure and tried to create young protagonists who learn how to trust themselves.  In my historical fiction and nonfiction, I want my readers to understand the history of our people as Americans of African descent.
Your last book, African Princess: The Amazing Lives of Africa's Royal Women, was a beautiful testament to the richness of African heritage. Can you please give us a preview of your next book? When will it debut?
My next book is historical fiction set in 1855 in New York City about the life of a free black family.  It's a five book series and this first book will be published in the fall of next year. 
 What's your greatest joy? 
 When a teacher tells me that a student who never read a book, read and liked one of my books.
The Buzz on African Princess: The Amazing Lives of Africa's Royal Women:
"A beautiful book from cover to cover. A portrait of Princess Njinga (of Matamba c. 1582-1663) graces the cover of the volume, representing the qualities of strength, pride, and conviction that the six royal women profiled in this title possessed. Hansen's introduction addresses the varied nature of the continent's land and people and informs readers that the six "…princesses and queens whose stories are told in this book give us views of Africa we do not often see." The map of the continent that faces this introduction features small portraits of each person positioned over the area in which she lived and ruled. Each chapter covers the life and times of one leader from Hatshepsut (c. 1497-1457 B.C.) to Elizabeth of Toro (1940-), and opens with a stunning, full-page portrait. In addition, there are quality reproductions of artwork and photos of artifacts, sites, and individuals. In the early profiles, the author sometimes shares what she imagines the women might have thought or felt given the time or circumstance. Chapters on later individuals include a few quotes. Captions and occasional sidebars add additional information. These intelligent and dedicated women all overcame obstacles, took risks, and often challenged the status quo. Their stories will provide inspiration to all readers."
— School Library Journal
"The history is compelling in this collective picture-book biography of six highly successful African women–warriors, builders, businesswomen, and administrators–whose exciting personal stories show the rich diversity of the continent and celebrate their achievements during times when most women had little power. From Hatshepsut of ancient Egypt and Amina of sixteenth-century Zaria (now part of Nigeria) to contemporary Princess Elizabeth of Toro, a Ugandan lawyer, model, foreign minister, and U.N. ambassador, Hansen's lively, well-researched accounts bring close each woman's struggle and place it within the context of her country's changing politics and culture. The spacious book design is inviting: the paper is thick and glossy, the type is small but clear, and attractive geometric designs border the pages. The six full-page artist renderings of the women are glamorized, but there are also plenty of fully captioned historic prints and photos of carvings and artifacts. Hansen is always careful to distinguish fact from surmise, and her research will stimulate readers to find out more . . . "
— Booklist
A Few of Joyce Hansen's Awards and Honors:
2005 NAACP Image Award Nominee, African Princess
1999 Coretta Scott King Honor Award, Breaking Ground, Breaking Silence: The Story of New York's African Burial Ground
1998 Coretta Scott King Honor Award, I Thought My Soul Would Rise and Fly: The Diary of Patsy, a Freed Girl
1995 Coretta Scott King Honor Award, The Captive
1987 Coretta Scott King Honor Award, Which Way Freedom
For more about Joyce Hansen, please visit www.joycehansen.com.