As interested as I am to hear about Rebecca Barrow's addition to the YA universe, what I really wanted to talk about was her lip color and that beautiful purple hair – because, I have a slight lip gloss and color obsession. Lucky for you all, I kept my impulses in check.
Rebecca…::makes call me gesture::
Meanwhile, journey with me across the pond to talk Black girls rocking out and chasing your desires.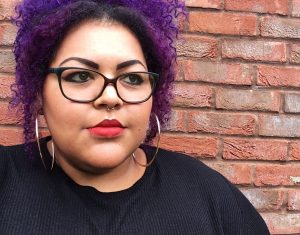 The Journey
I started writing YA when I was still a teenager, but I didn't start out writing YA. I came to it after I wrote my first ever (adult) manuscript, when I was researching how to get published and I kept seeing the same advice over and over: read what you write. Whenever I saw that I just thought, "I do not want to read what I'm writing. I want to read YA. So…maybe I should write YA?" That was where I started, and after that my love for writing YA grew and grew. Now I definitely write for me as a teenager and the stories I wanted to see, but also for anyone who is like me as a teenager—quiet and struggling with mental health, filled with big dreams and yearning for more.
The Backstory
THIS IS WHAT IT FEELS LIKE came from my love of music and stories about it, and specifically wanting to write about black girls in that world. I grew up reading all about white girls becoming rock stars and I always wanted to see black girls like me getting to have that, too. I think I'm often exploring the same themes in all my writing—big, wrenching desires and how to make them a reality—and the music world is a perfect place to explore that. I also wanted to show three different girls and all that they're going through alongside the music—Jules is gay dealing with a scary-exciting new relationship and Hanna's a recovering alcoholic with family issues and Dia's a young mother dealing with grief and guilt. They're real, facing challenges and living lives that real girls are living. Ultimately what I want from all my books is for one person to see themselves within it, to know that someone out there understands that they exist and deserve stories about them.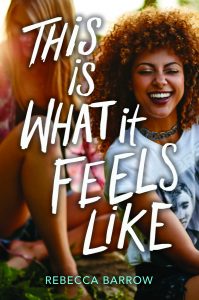 Her Writing Process
My writing process has changed over the years as my job situation has changed, and as I've had to adjust to deadlines and writing on a stricter schedule. When I started writing I had no schedule and no word count goals; I would write all day long, but really be watching something or distracting myself and maybe I'd get five hundred words down at two am. I am much more organised now. Right now I go to a day-job three days a week and write in the morning, and then all day on the days I'm at home. Before this job I was writing full time and I really loved it—I was able to focus on writing and all the other things that come along with it., but financially, it's super hard! I write on the weekdays and aim for 1000 words each day, and when I'm not writing actual words I'm usually figuring things out in my head—plot points, what's going to come next, revisions I want to make. In the future I'd love to write full time again, but for now, this works. I also can't write without noise cancelling headphones and a notebook which I barely use now, but old habits die hard.
The Buzz
"A realistic, impassioned portrait of young women coming into their own in all their messy glory." –Kirkus Reviews
"This is a story with a diverse cast of young women taking charge of their own destinies… A fun girl-power novel for teens who like their rock hard and their main characters tough." – School Library Journal
 Publisher's Lunch Buzz Book Fall/Winter 2018
Listed on the Kid's Indie Next Winter 2018/2019
Visit Rebecca's website to learn more: Rebecca-barrow.com