As a child, one of Sharon Bell Mathis' favorite reading spaces was the iron fire escape above the backyard. There, she stepped through the pages of books into new and exciting worlds.
"I don't remember when I actually realized how very special was this private playground/haven/sanctuary of mine . . . Everything was possible while I sat and imagined on my fire escape," said Mathis in Something About the Author.
But though she had a passion for reading and a talent for writing, Mathis didn't plan on becoming an author. Instead, she became a teacher after graduating from Morgan State University.
Perhaps the magic of the fire escape – peopled with characters from her books and her imagination — never left her. In the 60s, Mathis returned to her roots. Her story, "The Fire Escape," was published and her career as a children's book author began to bloom.
According t
o a Horn Book interview with Rudine Sims Bishop, Mathis' work was brought to the attention of publishers by a contest sponsored by the Council on Interracial Books for Children. That contest also helped Walter Dean Myers and Mildred Taylor break in, Bishop said.
It didn't take long for Mathis' books to win acclaim. One of her early middle-grade novels, Sidewalk Story, was chosen as a Child Study Association of America's Children's Book of the Year. Tea Cup Full of Roses, another middle-grade, was recognized as a notable title by the American Library Association (ALA). In 1974, she won the Coretta Scott King Author Award for her picture book, Ray Charles. (Illustrator George Ford won the first Coretta Scott King Illustrator Award for that title too.) And in 1976, Mathis won one of the industry's highest awards — a Newbery Honor for The Hundred Penny Box, illustrated by Leo and Diane Dillon.  
Whether writing about the life of Ray Charles, exploring the rich bond between a boy and his great-great aunt in The Hundred Penny Box or a girl with a dream of running like the greats in Running Girl: The Diary of Ebonee Rose, Mathis writes stories that ce
lebrate the fortitude, resilience and beauty of African-Americans.
Mathis is quoted as saying: "I write to salute the strength in Black children and to say to them, 'Stay strong, stay Black and stay alive'"
Mathis has made many contributions. She was a longtime teacher and school library media specialist. She inspired young voices just as her parents nurtured her creativity by encouraging her to write. She was a columnist for Ebony Jr! magazine. And she continues to create an important legacy as a children's book author.
We are proud to salute the amazing Sharon Bell Mathis on day 13 of our campaign.
A Few of Sharon Bell Mathis' Awards:
Coretta Scott King Author Award,  Ray Charles
Newbery Honor Book, The Hundred Penny Box
ALA Notable, Tea Cup Full of Roses
American Bookseller Association Pick of the List, Red Dog, Blue Fly
Partial Bibliography: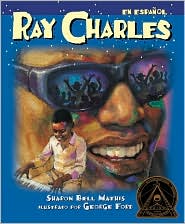 Teacup Full of Roses (Viking, 1972)
Ray Charles (Crowell, 1973)
Listen for the Fig Tree (Viking, 1974)
The Hundred Penny Box (Viking, 1975)
Red Dog, Blue Sky (Viking, 1991)
Running Girl: The Diary of Ebonee Rose (Harcourt, 1997)
Several of Mathis' wonderful books have been republished and remain in print. Ray Charles was published by Lee & Low in 2001. Puffin  released a paperback edition of The Hundred Penny Box in 2006.