TAMEKA FRYER BROWN is a picture book author who writes to sow seeds of self-love, pride, connectivity, and inclusion in the hearts of children. Her books have won awards like the Charlotte Zolotow Honor Award and the Anna Dewdney Read Together Award, and have been honored on best book lists by NPR, Parents Latina Magazine, the Cooperative Children's Book Center, New York Public Library, Bank Street College, The Little Free Library, and more. Tameka's picture books include Brown Baby Lullaby, Twelve Dinging Doorbells, Not Done Yet: Shirley Chisholm's Fight for Change, and That Flag. In addition to The Brown Bookshelf, she is a member of KidLit in Color, WINC, and BCHQ.
You can learn more about Tameka at tamekafryerbrown.com.
​
Website: http://www.tamekafryerbrown.com/
Books by Tameka Fryer Brown
That Flag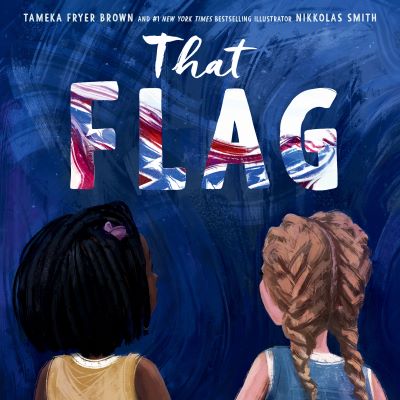 That Flag is an affecting picture book that challenges the meaning behind the still-waving Confederate flag through the friendship of two young girls who live across the street from one another.
"Told with tenderness and care, THAT FLAG explores the power of asking questions, the power of understanding history, and ultimately the power of friendship. An essential book for every American home and classroom." — Renée Watson, #1 NYT Bestselling Author, The 1619 Project: Born on the Water
"A brave and deeply affecting story about friendship, perspective, anti-racism, and the importance of understanding history. This may be an essential book about a cultural flashpoint." —Rosemary Kiladitis, School Library Journal, starred review
"Tameka Fryer Brown pens an honest, contemporary, soul-shocking story, with deep and painful roots. That Flag will prayerfully lead to hundreds of thousands of mending moments and healing hearts." — Derrick Barnes, Newbery Honoree and National Book Award Finalist
"This is a prime example of how a picture book can help younger readers understand difficult topics. A thoughtful and age-appropriate exploration of a somber subject." — Kirkus Reviews
"A necessary read for all young people in this country." — Traci Sorell, Two-time Sibert Medal and Orbis Pictus Honoree
"[A] layered introduction to issues around white supremacy and racism that is still accessible to young readers." — Bulletin of the Center for Children's Books
Reading Level:
Picture Book
Not Done Yet: Shirley Chisholm's Fight for Change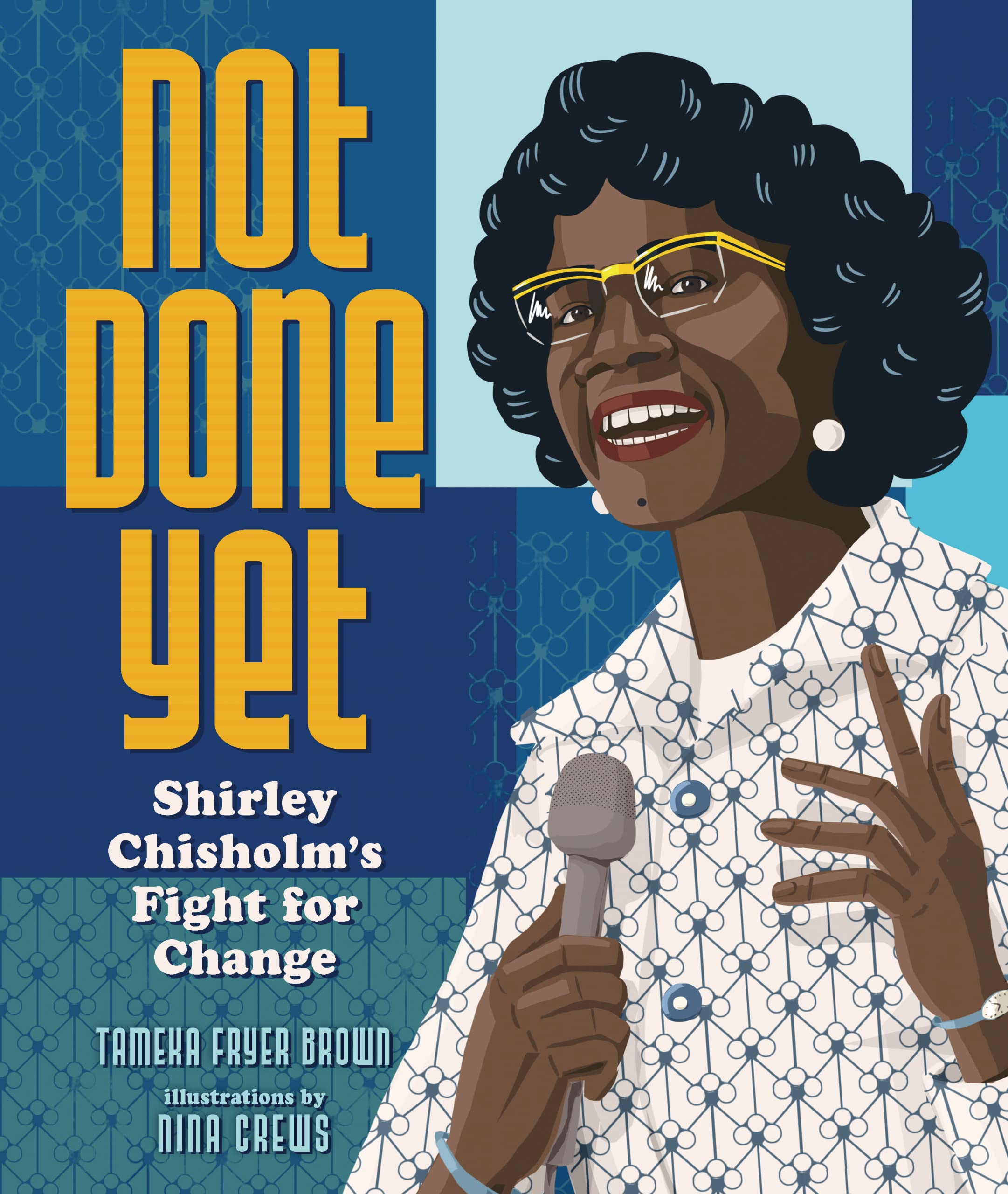 A KIRKUS REVIEWS BEST PICTURE BOOK OF 2022!
"As powerful as the woman it profiles."
— Kirkus Reviews, starred review
Shirley Chisholm was a natural-born fighter.
She didn't like to be bossed
and she wanted things to be fair.
Brooklyn-born Shirley Chisholm was smart and ambitious. She poured her energy into whatever she did―from teaching young children to becoming Brooklyn's first Black assemblywoman. Not afraid to blaze a trail, she became the first Black woman elected to Congress and the first woman to seriously run for U.S. president. With a vision of liberty and justice for all, she worked for equal rights, for the environment, for children, and for health care. Even now, her legacy lives on and inspires others to continue her work . . . which is not done yet.
Stirring free verse by Tameka Fryer Brown and evocative illustrations by Nina Crews provide an inspirational look at changemaker Shirley Chisholm.
Reading Level:
Picture Book
Brown Baby Lullaby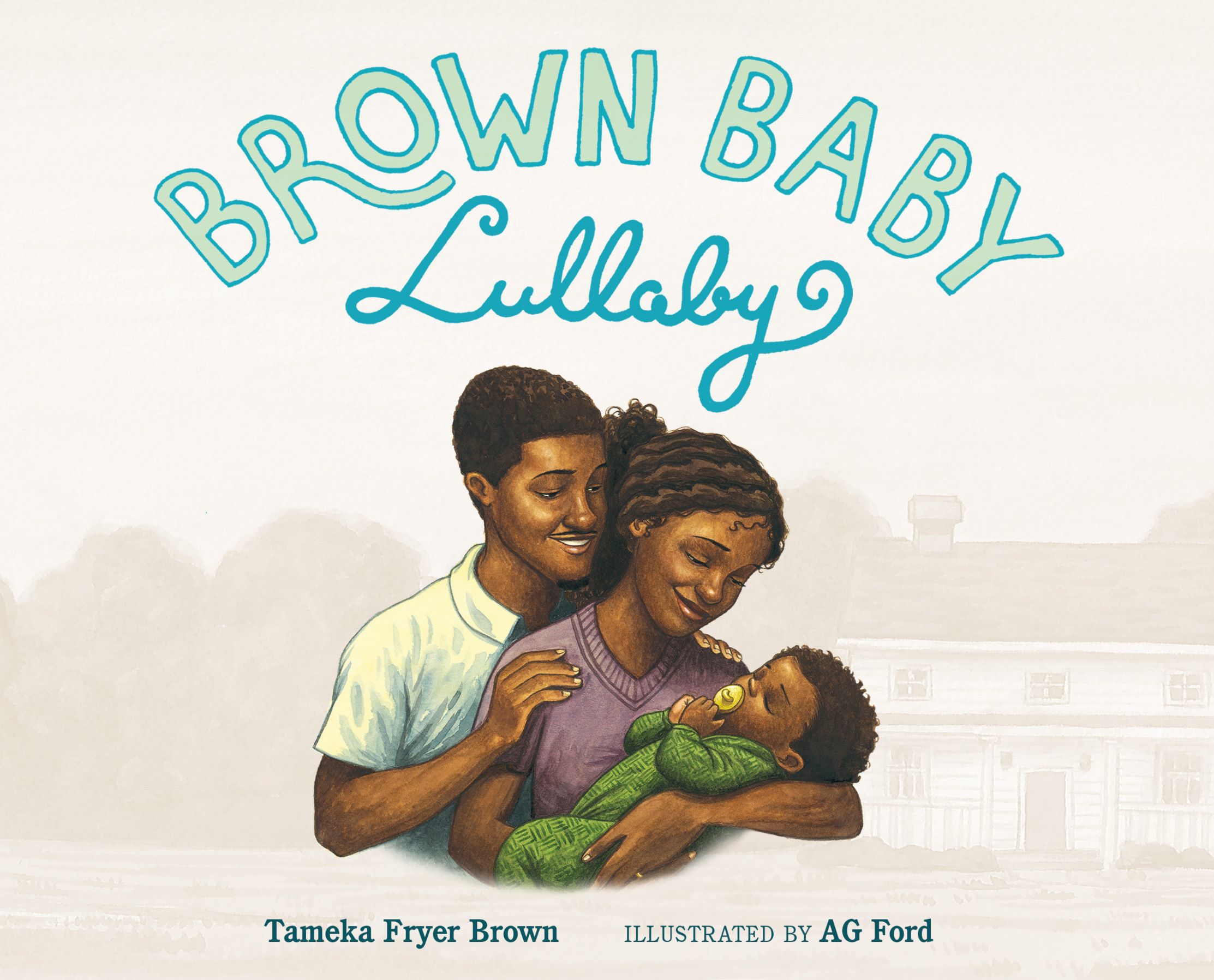 "A perfect read-aloud for bedtime." —Kirkus Reviews, starred review
"Brown and Ford make an outstanding team, drawing together realistic illustrations, gentle words, and beautiful phrases often uttered by parents to communicate love and acceptance to their children." —Booklist
"The springy rhyme is sweet without being saccharine, and touches of Spanish and neat phrasing add verve. This has high baby shower appeal, but it also has vigor, snap, and charm, to suit the actual kid audience." —BCCB
"Chronicling the nighttime routine of a family, Brown has penned a bedtime story that is immediately warm and relatable for families with young children. With the rhythmic text and engaging illustrations, here's a book that could become part of yours." ―Horn Book
Reading Level:
Picture Book
My Cold Plub Lemon Pie Bluesy Mood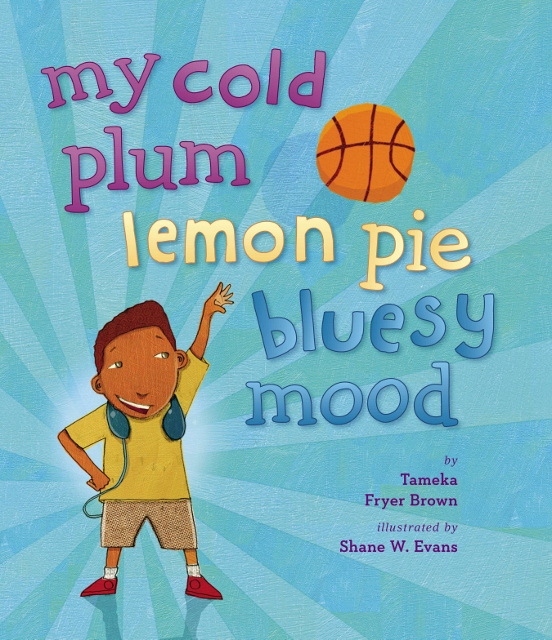 **2014 CHARLOTTE ZOLOTOW HONOR AWARD WINNER**
"In a free-wheeling style and going far beyond the usual pairings of colors with moods…a nicely sophisticated exploration." —Kirkus
"It's valuable both for its believable exposition of Jamie's interior world and for its warm portrait of the life of a nonwhite family...."–Publisher's Weekly
"An excellent jumping-off point for discussion—or writing—about readers' own colorful moods." —Booklist
Reading Level:
Picture Book
Around Our Way on Neighbors' Day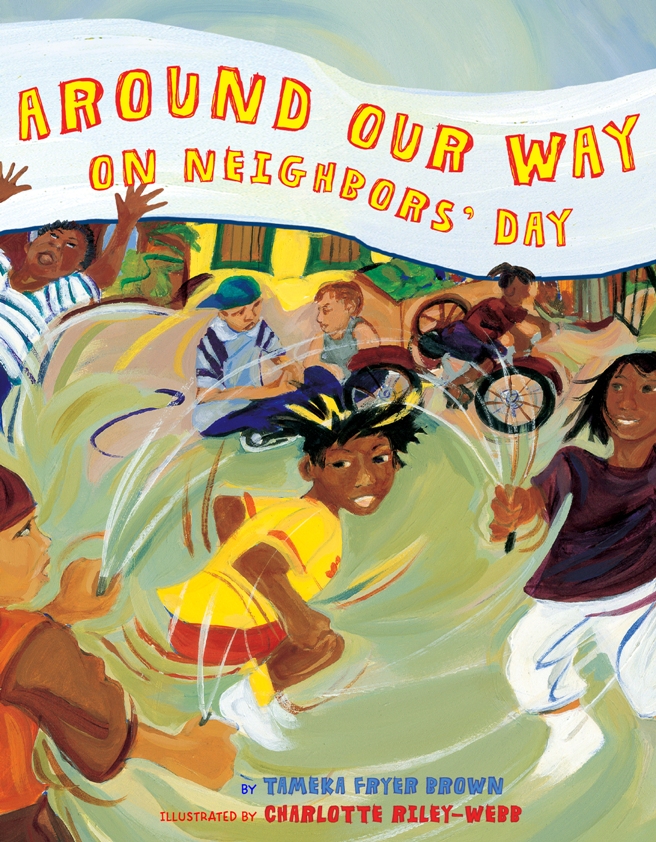 **A 2017 Little Free Library ACTION BOOK CLUB Selection**
"In this lively and accessible poem, a multicultural community brings food, music and laughter to the streets to celebrate their neighborhood." -- Kirkus
"Most scenes are double-page spreads that, together with the words, demonstrate the size and diversity of a joyful world." -- Booklist
"The book's lively illustrations and energetic main character lead readers to think about their own neighborhood, and the kind acts and community spirit that make good neighbors...and it might inspire youngsters to institute their own 'Neighbors' Day.'" -- School Library Journal
Reading Level:
Picture Book