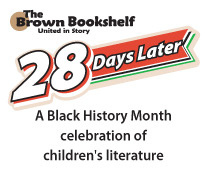 Today, we are proud to announce the honorees for our eighth annual 28 Days Later campaign, a Black History Month celebration of emerging and established children's book creators of color. Each day during February, we will showcase an outstanding author or illustrator. We invite you to come along on our journey and spread the news to your friends.
The submissions window for our campaign opened in September and closed on October 31. We are grateful for the wonderful suggestions from librarians, teachers, publishers and kidlit lovers that came in. Our team considered those names along with internal nominations and nominees from past years, keeping focused on our mission to raise awareness of the many African-American voices writing for young readers.
The campaign will begin on Sunday, February 1, 2015, and we will honor 28 children's book creators in all – 23 authors and five illustrators. This year, we're honoring an up-and-comer who has selflessly given to others as she pushes toward publication among the authors too.
The honorees and the day they will be featured are as follows:
Vanguard authors/illustrators in bold.
1. C.J. Farley
11. Jesmyn Ward
14. Wynton Marsalis
15. Faith Ringgold
17. Betty Bynum
18. Misty Copeland
21. K'NAAN
22. Lucille Clifton
23. Jerry Craft
24. Justina Ireland
25. Georgia McBride
26. Brandy Colbert
27. John Steptoe
Congratulations!