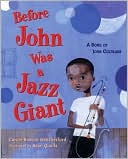 Before John Was a Jazz Giant: A Song of John Coltrane
Written by Carole Boston Weatherford
Illustrated by Sean Qualls
Published by Henry Holt and Company, April 2008
Life can be a rat race, I know. We get so busy we never take the time to stop and listen, taking a chance on missing life's blessings.
Young John Coltrane, however, didn't miss his blessings. He listened. He listened to the sounds that ham bones made as they cooked in his Grandma's pots. He listened to the hiss of steam engines, and to the warbling of birds. He listened to the hymns his mother played on the piano for the church choir. Before John Coltrane became a jazz giant, "he was all ears."
Written by award-winning author, Carole Boston Weatherford, this picture book biography tunes along like a song. The text is kid-friendly with the young child in mind. It's easy to read, rhythmic, repetitive. My 6-year-old son could read this book on his own, and fully grasp the story because there's not a bunch of dates or milestones to remember, things he wouldn't care about anyway.
Before John Was a Jazz Giant is illustrated by Sean Qualls. And same as his previous books, his artwork pleases. His color pallet and impromptu, painterly style croons. A perfect match for the subject matter.
An author's note at the end fills in the details.
Other blogs about this book:
A Fuse #8 at School Library Journal
Seven Impossible Things Before Breakfast
*****************
I picked up this book last week at the Texas Library Association's conference in Dallas, Texas. I was pleasantly surprised at the number of publishers who were familiar with The Brown Bookshelf and our 28 Days Later initiative. If you have a picture book that you'd like to submit for possible mention here, send me an email and I'll return it with my mailing address (For the sake of full disclosure, I may donate books to schools or libraries, but I also reserve the right to keep them, since this is an unpaid, volunteer endeavor). Personally, I don't like the term book review. There may be some formal protocol that I don't know about, and so to keep things casual, I will post book reports. Anyone can write an informal book report, right?
What to send:
Picture books or very early chapter books, of particular interest to African American children (regardless of the race of the author). I'm looking for books with African American characters (however you choose to define that) or subject matter.
For other types of books — YA novels, middle grade chapters, graphic novels, contact Paula, Varian, Kelly or Carla (Although they, I'm sure, would welcome picture books too.)
— Don