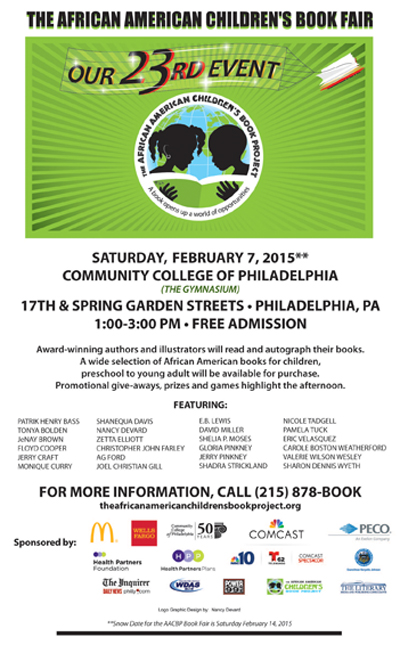 Each year, the African American Children's Book Fair shows the beauty of books for kids made by black authors and illustrators. Saturday marks the 23rd annual event. Held at the Community College of Philadelphia, thousands will stream through the gymnasium from 1-3 p.m. for a chance to buy books and meet acclaimed children's book creators. It's a free event, full of meaning, that people look forward to all year.
Here founder Vanesse Lloyd-Sgambati talks about the upcoming fair, diversity in children's books, her mission and dream for the future:
There's been a lot of media attention lately about diversity in children's books. That's something you've been working on for decades. What are your thoughts about the current children's book industry landscape? What do you think it will take to turn things around?
Decade after decade, we've had this discussion about diversity in children's books. Walter Dean Myers, Wade Hudson and Cheryl Hudson (owners of Just Us Books for 25 years) kicked it off and made some in-roads. But social media has been a game changer. We Need Diverse Books uses that tool to jump-start a new focus on the topic.
The industry and the media are talking, but we need to make sure that after the dance, the movement continues. The conversation must include all consumers and their responsibility to buying multicultural children's books.
I'm holding the fort down for African American Children's Books. The current supply in the marketplace is just outstanding. From fiction to non-fiction, these books hit home runs. Is there enough? From my point of view, for every Eric Velasquez, Tonya Bolden, Carole Boston Weatherford, Floyd Cooper, and E.B. Lewis there are hundreds waiting in the wings who can't get published by a major publisher or go the difficult self-published route. We need more.
The publishing industry needs to try new marketing strategies. My company, The Literary Media and Publishing Consultants, has been involved in publishing for over two decades. The company was created in response to the Literary Renaissance that took this country by storm 25 years ago. We went to the consumer's backyard and utilized our resources in the urban marketplace to get the attention of the book buyers. It worked, but the downturn in the economy slowed it down, and the industry went into a different direction.
However, the African American community — churches, social groups and civic organizations –always thrive. The children's book industry needs to reach out to these groups. These relationships have helped to make The African American Children's Book Fair a success. Twenty-three years with an average attendance of over 3,500 people who come to BUY books should be acknowledged. We sell more books in three hours than any other African American retailer in the country.
Even with this success, I feel an urgency to get the train moving faster. That's why I'm stepping up my game with "Preserve a legacy, Buy a Book." campaign. 
How has your mission for the African American Children's Book Project and book fair grown and changed over the years?
The need is greater than ever before. When I first started this journey 23 years ago, I just wanted a book fair that featured African American children literature. My first event was a Black History Month event in a major department store. The public relations representative of the store wanted a low-cost event that would drive traffic to the store during a slow season. Tonya Bolden, E.B. Lewis and Jacqueline Woodson were a part of those early events….These three are still producing great books, but, sadly, so many others are no longer a part of the children's book industry. I am grateful that Tonya and E.B. continue to use my book fair to showcase their books. The attendees come looking for them and their books year after year. Children who attended in those earlier years are now bringing their children.
I'm also feeling urgency because there are so many media platforms that expose our children to negative images of themselves. We have to make sure that they are surrounded by literature that reflects positive images of themselves, books that empower, enlighten and enrich their lives –. books that make a child boast about his or her history.
When kids read a children's book about Leontyne Price, written by Carole Boston Weatherford, they're not only learning about a person who came from their own community who overcame obstacles, but this type of book also introduces them to elements that might be out of their comfort zone. Leontyne Price is an opera singer. Take that book and put on an opera CD – show how the seeds of greatness are sown.
Another issue on my mind is that we teach our children how to read, but we don't teach them how to love reading. If I wanted you to read for pleasure, my first question would be what type of books do you like to read? What are your interests? So if you told me you like romance books, I'd pile your plate with romance books. Rarely do we ask a child, especially reluctant readers, what are their interests. If the child likes cars, give them books about cars, not birds. Put books back into the home.
When I was a kid, we had duck-and-cover drills because the Russians where coming from Moscow. After a number of these drills hiding underneath my desk, I asked my teacher, "Who are the Russians, why are they coming for ME?" I lived in a rural community outside of Philadelphia – Elmwood. My teacher didn't understand who they were and why these Russians could find their way to our neighborhood. She told me to go to the library to read about the Russians.
We didn't have a library in my school, but a weekly book mobile would come around. My dad would take my sisters and me to the book mobile. I requested two books on Moscow. The kids laughed at me and said it was stupid to read about something I was never going to see. My dad said, "Never mind, keep reading."
Five years ago, I did go to Moscow. I was standing in Red Square identifying all of the monuments surrounding me. The tour guide asks me how I knew so much about his country. I told him I read about it in a book. Throughout the afternoon, I was introduced as the American who knew something about their country. It seemed to break the ice. Books do open up a world of opportunities.
What's new this year? What can people expect? How can they get the most out of the fair?
The book fair is a platform for our literacy initiative "Preserve A Legacy, Buy A Book."
Let's get books back into our homes. You can't tell a child to read at home if there aren't books in the home. I remembered as a child – in the home of George and Helen Lloyd and their brood of eight children, we had a reading corner. We didn't have African American books, but my favorite was the Time Life travel pictorial books. I spent hours looking at the pictures and reading the text, imagining the day I would travel. And travel I've done. I've taken my literary message to Europe, the Caribbean and Africa. Those books in my home opened a world outside of my world.
Engaging cooperate America has also helped the book fair to grow. This year, the NBC10 Telemundo62 Reading Circle will kick off the afternoon by giving away brand new books of the authors/illustrators to youth attendees (while supplies last). PECO is sponsoring a workshop with syndicated cartoonist Jerry Craft. Karen Thompson's crocheting workshops are another hit at the event. All of the workshops will offer hands-on opportunities to learn these skills. Participants will also receive a book written by these authors. An African American scientist will share his book and present an insider's look at how science works in our day-to-day lives.
More sponsors = more books. The Educators/Parents Book-giveaway is sponsored by Wells Fargo, Comcast, Health Partners Foundation, Health Partners Plan, McDonald's, Always Best Care Senior Services and Councilman Kenyatta Johnson. These sponsors purchase books of our guest authors/illustrators to give to teachers/librarians to use in their schools. Community College of Philadelphia and The Literary Media and Publishing Consultants are also community partners
One of the key elements that keep it fresh is having the authors/illustrators. Truly this is the best and the brightest of the crop. Every year these talents bring their A-game. This year, there's a book illustrated by Eric Velasquez called New Shoes. It's about two girls during the era of Jim Crow who couldn't buy shoes because of the color of their skins, but they didn't let this stop them from creating their own shoe store.
With all the buzz about "Selma," the movie, these types of books are a great way of explaining to a child through the eyes of another child how people coped with Jim Crow – a horrible period in American History. It's a conversation kids are having with parents now. How did you get through this? How did you feel? Books help with these tough questions.
What's your dream for the future?
I lived in Italy for well over a decade and often was amazed about how their perception – definitive perception – of black people was based solely on what they saw on the small and big screen. The printed word can sometimes change that. I do believe that books have the power to change minds, and we need to use this power to help shape positive images of Black people. We need to have more of our books translated into foreign languages.
I'm having conversation with a representative from the Bologna (Italy) Children's Book Fair to put the conversation of "Why diverse books?" on their agenda this spring. Diversity in books is a global discussion.
Taking the book fair on the road is an important step in getting books into the homes of our children. I hear this over and over: I'd buy it if they sold it. Getting corporate America on the literary train is vital to achieving this goal. They are masters at promoting their brand. – successfully. Having them involved can help to raise the bar to getting books into the homes of our children.
Another goal is to work with bookstores around the country on servicing the needs of multicultural consumers. Somebody has to take the first step in getting books on the shelves and into the homes of consumers. Sadly, there is a generation of readers who have never been inside a bookstore.
Finally, Our White House has celebrated music, dance, and art. It is time to put African American Children's Books on that stage. Let's celebrate reading. After all, a book opens up a world of opportunities.
Here are the authors and illustrators who will be featured Saturday:
Patrik Henry Bass
Tonya Bolden
Floyd Cooper
Jerry Craft
Monique Curry
Nancy Devard
Shanequa Davis
Zetta Elliott
Christopher John Farley
AG Ford
Joel Christian Gill
E.B. Lewis
Sheila P. Moses
David Miller
Jerdine Nolen
Gloria Pinkney
Jerry Pinkney
Nicole Tadgell
Pamela Tuck
Eric Velasquez
Valerie Wilson Wesley
Carole Boston Weatherford
Sharon Dennis Wyeth
JaNay Brown-Wood
Find out more at The African American Children's Book Project.