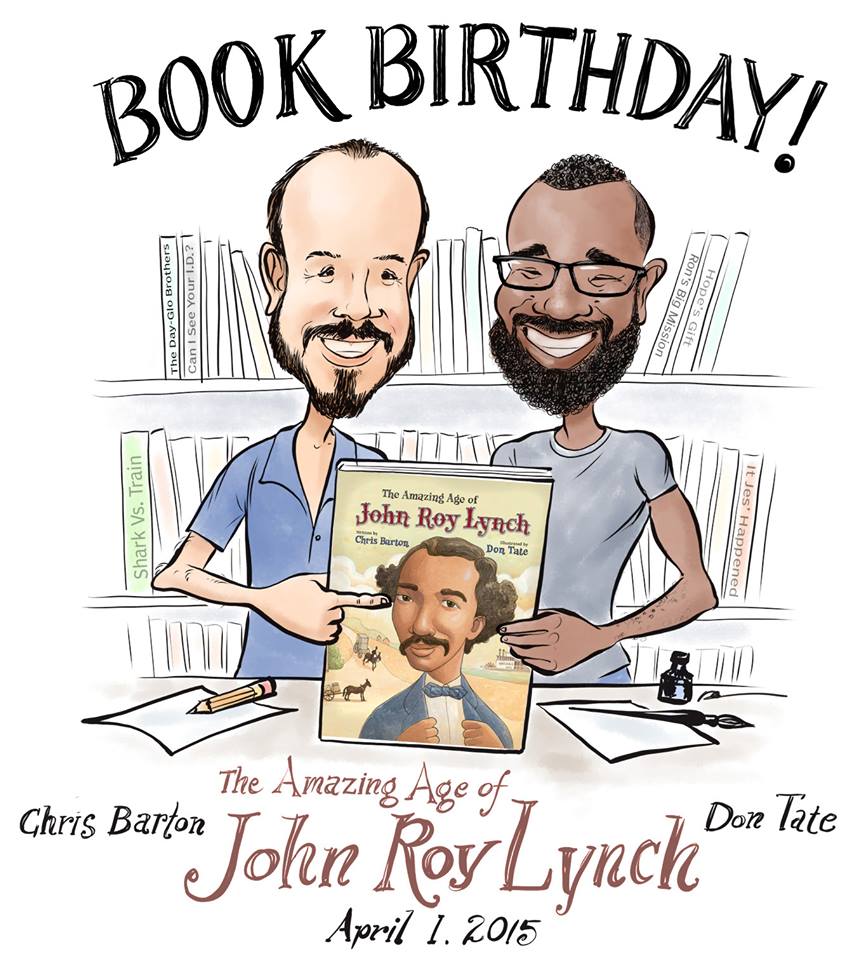 We didn't want to let the day end without wishing our brother Don Tate congratulations on his new picture book with Chris Barton, The Amazing Age of John Roy Lynch (Eerdmans). What makes this collaboration even more special? Chris and Don are friends.
Chris suggested Don, his critique partner, as the illustrator of his story that had been years in the making. "I don't know that I could articulate then why he would be a great artistic choice," Chris said in this interview, " but his style turned out to be just right both for making John Roy Lynch accessible as a person and for conveying acts of violence and terrorism in a vivid but not overwhelming way."
The collaboration is paying off. Their book earned starred reviews from Booklist and Publishers Weekly. We're proud of Don and Chris and look forward to seeing many more accolades. Learn more about The Amazing Age of John Roy Lynch on their sites: www.dontate.com and www.chrisbarton.info.
Check out the buzz here:
"The fascinating story of John Roy Lynch's life from slavery to his election to the U.S. House of Representatives at age 25, gets a stirring treatment here . . . Tate's often expansive illustrations emphasize important incidents in the text. A reference to harsh laws passed by whites is coupled with a dramatic two-page spread of a whipping, a potential lynching and lots of angry white faces in the foreground, fists clenched. A small African American boy covers his eyes at the scene. The horrors of a school burning shows praying figures overshadowed by masked attackers with burning torches. The emphasis in other illustrations is on faces, full of emotion add to the power of the telling and the rich soft tones of Tate's palette welcome the eye to linger."
– Booklist, starred review
"Barton offers an immersive, engaging, and unflinching portrait of the difficulties of the Reconstruction era, while Tate's cartoonlike artwork softens moments of cruelty and prejudice without diminishing them."
– Publishers Weekly, starred review
"A picture book worth reading about a historical figure worth remembering."
– Kirkus