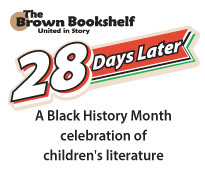 It's that time. Nominations are now being accepted for our ninth annual 28 Days Later campaign, a Black History Month showcase honoring emerging and established children's book creators and their amazing literary contributions.
With your help, we've celebrated more than 220 black authors and illustrators. But there are so many more who deserve to be saluted.
Please nominate outstanding authors, illustrators or books in any of the following categories:
new children's or young adult releases by black children's book creators
unsung children's or young adult books by black children's book creators
"under the radar" black authors or illustrators
vanguard black authors or illustrators
Nominations will be accepted beginning today through December 1, 2015. To make a nomination, simply post a comment. Feel free to suggest as many individuals and books as you like.
To avoid nominating children's book creators who have already been honored, please check out our previous honorees at the following links:
We'll consider your suggestions, our internal nominations and recommendations from past campaigns. Then, we'll announce the new class of 28 Days Later honorees on January 18, 2016. The celebration kicks off February 1.
Our mission is to raise awareness of the many African Americans creating books for young readers. With 28 Days Later, we put these talents in front of the folks who can get their books into the hands of kids – librarians, teachers, parents and booksellers among others.
Thank you for your continued support.