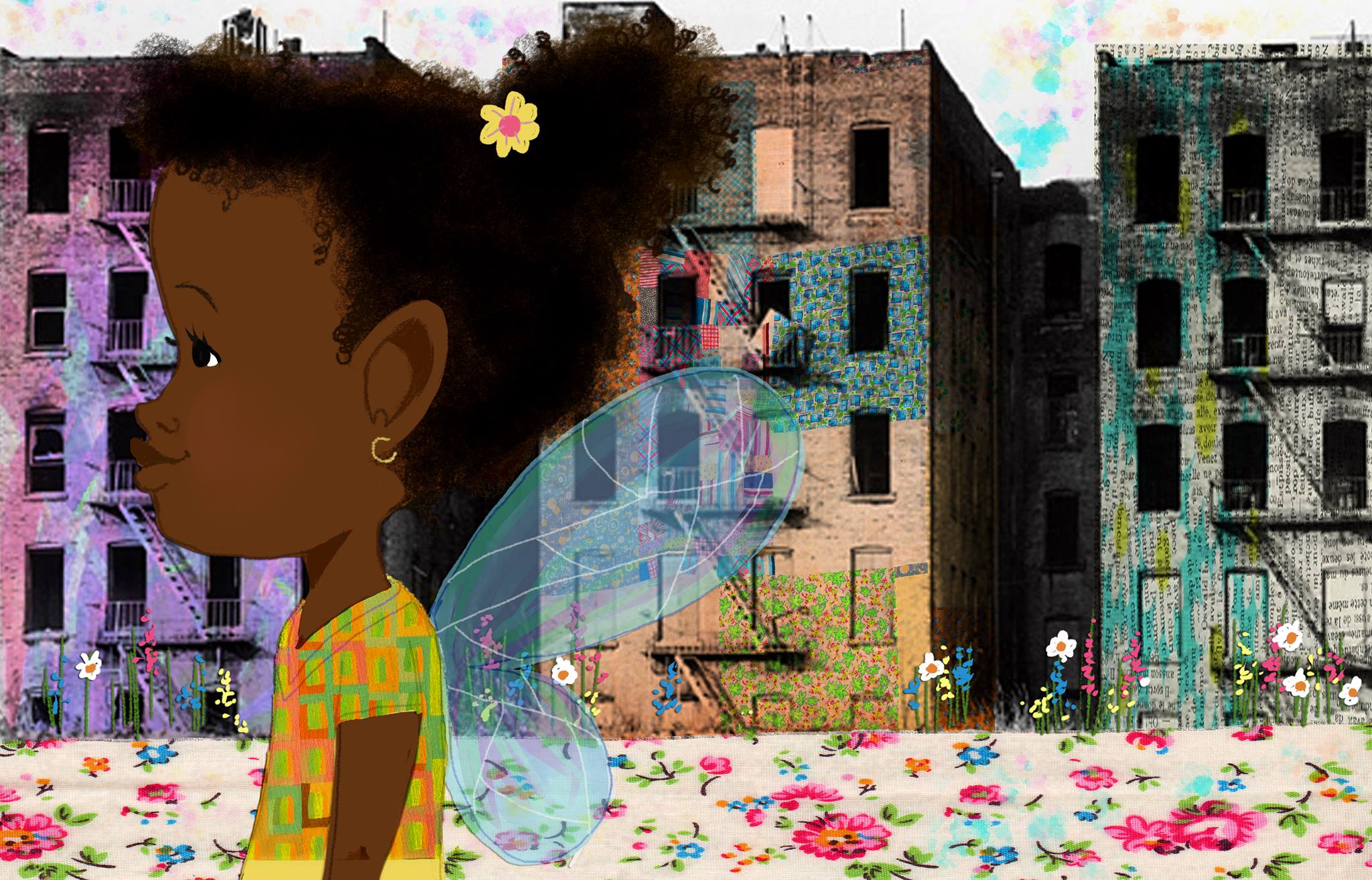 Children's literature may be the most influential literary genre of all. Picture books, chapter books, middle-grade and young-adult novels all serve the most noble of purposes: to satisfy the need for information, to entertain curious imaginations, to encourage critical thinking skills, to move and inspire. Within their pages, seeds of wisdom and possibility are sown.
Therefore we, the undersigned children's book authors and illustrators*, do publicly affirm our commitment to using our talents and varied forms of artistic expression to help eliminate the fear that takes root in the human heart amid lack of familiarity and understanding of others; the type of fear that feeds stereotypes, bitterness, racism and hatred; the type of fear that so often leads to tragic violence and senseless death.
Our country is deeply divided. The recent election is a clear indication of the bigotry that is entrenched in this nation, of the prevalence of systems that threaten to destroy the very fabric of society, and has exposed the fault lines that continue to polarize us. As we struggle to bridge the chasm and search for common ground, we must remember our strength, show our resilience and think of the children. Now is the time to raise our voices for them, for our future.
The stakes are too high for us to be silent. The stakes are too high for us to wait for someone else to take the lead. The stakes are too high for us to just hope things will get better. Each day, we see attempts to disenfranchise and dehumanize marginalized people and to dismiss the violence that we face. As children's book creators, we feel a special connection and responsibility to amplify the young voices that too often go unheard. When the headlines fade, the impact on children's lives remains. They are left feeling confused, afraid, angry, hurt. We believe it is our duty to not just create, but also to empower children, affirm their lives and stand up for change.
For our young readers, we will create stories that offer authentic and recognizable reflections of themselves, as well as relatable insight into experiences which on the surface appear markedly different. We will use our books to affect a world brimming with too many instances of hostility and injustice. We will plant seeds of empathy, fairness and empowerment through words and pictures. We will do so with candor and honesty, but also in the spirit of hope and love.
The values of adults can often be traced back to early influences. It is our collective mission, therefore, to promote understanding and justice through our art; to bolster every child's visceral belief that his or her life shall always be infinitely valuable. This is a matter of life and death.
With paintbrushes and pens in hand, we, the undersigned, will continue to press toward the goals of equality, justice, and peace. We will write. We will draw. We will listen to the children. We invite you to join us.
In the words of Ella Baker, "We who believe in freedom cannot rest."
Signed by:
Kelly Starling Lyons 
Tameka Fryer Brown
Olugbemisola Rhuday-Perkovich
Don Tate
Gwendolyn Hooks
Tracey Baptiste
Crystal Allen
Paula Chase-Hyman
Varian Johnson
Jerry Craft
Jacqueline Woodson
Denene Millner
Jabari Asim
Mo Willems
Sam Bloom
Katherine Roy
Zetta Elliott
Carole Boston Weatherford
Dinah Johnson
Joyce Hansen
Lin Oliver
Bruce Coville
Linda Sue Park
Pat Cummings 
Jane Yolen
Deborah Underwood
Anne Marie Pace
Derrick Barnes
Kristy Dempsey
Pat Zietlow Miller
Laurent Linn
Charles R. Smith, Jr.
Stephen Messer
Kurtis Scaletta 
Anne Ursu 
Kelly Barnhill
Vanessa Brantley-Newton
Mitali Perkins 
JJ Johnson
John Bemis 
Lamar Giles
Renée Watson
Mike Jung 
Kate Messner
Jo Knowles
Martha Brockenbrough
Laurie Thompson
Audrey Vernick
Laurel Snyder
Sarah Darer Littman
Eileen Heyes 
Clay Carmichael
Chris Barton
Christine Taylor-Butler
Cynthia Leitich Smith
Daniel Minter
Alice Faye Duncan
Wade Hudson
Cheryl Willis Hudson
L. Divine
Kekla Magoon
Margaree Mitchell
Tonya Cherie Hegamin
Jacqueline K. Ogburn 
Jay Asher
Megan E. Bryant
Evelyn Coleman
Kim Turrisi
Kathleen Ahrens
Karen Sandler
London Ladd
Kathryn Erskine
Padma Venkatraman
Ellen Oh
Eleanora E. Tate
Dhonielle Clayton
Jennifer Ziegler 
Tonya Bolden
Tony Medina
Sharon G. Flake
Melanie Conklin
Sayantani DasGupta
Johnny Ray Moore
Danette Vigilante
Laura Pegram
Sona Charaipotra
Uma Krishnaswami
Phil Bildner
Elana K. Arnold 
Jewell Parker Rhodes
Shadra Strickland 
Ki-Wing Merlin
Yamile Saied Mendez
Neesha Meminger
Carmen Oliver
NH Senzai 
Kami Kinard
Mark Holtzen
Dana Alison Levy
Ibi Zoboi
Joyce Moyer Hostetter
Judy Carey Nevin
Raychelle Muhammad
Anika Denise
Stephanie Ruble
Ann Eisenstein
Kristine Carlson Asselin
Tommy Hays
Ebony Elizabeth Thomas
Judy Allen Dodson
Marilyn Nelson
Kell Andrews
Stephanie Kuehn
Margarita Engle
Laurie Halse Anderson
Katie Bayerl
Gae Polisner
JaNay Brown-Wood
Philip Nel
Sarah Park Dahlen
Rebecca Petruck
Donna Welch Earnhardt
Joyce Wan
Minh Lê
Megan Dowd Lambert
Lorraine Currelley
Brittany J. Thurman
Lauren McLaughlin
Soraya Jean-Louis McElroy
Saranyan Vigraham
Eboni Jean Darnell
Vincent Desjardins
Katrina Damkoehler
Nick Bruel
LaKeshia N. Darden
Erica Perl
Michelle Cusolito
Russ Cox
Sarah DelGrosso
Amy Lee-Tai
Cindy L. Rodriguez
Tanita S. Davis
Katie L. Carroll
Catherine Thimmesh
Dow Phumiruk
Edi Campbell
Monica Brown
Erin E. Moulton
Lisa McMann
Jesse Ediger
Kim Baker
Mike Hays
Jane Kohuth
Jessixa Bagley
Julie Fogliano
Mario Garnsworthy
Ryan T. Higgins
Laurenne Sala
Becky Bloom
Kate Milford
Molly Burnham
Jarrett J. Krosoczka
Chadwick Gillenwater
Deborah Freedman
Robin Yardi
Lisa Mantchev
Cory Putnam Oakes
Ann Manheimer
Emily Wayne
Patricia Harrison Easton
Lee Hallison
Shirley Ng-Benitez
Vera Lisa Smetzer
Bonnie J. Doerr
Victoria Lindstrom
Marti Dumas
Celeste Lim
Michael Kress-Russick
Jennifer Thermes
Emma D. Dryden
Marietta B. Zacker
Mike Grosso
Dee Garretson
Angie Karcher
Rita Antoinette Borg
Sandy Brehl
Bev Katz Rosenbaum
Anne Mazer
Larissa Brown Marantz
Jacqueline West
Dahlia Adler
Teri Sloat
Kris Dinnison
Katey Howes
Susanna Reich
Scott Day
Jake Gosselin
Priscilla Alpaugh
Catherine S. Snodgrass
Gary Golio
Trisha Speed Shaskan
Lauren Eldridge
Bobbi Miller
Josh Funk
Sage Blackwood
Stella Ormai
Susan VanHecke
Gayle Pitman
Meg Sodano
Holly Thompson
Marie Harris
Ruth King Meeker
Gaia Cornwall
Tracey M. Cox
Hyewon Yum
Eileen Beha
Sonya Mukherjee
Sharlee Glenn
Patrice Kindl
Cathleen Thole-Daniels
Veronica Rossi
Adam Gustavson
Kristy Acevedo
Christina Weigand
Rita Crayon Huang
Caron Levis
Leslie Bulion
Maria Padian
Megan Frazer Blakemore
Anne Nesbet
David Bernardy
John Schumacher
Sharon Darrow
Tamara Ellis Smith
Kimberly Pauley
Judy Palermo
Lauren Collier Swindler
Mariahadessa Ekere Tallie
Dan Poblocki
Cynthia Levinson
Annie Silvestro
Gerry Renert
Mark Scott Ricketts
Shauna LaVoy Reynolds
Tamisha Finley-Mitchell
Catherine Egan
Ruth Chan
Karen Romano Young
Sarah Kettles
Florence Minor
Molly Beth Griffin
Wendell Minor
Alexis York Lumbard
Elisa Kleven
Heidi Ayarbe
Melina Mangal
Erica Silverman
Doreen Cronin
Rorie Still
Maurie J. Manning
Dianne Danzig
Nadine Takvorian
Curtis Manley
Lynn Plourde
Rachel Goldstein
Rachel Ruiz
Gauri Manglik
Monette Pangan
Laura Murray
Mae Respicio
Mimi Cross
Robyn Arend
Jennifer Sommersby
Fatima Shaik
Stephanie Graegin
Tracy Barrett
Innosanto Nagara
Nancy Werlin
Jan Carr
Anna Shinoda
Ruth E. Quiroa
Erin Soderberg Downing
Christopher Silas Neal
Carin Bramsen
Sylvia H. Little
Emily L. Harris
Nilah Magruder
Jolie Stekly
Renée Kurilla
Nilah Magruder
Anne Catharine Blake
David Huyck
Mary Winn Heider
Maple Lam
Carolyn Crimi
Kate Feiffer
Jenna Grodzicki
Kimbra Power
Ruth McNally Barshaw
Howie McAuley
Meg Medina
Stacie Ramey
Kevan J. Atteberry
Lisa Rusczyk
Anne Bustard
Cathie Wright-Lewis
Rob Sanders
Susan Vaught
Brandy Colbert
Kristen Schwartz
Ann Haywood Leal
Susan Rankin-Pollard
Debbi Michiko Florence
Joyce Shor Johnson
J. Elizabeth Mills
Kathy MacMillan
Sara K. Joiner
Nikki Loftin
Robin Newman 
Debbie Palen
Robin Lowe
Tammi Sauer
Mary Rork-Watson
Christy Lenzi
Gretchen V. Hansen
Lauri Fortino
Lyn Miller-Lachmann
Stacy Gray
Lori Taylor
Erin Frankel
Melissa Iwai
Jody Feldman
Trisha Leaver
Cindy Cornwall
Deb Johnson
Saxton Freynann
Beverly Snawder
Kristine Lombardi
Wen Baragrey
Annette Simon
Patti Kurtz
Elizabeth Briggs
Lorian Tu-Dean
Maria Ferrari
Karina Glaser
Lisa Robinson
Brandon Marie Miller
Keila V. Dawson
Cynthia Lord
Abby Cooper
Dede Fox
Leslie Leibhardt Goodman
Stacy Barnett Mozer
William Alexander
Debbie Reed Fischer
Natalie Hansen Pawlak
Alison Ashley Formento
Elle Evans
Kathryn Williams
Fiona Robinson
Jennifer J. Stewart
Margaret Peterson Haddix
Marilyn Hilton
Cassie Bentley
Liz Starin
Deborah Heiligman
Denise Wilcox
Lisa Braithwaite
Tamra Wight
Miranda Paul
Jean Ryan
Cordelia Jensen
Troy Cummings
Barbara Dee
Sarah Hamburg
Rebecca Donnelly
Todd Parr
Elizabeth Wheeler
Suzanne Slade
Jama Rattigan
Katie Mazeika
Paulis Waber
Annie Donwerth-Chikamatsu
Liz Goulet Dubois
Navjot Kaur
Roberta Baird
Denise Alfeld
Carella Herberger
Emily Jiang
Sara Nickerson
Carmen T. Bernier-Grand
Elizabeth Zunon
Alexandra S. D. Hinrichs
Greg Pincus
Anne Griffin
Laurie Wallmark
Lois Sepahban
Edna Cabcabin Moran
Diana Toledano
MicKenzie Fasteland
Ann Malaspina
Laura Gosselin
Beth O'Conner
Heather Lang
Laura A. Woollett
K. Imani Tennyson
Jeffrey Canton
Jennifer K. Mann
Cynthia Reeg
Jacque Estill Summers
Wendy Wahman
Kathleen Churchyard
Linda Dalal Sawaya
Nikki Shannon Smith
Sheila Berenson
Jesse Klausmeier
Claire Wrenn Bobrow
Emma Otheguy
Harold Underdown
Rosemary Stimola
Nancy Bo Flood
Anne Sibley O'Brien
Beth Fehlbaum
Jonathan Roth
Liza Ketchum
Denise Dowling Mortensen
Dr. Winmilawe
Patrick Downey
Linda Trice
Lynne Kelly
Agatha Rodi
Shoshana Flax
Pamela Zagarenski
Ellen Krupa
Leslie Muir
Ginger Wadsworth
Carrie Jones
Denise Fleming
Brenda Maier
Renee Frances
Xavier Garza
Traci Sorell
Kathy Frye
Matt Phelan
Clara Kensie
Erin Fry
Chris Robertson
Tracy Smiles
Diane Magras
Paula Buie
Beth Black
Alexia Andoni
Daniel José Older
Katia Novet Saint-Lot
Samantha R. Vamos
Shane W. Evans
Jamie Hogan
Samantha Berger
Wendy McLeod MacKnight 
Kate Lynch
Dashka Slater
Bryan Langdo
Chérie Stihler
Kimberly Sabatini
Kathleen Brown
Joyce Clark Hicks
Diane Zahler
Kristi Selby
Kellye Crocker
Paulette Duggins
Andrea J. Loney
Erin Dionne
Amber Nieves
Carolyn Flores
Lisa Corner 
Dia L. Jones
Nancy Tandon
Stephen Perepeluk
Courtney Pippin-Mathur
Sheila Turnage
Nikki Fragala Barnes
Liz Garton Scanlon
Monique Fields
Melissa Roske
Kristy Cunningham
Lynne Kelly
Michelle Lord
Meghan Daniels
Elizabeth Allen
Carole Lindstrom
Chaz Harris
Adam Reynolds
Christine Luiten
Bo Moore
Dorina Lazo Gilmore
Hannah Barnaby
K. L. Hallam
Christine Peymani
Margaret LaRaia 
Brian Lies
Kerri Kokias
Amy Novesky
Ann Angel
Diane Foote
Julie Williams
Ed Shems
Taryn Rabin
Arlene Robillard
Kimberly Wilson
Kim Culbertson
Kate Elliott
Charlie Eve Ryan
JoAnn Early Macken
Ana Crespo
Sheila Sweeny Higginson
Cary Larson-McKay
Lisa Ann Sandell
Lindsay Hanson Metcalf
Joy Steuerwald
Jeanne Moran
Julia Collard
Joy Steuerwald
Elizabeth Brown
Amanda Hosch
Corey R. Tabor
Betsy Thompson
Diandra Mae
Cheryl Blackford
Samantha Smith
Maggie Moris
Jessica Lopez
Annette Curtis Klause
Megan Maynor
Scott Magoon
Nancy Silverrod
Crystal L. Roget
Lorie Ann Grover
Kathleen Krull
Kate Schatz
Liddie Ull 
Karen Grencik 
Marie Lamba
Crystal Perkins
Angela Matteson
Mary Jane Begin
Shannon Delany
Jane Bahk
Gabrielle Prendergast
Nanci Turner Steveson
Leslie Helakoski
Marie Rutkoski
Loni Edwards
Jessica Freeburg
Henry Herz
Gigi Amateau
Emma Lesko
Nancy Tupper Ling
Jennifer Kam
Jama Rattigan
Melissa Wiley
Willow Dawson
Claire Annette Noland
Kim Purcell
John Parra
Lonna Hardin
Alex Gino
Diane Mayr
Linda Ashman
Jo Lena Johnson
Cathryn Falwell
Corina St. Martin
Akiko White
Christy Stallop
Bethany Hegedus
Shalene Onyango
Melissa Roske
Sharon J Wilson
Latay Taylor
A.H. Taylor
Kristin L. Gray
Leslie Colin Tribble
Morgan Young
Jenn Bishop
Sara O'Leary
Jacqueline Houtman
Shari Swanson
Carol Weston
Marsha Qualey
Meera Sriram
Zach Helm
J.M. Lee
Melissa Thomson
Crystal Hubbard
Lisa Schroeder
Traci Bold
Kelly Light
Karen Morss
Amanda Hosch
Julie Fortenberry
Juana Martinez-Neal
Barry Wolverton
Charlene Chua
Hilary Leung
Thao Lam
George Ford
Bernette Ford
Rayah Jaymes
A.J. Richards
Natalie C. Anderson
Christa Desir
Lena Coakley
Melanie Crowder
Wanda Jones
Brian McLachlan
Nina Victor Crittenden
Kate Hosford
Linda Crotta Brennan
LeVar Burton
Wade Albert White
Christy Yaros
Ally Condie
Bob McLeod
Tracy Deebs
Courtney Alameda
Sonya Sones
Greg Neri
Kat Yeh
Lori Degman
Timothy Young
Tawni Waters
Frances Sackett
John Shelley
Erin Murphy
Laurie Calkhoven
Heidi Schulz
Abi Cushman
Cathy Camper
Raul the Third
Barb Rosenstock
Deborah Halverson
Liz Wong
Kamla Millwood
Tricia Lawrence
Suzanne Bloom
Kathleen Glasgow
Crystal Hubbard
JoAnn Early Macken
Lori Nichols
Cheryl Johnson
Erin Smith
Marcus Ewert
Alison Green Myers
Hazel Mitchell
Meera T. Sriram
Marina Budhos
Ellen Mayer
Tasslyn Magnusson
Diane King
Kara LaReau
Sarah Cannon
Anne Broyles
Tami Charles
Laura Shovan
Debra Driza
Siri Weber Feeney
Paula Yoo
Andrea Beaty
Buffy Silverman
Eve Aldridge
Patricia W. Fischer
Diane Mayr
Fiona Robinson
Elizabeth Rose Stanton
JD Lester
Audrey Maynard
Mikela Prevost
Caryn Wiseman
Dr. Pauletta Brown Bracy
Kelly Sonnack
Kathleen Rushall
Jamie Weiss Chilton
Lara Perkins
Laura Rennert
Jennifer Laughran
Jennifer March Soloway
Jennifer Mattson
Jennifer Rofe
Patricia Nelson
Arnold Adoff
Ashley Hope Pérez 
Vanesse Lloyd-Sgambati
Thanks so much for your support of our declaration. We closed the comments late Monday evening with more than 400 signatures…then re-opened them for another 24 hours because of the many, moving requests we received.  As a result, we now have a total of 691 names – *children's book authors, illustrators, editors, agents, librarians and other children's literature professionals and supporters! Thank you for standing with us against hate and standing up for kids.
Although the comment section on this post is now closed, those who would still like to express their support can do so on the "living" version of this document located on our FaceBook page . Let's continue to show our commitment to kids by creating, promoting, sharing and pushing for books that accurately reflect their lives.  Here, award-winning author, scholar and advocate Zetta Elliott shares her perspective on how the publishing industry can help to "stem the tide of hate."