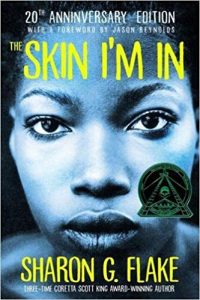 When I think about transformative Black children's literature, The Skin I'm In (Jump at the Sun/Hyperion) is always on the list. This Coretta Scott King Award-winning debut novel by Sharon G. Flake was published 20 years ago and continues to make a difference in the lives of people around the world.
Exploring themes like colorism, bullying, self esteem and discovery, the unforgettable story focuses on the journey of ebony-skinned seventh grader Maleeka Madison whose life changes through the inspiration of  a new teacher. Educators and librarians say it's a favorite of kids who hold it close to their hearts and pass along the word to friends. Chicago singer, poet and model Ifeanyi Elswith wrote a song as a tribute to Flake. You can see the video here. Here's an excerpt of what she writes in the YouTube description: "Sharon is a dedication to Sharon G. Flake and her novel, 'The Skin I'm In'. It's a response to the story's theme of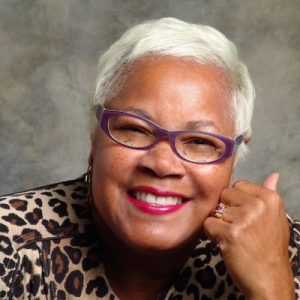 embracing who you are and the skin you wear, no matter how people perceive you." The popularity and staying power of the novel show how much it means. 
The new 20th anniversary edition, released today, features a foreword and introduction by Jason Reynolds who points out that before powerful movements Black Girls Rock and Black Girl Magic, The Skin I'm In was there. You can buy a copy here.
Join Sharon G. Flake in celebrating the release of the 20th anniversary edition. Post your photos, memories, videos and shout outs saluting The Skin I'm In today on FaceBook, Twitter and Instagram. Wish Maleeka and Sharon a happy anniversary and tell how the book has changed you or young people you know. Here are the hashtags – #theskinimin #theskiniminbook #sharongflake
Live in Pittsburgh? Celebrate with Sharon in person 2 p.m. Saturday, October 20 at Barnes & Nobles, Waterworks Mall, 926 Freeport Rd. Buy a copy of the new book, get it signed and meet the woman whose work continues to inspire.
Happy Book Birthday, Sis Sharon! Thank you.