Last I looked, BBS Don Tate was one busy author/illustrator. Blink and you'll miss his latest, No Small Potatoes: Junius G. Groves and His Kingdom in Kansas, a wonderful tale about hard work paying off with author, Tonya Bolden.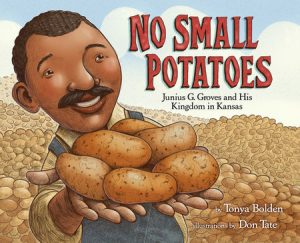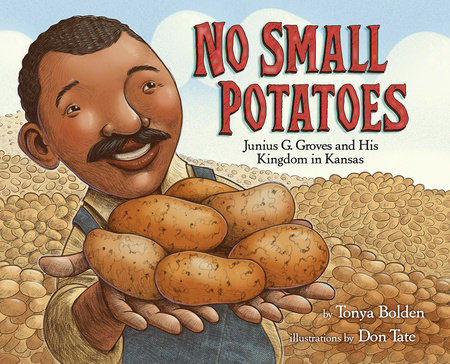 The Buzz on No Small Potatoes
"The mixed-media illustrations, awash in blues, greens, and browns, successfully represent the expansiveness of the land and the momentous nature of Groves' accomplishments" – Kirkus (Starred review)
2018 Junior Library Guild Selection
Starred Review from School Library Journal
Small Potatoes in Don's Words
Who'd've known there was a such thing as a "Potato King of the World," and that he was a Black man from Kansas? A running theme in this story demonstrates how hard work and perseverance pay off. I think it's an important and inspiring message for kids. Junius Groves reminded me of my own hardworking grandpa, who worked night and day to provide for his family. My grandpa wasn't a potato farmer, he was a janitor, plumber, handyman, do-it-yourselfer. He never became rich like Junius Groves, but never stopped working, even into elderly age. NO SMALL POTATOES is an important story, but fun, too. And a whole lot of potato drawing!
Purchase No Small Potatoes