Kwame Alexander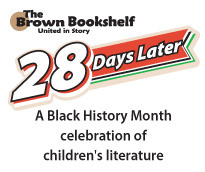 . Renée Watson. Derrick Barnes. Just a few of the outstanding Black children's book creators we showcased here before they received well-deserved, industry-wide acclaim. Put your thinking caps on. Help us identify under-the-radar and vanguard Black children's book creators we should consider profiling. Let us know who we should check out so we can give them the praise they've earned.
For more than a decade, we have proudly saluted hundreds of authors and illustrators through our signature initiative. But there are so many more who deserve to be featured. We will accept nominations for our 13th annual 28 Days Later campaign, a Black History Month celebration of Black children's book literature, today through December 15.
Nominate your favorites in the comments section. Anyone can nominate. Publishers may nominate their authors. Authors may self-nominate. You can check out who we've featured here. Please note that, due to limited capacity, we do not accept nominations of independently-published authors for 28 Days Later. We do feature indie books and creators at other times throughout the year.
After the submissions window closes, we'll research the names you've submitted and our internal nominations. Then, we'll choose our next class of 28 Days Later honorees. Mark your calendar for February 1 when the magic starts.
Too often, the work of our authors and illustrators goes unsung. With your support, we can make a difference. Thank you for helping us center and celebrate Black children's book creators. Remember, nominations close on December 15, so share your thoughts now!