We have a list! Our signatu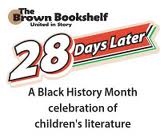 re campaign, 28 Days Later, is designed to celebrate Black children's book creators and raise awareness of those who may be under the radar of librarians, educators and families. The list is created through considering nominations posted on our site and internal research. 
Each day of Black History Month, we shine a spotlight on an outstanding author or illustrator. Please join us in congratulating the amazing creators we're honoring beginning February 1 and tune in to learn more about their books and journey.
Thank you for your support.
Day 13 – Ibtihaj Muhammad
Day 23 – Charlotte Nicole Davis