We are delighted to welcome Tonya Duncan Ellis to The Brown Bookshelf. Author of the independently-published Sophie Washington chapter book series, she has worked hard to build her audience and stand out in the market. Grit, consistency and innovation are just a few of the qualities she brings to promoting her work. Here, she shares her inspiring experience and passes on tips to help both self- and traditionally-published children's book creators thrive.
Making Our Own Market: Book Marketing During COVID-19 and Beyond
By Tonya Duncan Ellis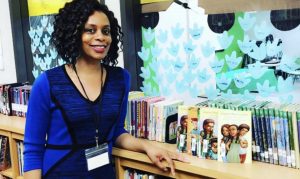 As with most authors COVID-19 pulled the rug out from under my book marketing plans. Just days before all the shut downs and social distancing I was in talks to do a Barnes and Noble event, and my Sophie Washington series for children ages eight to twelve was included on a vendor list in my Houston-area school district. I wanted to scream as school, library, and book festival visits I'd marked in my calendar months ago were cancelled. It felt like a Jenga block was pulled out the wrong way, and all the pieces I'd put in place to market my books came tumbling down.
The Indie Life
I publish my ten-book series about a sweet and sassy eleven-year-old from Houston independently, and getting recognition for my work has been a challenge. The chapter books star an African American girl and her diverse group of friends, who experience common middle grade problems like managing school work, standing up to bullies, and fitting in, while learning gentle lessons along the way.
An outsider to options available to those published through traditional companies (i.e. immediate access to public libraries and larger bookstores) I've had to be creative to forge my path. Aggressively seeking social proof reviews, exhibiting almost weekly at events and festivals, and hosting frequent online book giveaways, was my strategy to get sales early-on. My background as a former journalist and an MBA graduate helped. I'm proud to say that since I started marketing my series in 2018, over 70,000 readers have purchased or downloaded Sophie Washington books.
When the coronavirus shut down school visits and festivals, I altered my strategies, but doubled down on my marketing efforts. I had a new book releasing and wanted to get the word out.
Surprisingly, since the U.S. pandemic shutdown began, my daily sales have increased. How'd I do it? Using some of the marketing strategies listed below:
Increase Online Outreach – People buy from those they know and trust. Once I couldn't meet with readers face-to-face, I upped my online static and video postings and activities to become more accessible. In March, I hosted my first virtual book launch party. It was a great way to interact with fans from across the globe. In recent weeks, I was featured on podcasts and zoom interviews. I also scheduled an Instagram Live story time. I want to give readers a clear view of what I stand for and what my series is about.
Be Everywhere– The marketing "Rule of Seven" says that a potential purchaser needs to see your message at least seven times before buying. I try to post content daily.  I also advertise on influencer sites followed by my target readers and on Amazon. Pitching to get featured on blog tours and news articles is included in my marketing plan as well. Additionally, I'm a member of various Facebook groups for writers and readers, where I promote my series. People need to see your book a few times to decide if it fits their needs.
Be Helpful – Customers follow my brand because they connect with the characters and the messages my books convey (education, literacy, diversity, inclusion, positive outlook, etc.). I try not to spam followers with "buy my book" messages on social media, but to offer them articles and information that is useful to their daily lives. For example, early in the pandemic I mailed encouraging letters to young readers in my Sophie's Club email list, upon request.  Realizing that parents were seeking worthwhile activities for children stuck at home, I compiled a list of free downloadable coloring pages and activity sheets from myself and other authors and promoted it on social media. Whenever possible, I share information about books, movies, news, and events that I find useful and may help others.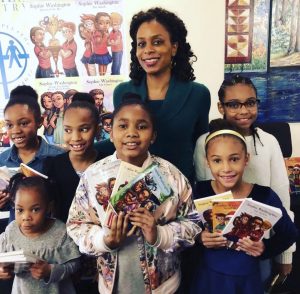 Get Fans Involved – I encourage fans to promote my series by including their comments in book review postings and spotlighting reader photos on my social media pages. Recently, I had a blast creating a #DontRushChallenge video featuring Sophie Washington readers. The #DontRushChallenge was started by college students and went viral on the TikTok  social media platform, shortly after stay-at-home orders began. #DontRushChallenge videos feature before and after montages of people dressed in pajamas or regular clothes and then glammed up. I created a "Sophie Washington Style" version and had fans record videos with them reading books and then dressed up as my book character. Tapping into this trend was a great way to get the word out about my series during at-home quarantine and strengthen relationships with fans.
Support Other Authors – I became a children's author because I love books and writing, and because I want to encourage young people to read good literature with diverse characters.  Supporting other authors I admire through social media shout-outs and blog reviews has increased my platform, as my peers recommend my work in-kind. Readers who enjoy my series appreciate having a trusted resource to point them toward other books they might like.  We're all in this together, and a rising tide raises all boats (or books).
Have Fun – Reaching readers, especially in times like these, can seem like a never-ending walk uphill, in ankle-deep mud. From writing books, to coming up with marketing campaigns, to meeting fans, I am passionate about and enjoy what I do. That shines through to librarians, parents, and young readers and encourages them to buy my books. When all is said and done, that's the key to book marketing success. Those who survive and thrive in this climate do it all for love.
Tonya Duncan Ellis is author of the Sophie Washington children's book series, geared toward readers ages 8-12 and is a member of the Society of Children's Book Writers and Illustrators (SCBWI).
www.tonyaduncanellis.com
Like Us on Facebook: @tonyaellisbooks
Follow Us on Twitter: @tonyaDEllis
Follow Us on Instagram: @tonyaellisbooks