Happy Children's Book Week! Today, we're reviving our occasional series, Making Our Own Market. All week, we'll showcase guest posts by children's book bloggers, independently-published authors and more with inspiring testimonies and tips to raise awareness of work by Black children's book creators.
Our series will explore questions like these: How can we do a better job promoting books by Black authors and illustrators and boosting sales?  How do we make sure work by Black creators stays in print and reaches the most important audience – kids? How do we reinvent marketing strategies and make an impact through children's literature in these uncertain times?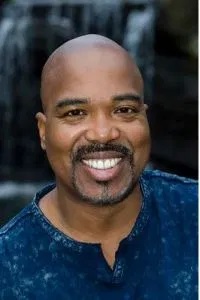 We're happy to welcome Troy Johnson, founder and webmaster of AALBC.com, as our first feature. Founded more than two decades ago, his site is "the oldest, largest, and most frequently visited website dedicated to books by or about people of African descent." Here, Troy talks about creating innovative partnerships and supporting independent booksellers:
Children's books have outsold all other genres on AALBC over the past two years. There is a good reason too – there are just so many terrific new books available for children for today, perhaps more than any previous generation.
Of course, these books don't sell themselves. Indeed, it is not uncommon for me to talk to someone who believes that there simply aren't any good books featuring Black children.  Obviously, the books exist, it is just that they still need to be marketed to readers.
Most bookstores simply to do not carry very many titles featuring Black children.  Even web-based bookstores, which can technically carry every children's book in print, do not highlight these books or place much focus on hand selling them customers.      .
The primary reason AALBC sells a lot of children's books is that we put effort into promoting them. As a web-based bookseller, we promote books in all the ways you would expect; we connect with readers via email, we engage in social media marketing, and we take search engine optimization very seriously. However, we find a great deal of success through the old-fashioned strategy of building relationships.
One relationship is with Najee Dorsey, who runs one of the leading websites dedicated to African American art, Black Art in America (BAIA). Recently Najee and I put our thinking caps on to brainstorm ways to cross promote the art and books our websites offered. Recognizing the importance of art in selling children's picture books, we quickly decided to focus on picture books. He mentioned he sold work by Frank Morrison and Faith Ringgold – the synergies were immediately obvious.
We quickly decided that I would write a brief article highlighting the artists whose work is used in critically acclaimed picture books. I already knew readers enjoy lists and adding beautiful illustrators' images would almost guarantee strong engagement. The article I wrote, "5 Incredibly Talented Children's Book Illustrators You'll Love," was published on BAIP April 28th, 2020.

AALBC and BAIP shared the article on our social platforms and sent it to our newsletter subscribers.  The result was immediate and impactful; exposure to 10's of thousands of art enthusiasts and readers. There was active engagement by thousands of people on social media.  People learned about artists whose work they were unfamiliar with, and they also discovered and purchased the picture books shared.
The article on BAIP's site linked to AALBC and those visitors, once they arrived at AALBC, looked at an average of 6 pages. We were able to attract a new set of engaged visitors from an art website and help them discover books they were previously unaware of.  Everyone benefited by the collaboration, BAIP, AALBC, the highlighted illustrators, and most importantly the children who will ultimately enjoy the books discovered as a result.
BAIA and AALBC are large, independent platforms with the ability to reach 10's of thousands of visitors on a daily basis, but our platform only benefit from readers like you, who visit our sites, engage with our content, and let others know when they find something valuable.
If you found this article, here on The Brown Bookshelf, valuable let others know; by doing this you build up the platforms that support books for Black children, this increases demand for these books, which leads to the creation of more high quality books for youngsters to enjoy!
Three Tips for Children's Book Creators and Lovers to Make a Difference
Tip #1: Authors, When Telling Readers Where They Can Buy Your Book, Recommend an Independent Book Store
Everyone knows you can buy a book from Amazon, but Amazon is not your best cheerleader. Indie bookstores are your most loyal supporters and we love authors who recognize this and return the love.  Now if you are afraid of playing favorites, you'll never go wrong by saying, "Buy at your favorite independent bookstore," or "Buy wherever books are sold." Now if your book is only available via Amazon, understand that you have effectively cut ties with your most ardent supporters.
Tip #2: Readers, Buy Your Books From an Independent Bookseller
I do not know a single bookseller who sells books to get rich.  We sell books because we want to uplift our culture.  The books we curate and put on our shelves (virtual and physical shelves) are there because we feel they are important.  I'm not saying that indie booksellers do not have a profit motive – of course we do, but it is not our only motive. Stores that are purely profit driven have never served the Black community in the long term, they only extract wealth without ever contributing back into the community.
Tip #3: Authors and Readers: Social Media is Good, but the Rest of the World Web is Great
Visit some other sites that are related to your books.  Join in the conversation and share their content with others.  Sites like The Brown Bookshelf are a gift that cannot be replicated on Instagram, Facebook, Twitter, TikTok, or any of the most popular social media platforms social media platforms.
Over the past decade we have lost countless book sites (related article: Black Book Websites Need Love Too). Again these site are the best promoters of children's literature, they write the critical reviews, they interview the authors, they host and cover events, they identify and sell you the books you are most likely to enjoy.  These sites are not driven by algorithms optimized to extract the most wealth from you, but by people who are about both the books and the people who read them.
So if this article resonates in any way, leave a comment and share it with others.  Come back and see what is new or sign up for the newsletters to keep current. I think you'll be richly rewarded.