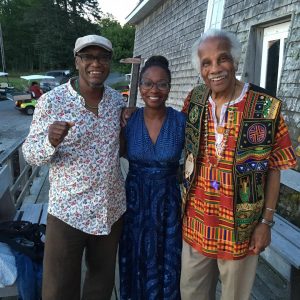 Today, on Ashley Bryan's birthday, we're thrilled to share a guest post about an incredible children's book festival created in his honor. Award-winning artist Daniel Minter and his executive creative director wife Marcia are the founders of the hosting organization, Indigo Arts Alliance. The festival is named in honor of Bryan's Coretta Scott King Award-winning picture book, Beautiful Blackbird, and celebrates Black children's book authors and illustrators. Each Friday through the end of August will bring a new video readaloud. Some have activities too. Check out the videos here.
Thank you to the Minters and the festival team for saluting Ashley Bryan's outstanding contributions. Bryan is the creator of more than 50 books for children earning countless awards and accolades. His latest, picture book memoir Infinite Hope, won honors including a Coretta Scott King Illustrator Honor Award and Kirkus and Shelf Awareness Best Books recognition. Learn more about his work here.
The Beautiful Blackbird Children's Book Festival in Honor of Ashley Bryan
By Marcia Minter and Christina Richardson
Indigo Arts Alliance launched the "virtual" Beautiful Blackbird Children's Book Festival in Summer 2020 to shine a spotlight on the Black artists and writers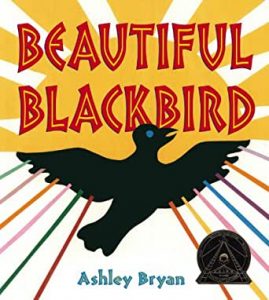 who create children's books featuring characters of the African Diaspora. Named in honor of Ashley Bryan, this inaugural event presented in partnership with I'm Your Neighbor Books and Diverse Book Finder honors roots, identity and resiliency of Black people across the world.
It is difficult to express the importance of the impact of Ashley Bryan on the children's book industry. It is his groundbreaking, door opening, ceiling shattering legacy that paved the way for other BIPOC book creators. The fact that he has, for 97 years, served as an inspiration and a role model for so many is a gift to us all. One of the things that was critically important to us for this festival, was to ensure that children could see and hear from the book creators. We wanted role-modeling to be visible and impactful. That the humanity of the Black writers and illustrators was clear in the same way that Ashley has consistently shared of himself with so many people.
Daniel and I have been blessed to live not too far from Ashley for 17 years. We are endlessly grateful for his kindness, wisdom, selflessness, graciousness and most importantly love. As Daniel says " Ashley is an inspiration in how to live your life as artist and as a human being". What we now know after speaking with so many other book creators, is that he has that wonderful ability to make each person feel not only special but brilliant!
Unable to engage with readers in person this year due to the COVID-19 pandemic, the Beautiful Blackbird Children's Book Festival celebrates virtually from May 25 to August 31, 2020 and features arts & crafts workshops, guest speakers, book read-alouds, a lively dance-along, and amazing performances.
One of several Indigo programs that bring real, actionable change to the arts and culture sector, the festival inspires children to read, write, or illustrate as well as raise the visibility of the extensive community and culture of Black and African American Authors and Illustrators. In a commitment to enable readers young and old to see themselves reflected in literature not just online, the festival created access to Black and African American characters by giving away over 1,700 free books in tote bags filled with art supplies, and other fun surprises to children of color and all backgrounds in Portland and Lewiston, Maine.
Although the festival specifically highlights books created for readers up to the age of 12, the overall mission applies to the entire family.  As Diverse Book Finder Director Dr. Krista Aronson explains, it is important to create access to literature that cultivates creators who understand the necessity of self-identity.  "Books leave their mark," the professor of Psychology at Bates College states in an early festival video. "They shape who we are, how we come to see ourselves, and who we will become… Picture books provide vehicles for parents and children to connect and share when they depict stories to which Black people can relate."
The festival is truly an all ages Black is Beautiful celebration. This year's featured picture books and creators include selected works by several nationally recognized Black authors and illustrators including the legendary Ashley Bryan and 2020 Caldecott Award Winning Illustrator Daniel Minter.  Presenting nine books that represent the modern and historical African American experience, the Beautiful Blackbird Children's Book Festival highlights the experience of immigrants from Ethiopia, Somalia, and Haiti.
We are proud to have retooled and redesigned this festival so we could bring it directly to families and children all over the world. It honors diversity, respects all cultures and builds a strong sense of community for all of us at a time when we need unity more than ever.
Find Beautiful Blackbird Children's Book Festival content year-round at www.beautifulblackbird.com
Check out Indigo Arts Alliance at: