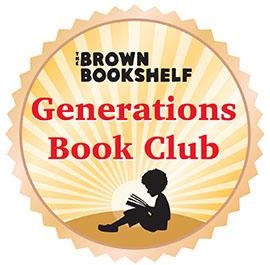 We hope you've enjoyed our book club selections, so far. I trust you don't need a pandemic to force reading, but with a semi-quarantine situation in effect for most of our country, our book selections are a great opportunity to find a book for any member of the family.
This week's theme is Heritage and Legacy. This feels especially appropriate as we think about the legacies that have shaped the country, that is now in the midst of growing pains as it attempts to heal from its divisions.
Merriam-Webster defines Heritage as "property that is or may be inherited," and Legacy as "a thing handed down by a predecessor." In a country where Black people have traditionally been separated from or prohibited from accumulating wealth, heritage and legacy are usually associated more with traditions and marks made by one's work or passions and less so by one's material possessions. So the works presented, today, are about emotional heritage and legacies big and small.
Please visit our Generations Book club partner, Brain Lair Books, a Black-owned, woman-owned business to purchase and support these creatives.
By Tonya Bolden, Illustrated by Don Tate (Brown Bookshelf, Founding Member)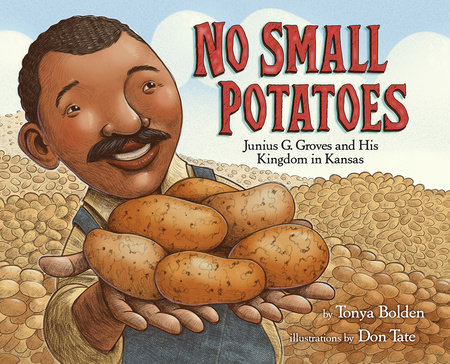 Slaves built this country. And Junius P. Groves, a freed slave went on to  become a successful potato farmer leaving a legacy of hard work, tenacity and community building. This book, by award-winning author, Tonya Bolden, and illustrated by Brown Bookshelf Founding Member, Don Tate, tells the story of how Groves went from farm hand to land owner and even business developer of Groves Park. Those looking for a wonderful universal boot straps story will find it here.
Praise for No Small Potatoes
"This a-peel-ing story will give readers a new appreciation for spuds."—Kirkus Reviews, starred review
"A charming mix of biography, history, agriculture, math, and lots of potatoes" —School Library Journal, starred review
2018 Junior Library Guild Selection
Additional Resources
Middle Grade Selection: The Magnificent Mya Tibbs: Mya In The Middle
By Crystal Allen (Brown Bookshelf Board Member)
The third book in Allen's Mya series, Mya finds herself trying to stand out from her siblings. Lost in the middle of a cute baby sister and an exceptional older brother, readers will take a fun ride with Mya as she takes on a school project to get her parents attention only to find herself in the middle again – but this time between her friends. The portrayal of Mya drips with the legacy of family from the struggle of juggling a newly expanding family down to tiny things like Mya's mom doing Mya's hair her favorite way.
Looking to insert more joy and fun into a reader's life? Check out this cheeky series with its lovable main character.
Praise for the Magnificent Mya Tibbs Series
"Allen lassoes another terrific tale for the Magnificent Mya Tibbs series." (Kirkus Reviews)
"Spunky, sweet hearted, and full of fun, Mya will have readers everywhere yelling 'Yee-haw'!" (Varian Johnson, author of The Great Greene Heist)
Additional Resources
Audio Clip of Mya In The Middle 
Crystal Allen on… Judging a book by its Color 
Young Adult Selection: This is My America
By Kim Johnson
Many young readers are working to find the balance between doing their part for social justice and still enjoying what's left of their teen years. Imagine being Tracy Beaumont, working to free your innocent father from prison within an unjust system. Kim Johnson's debut tackles the legacy of hatred that still infiltrates some communities and the devastation of mass incarceration, while also highlighting the strength and love of family when its tested again and again.
Praise for This is My America
"Harrowing and worthwhile; a call-to-action from the anti-racist insights of a generation of black activists." —Kirkus, starred review
"This strong debut will strike home with socially conscious readers." –Booklist 
"A strong debut. Will appeal to readers of Angie Thomas and fans of criminal justice podcasts like Serial and In the Dark." —SLJ
Featured in: Entertainment Weekly, Essence and Cosmopolitan
Additional Resources
An Essence #SummerReads
We chat with Kim about mass incarceration, balancing social justice work and her definition of legacy and heritage.
Adult Selection: Heavy – An American Memoir
By Kiese Laymon

Praise for Heavy
"Laymon's writing, as rich and elegant as mahogany, offers us comfort even as we grapple with his book's unflinching honesty … If this book succeeds as a thoughtful and hard-wrought examination of how a black man came into his own in a country determined to prevent that from happening, it's because of the painstaking manner in which Laymon walks the reader through the various perils and costs of striving … Excellent " –  New York Times
"Quite simply, Heavy is one of the most important and intense books of the year because of the unyielding, profoundly original and utterly heartbreaking way it addresses and undermines expectations for what exactly it's like to possess and make use of a male black body in America" –  Los Angeles Times
Additional Resources
Kiese Laymon at Politics & Prose