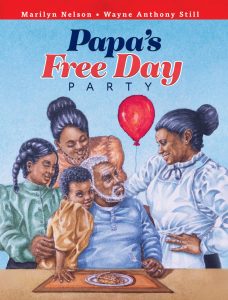 Cherished poet and children's book author
Marilyn Nelson
finds inspiration all around. Winner of a Newbery Honor, Coretta Scott King Honors and Boston Globe-Horn Book Awards, her outstanding contributions for young people soar with meaning and heart. Whether celebrating the life of George Washington Carver, weaving a heart-wrenching memorial to Emmett Till or showing the power of a girl's artistic voice, Nelson's words leave you changed by the journey. We're thrilled to host the cover reveal for her latest treasure,
Papa's Free Day Party
, which comes from her maternal grandfather's life.
Illustrated by Wayne Anthony Still, Papa's Free Day Party explores injustice, family, resilience and love. It's available for pre-order now and debuts in April from Just Us Books.
Description: Johnnie wants to celebrate her Papa's birthday, but Papa doesn't know exactly when that special day is. Johnnie doesn't understand how that could be. Then she learns about Papa's childhood—how he escaped Night Riders, the family that took him in, and how he built a new life in the all-Black town of Boley, Oklahoma. Inspired by her father's incredible story, Johnnie decides to throw Papa a different kind of party—one to recognize her father's day of freedom.
Based on a true story about the author's grandfather, Papa's Free Day Party is a powerful celebration of storytelling, strength, and the importance of family.