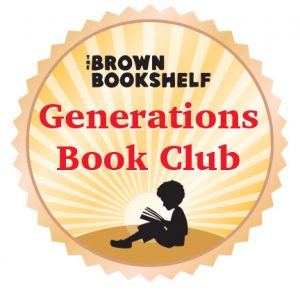 Happy new year! On this first day of 2021, and the seventh and last day of Kwanzaa, we honor our faith (Imani)—a belief with all our heart in our people, our parents, our teachers, our leaders and the righteousness and victory of our struggle. Faith has been the heartbeat of the African American community, our history. So for our first Generations Book Club of 2021, we honor Black history!
Please support books that speak to our people, culture and history. To make ordering easy, we've partnered with Brian Lair Books, an independent, Black-owned, woman-owned bookstore located in Indiana.
Carter G. Woodson, the African-American writer and historian who founded Negro History Week (which later became Black History Month), believed in "raising high the standard of the truth." His organization, the Association for the Study of African American Life and History, created The Negro History Bulletin, which featured stories and biographies of black people to be used in the classroom. I believe the following books would be Carter G. Woodson approved:
Board Book: The ABCs of Black History
by Rio Cortez
B is for Beautiful, Brave, and Bright! And for a Book that takes a Bold journey through the alphabet of Black history and culture.
Letter by letter, The ABCs of Black History celebrates a story that spans continents and centuries, triumph and heartbreak, creativity and joy.
It's a story of big ideas––P is for Power, S is for Science and Soul. Of significant moments––G is for Great Migration. Of iconic figures––H is for Zora Neale Hurston, X is for Malcom X. It's an ABC book like no other, and a story of hope and love.
In addition to rhyming text, the book includes back matter with information on the events, places, and people mentioned in the poem, from Mae Jemison to W. E. B. Du Bois, Fannie Lou Hamer to Sam Cooke, and the Little Rock Nine to DJ Kool Herc.
Picture Book: Dream Builder: The Story of Architect Philip Freelon
by Kelly Starling Lyons (Brown Bookshelf co-host)
Philip Freelon's grandfather was an acclaimed painter of the Harlem Renaissance. His father was a successful businessman who attended the 1963 March on Washington. When Phil decided to attend architecture school, he created his own focus on African American and Islamic designers. He later chose not to build casinos or prisons, instead concentrating on schools, libraries, and museums–buildings that connect people with heritage and fill hearts with joy. And in 2009, Phil's team won a commission that let him use his personal history in service to the country's: the extraordinary Smithsonian National Museum of African American History and Culture.
Jane Adams Children's Book Award Finalist, Junior Library Guild Selection, Orbis Pictus Award for Outstanding Nonfiction, Recommended Title
Middle Grade: Ruby Bridges: This is Your Time
by Ruby Bridges 
Civil rights icon Ruby Bridges—who, at the age of six, was the first black child to integrate into an all-white elementary school in New Orleans—inspires readers and calls for action in this moving letter. Her elegant, memorable gift book is especially uplifting in the wake of Kamala Harris making US history as the first female, first Black, and first South Asian vice president–elect.
Written as a letter from civil rights activist and icon Ruby Bridges to the reader, This Is Your Time is both a recounting of Ruby's experience as a child who had to be escorted to class by federal marshals when she was chosen to be one of the first black students to integrate into New Orleans' all-white public school system and an appeal to generations to come to effect change.
Kirkus, School Library Journal, Booklist starred reviews!
Young Adult: Deathless Divide (historical fiction)
by Justina Ireland