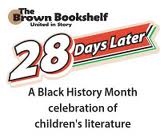 Get ready to cheer. We are proud to introduce the honorees for the 14th class of our annual 28 Days Later campaign. A Black History Month celebration of Black children's book creators, we will showcase an outstanding author or illustrator each day. We invite you to come along on our journey and spread the news far and wide.
Our campaign will begin on Monday, February 1. Look for insightful posts and interviews that shine a light on topics such as the path to publication, writing inspirations and the state of the industry. This year, we will also have links to purchase and pre-order featured books. Thank you for helping us make a difference.
Congratulations to the honorees!
February 1 – Tricia Elam Walker
February 2 – Candice Iloh
February 3 – Rhiannon Richardson
February 4 – Jerome and Jarrett Pumphrey
February 5 – Judy Allen Dodson
February 6 – Joy Jones
February 7 – James Berry
February 8 – Marie Arnold
February 9 – Kimberly L. Jones
February 10 – Laura Freeman
February 11 – Junauda Petrus
February 12 – Chrystal D. Giles
February 13 – Valerie Bolling
February 14 – Kereen Getten
February 15 – Ben Philippe
February 16 – Kaylani Juanita
February 17 – Nancy Redd
February 18 – Theanne Griffith
February 19 – Nathan Bryon
February 20 – Alice Childress
February 21 – April Harrison
February 22 – Alex Wheatle
February 23 – Eden Royce
February 24 – Darnell Johnson
February 25 – Kelly J. Baptist
February 26 – Lily Anderson
February 27 – Shakirah Bourne
February 28 – Shannon Wright