Sharing is caring.
We want you to care about these Black creators who are developing work so that Black readers see themselves and their stories and to continue humanizing Black people to non-Black readers – so, we're sharing a little more about them every day this week.
Remember, our storytellers work can be purchased at  THE LITERARY CAFE – BOOKS & EVENTS Bookstore Amplify Black Stories Book List, curated by The African American Children's Book Project.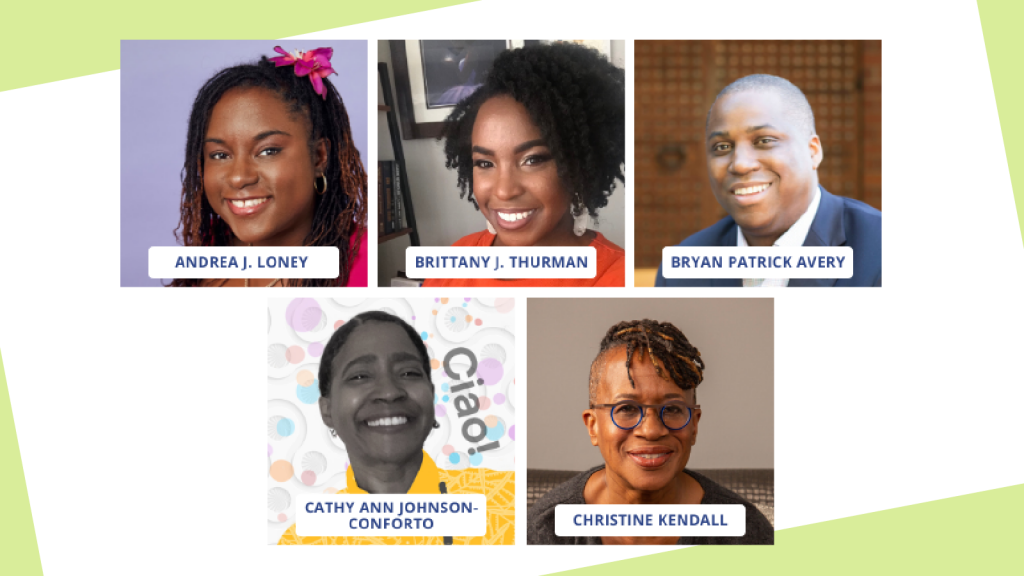 Andrea J. Loney is an award-winning picture book author and poet, with titles including TAKE A PICTURE OF ME, JAMES VAN DER ZEE!, BUNNYBEAR, AND DOUBLE BASS BLUES.  "Writing for kids is my personal investment in a better future for us all." 

Brittany J. Thurman is the author of picture books and middle grade novels. Her debut picture book, FLY, publishes in March 2022. "I write for Black kids to know they are deserving of books with them conquering their dreams." 

Bryan Patrick Avery writes poems and stories for children from toddlers through middle grade. His picture book, THE FREEMAN FIELD PHOTOGRAPH, will be published in April 2021 and his early reader series, MR. GRIZLEY'S CLASS, will be available in August 2021. "It is my goal to show young readers that children of color (particularly Black children) aren't simply fighting racism and oppression. They can also solve mysteries, defeat dragons, and travel the universe." 

Cathy Ann Johnson-Conforto, is a designer, illustrator and director of Director of Luv-it Studio. She works in a range of styles and loves connecting words to pictures. Her work has appeared in children's books, magazines, posters, gifts, and more. "It's important that we control our own narrative. Have a voice in the content that is being created on multiple fronts, including film, social networks, books, and ongoing branded communication that mirror images to our children." 

Christine Kendall is the author of two novels, RIDING CHANCE and THE TRUE DEFINITION OF NEVA BEANE.  "Art is a form of truth-telling. It can raise awareness and encourage action." 
Amplify Black Stories is a living commitment to the Brown Bookshelf's 2020 kidlit industry Call to Action.  It's a partnership initiative between The Brown Bookshelf and the Highlights Foundation to empower Black kid lit creatives with resources and community; and promote publisher-collaborations to craft detailed actionable programs of support for Black kid lit creatives. See a full description of the program.