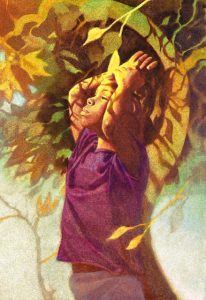 Background
In November 2016, The Brown Bookshelf's Declaration in Support of Children was signed by 691 children's book authors, illustrators and industry professionals on our site with many more signing onto the living document on our FaceBook page. The signers publicly affirmed their commitment to using their talents and varied forms of artistic expression to help eliminate the fear that takes root in the human heart amid lack of familiarity and understanding of others and feeds stereotypes, bitterness, racism and hatred.
A Call To Action
Since the declaration, we have seen racism boil over into more senseless deaths.  The death of George Floyd put the longstanding deep divisions of the United States under the world's microscope, forcing institutions to deal with the open wounds they have created and nurtured for centuries.
These institutions are expressing a desire to examine their complicity in maintaining systemic racism that has caused so much harm to Black Americans. To truly address systemic racism, casual efforts or overtures that are cosmetic at best, will not work. The hard work of honest assessment and implementing change that is transformative is required if our country is to become the multicultural democracy we wish it to be.  
Recognizing that children's literature is among the most influential literary genres of all, the publishing industry and broader children's literature community must look at their infrastructure and operations and change policies, practices and beliefs that negatively impact the careers of Black creatives. 
As authors and illustrators we know that our books can and must play an important role in that transformation. The board books, picture books, chapter books, middle-grade and young-adult novels that we create serve the most noble of purposes: to inform, entertain, motivate, inspire, and encourage critical thinking. Within our pages, seeds of wisdom and possibility are sown. In the fight to ensure that Black people are humanized, our books are strikingly crucial.
But, as Black people have been dehumanized and marginalized by systemic racism, our books have as well.
White writers regularly receive higher advances and better contracts from publishers. Their books are promoted more vigorously. Booksellers are more receiving of their works and those books dominate their shelf space. The works of white book creators are more readily reviewed. Many libraries and schools are more welcoming of books by white book creators even when the school population or community is significantly Black. Our books, in general, are treated as if they don't belong, and, too often, so are we.
Publishers and the entire children's literature community should partner with entities from the vibrant and active network of Black organizations, companies and professionals to share the many stories representing the Black experience with all children.
We, Black creators of books for young readers, urge the children's literature community to imagine a new way of doing business, and abandon anti-Black and racist practices that perpetuate a system that marginalizes our work. 
Therefore, we call on you to commit to the following:
Prioritize the work of midlist Black authors/illustrators by providing significant and sustained investment of financial and other resources.

Map out concrete marketing strategies that include valuable input from Black book creators

Collaborate with multiple constituencies in the Black children's lit community, including but not limited to: Black media/Social media influencers, Conference coordinators, Festival Directors, Black Booksellers, Black educators/librarians, Black Marketing Professionals, and Reviewers.

Expand hiring practices to increase the number of Black professionals in publishing at every level.
The time for change is now!