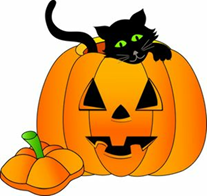 During October, even the scarediest of cats may crave experiences of a more mystical (or downright spooky) variety.  Here are some titles that can scratch that itch, not only during Halloween, but all year long.
Brain Lair Books is our Generations Book Club partner. To purchase the following titles, please click on the book cover images.
Picture Book
LOOKING FOR A JUMBIE by Tracey Baptiste, illustrated by Amber Ren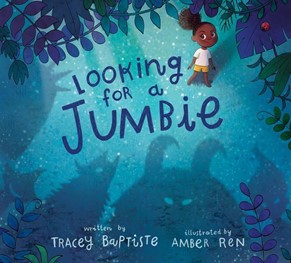 (Balzer + Bray)
I'm looking for a jumbie, I'm going to find a scary one.
But Mama says jumbies exist only in stories. So Naya sets out on a nighttime adventure to find out for herself.
No such thing, say the friends she makes along the way. 
But Naya is sure that jumbies are real. Some have big mouths. Or thick fur. Or glowing skin. Or sharp teeth. Kind of like her new friends.…
Looking for a Jumbie is a gentle, bouncy, and creepily fun read-aloud inspired by traditional Caribbean tales.*
"Baptiste returns Naya and her story back home eventually, but not before introducing readers to a cast of folk characters from the Douen to Mama D'Leau…Whether or not jumbies are real is never fully revealed, but the power of their stories is as clear as day."—Kirkus (starred review)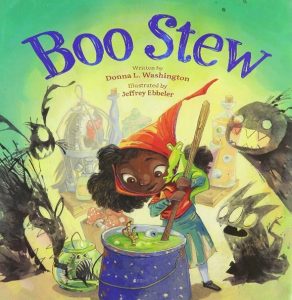 BOO STEW by Donna L. Washington, illustrated by Jeffrey Ebbeler
(Peachtree Publishing)
Curly Locks is a good-hearted girl, but she's an awful cook. All the townspeople of Toadsuck Swamp know to steer clear of her culinary concoctions–like the batwing brownies and toad eye toffees. So when one of her dishes goes missin' from her windowsill, word spreads like a kerosene fire about how the Scares have been terrorizin' the town at mealtime. They shriek "Gitchey Boo, Gitchey Bon Gitchey Goo, Gitchey Gone " and send folk runnin' from their dinner plates.
With everyone else tremblin' and squawkin' about the Scares, Curly Locks gets an inklin'. Can she use her smarts and unique talents to help corral those Scares for good?
Internationally known, award-winning storyteller Donna L. Washington uses her tremendous skill to breathe new life into the classic Goldilocks tale. Her clever, can-do protagonist and joyful language paired with Jeffrey Ebbeler's charming, imaginative illustrations will tempt readers into a ghostly, yet enchanting landscape that they won't want to leave.*
"A girl's unique cooking style saves the day in this fun Halloween read sure to entertain in any season."—School Library Journal
Middle Grade
MAYA AND THE RISING DARK by Rena Barron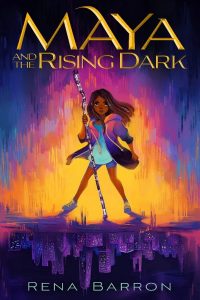 (Clarion Books)
Twelve-year-old Maya is the only one in her South Side Chicago neighborhood who witnesses weird occurrences like werehyenas stalking the streets at night and a scary man made of shadows plaguing her dreams. Her friends try to find an explanation—perhaps a ghost uprising or a lunchroom experiment gone awry. But to Maya, it sounds like something from one of Papa's stories or her favorite comics.
When Papa goes missing, Maya is thrust into a world both strange and familiar as she uncovers the truth. Her father is the guardian of the veil between our world and the Dark—where an army led by the Lord of Shadows, the man from Maya's nightmares, awaits. Maya herself is a godling, half orisha and half human, and her neighborhood is a safe haven. But now that the veil is failing, the Lord of Shadows is determined to destroy the human world and it's up to Maya to stop him. She just hopes she can do it in time to attend Comic-Con before summer's over.*
"Astonishing series of subsequent revelations leaves readers agog, eager to know how Maya and her pals will use their powers to heal the veil and save their mostly black and brown neighborhood…. A truly #BlackGirlMagic, cloudy-day, curl-up kind of book."  —​Kirkus (starred review)

 "The vivid world-building, quick pace, high stakes, and steady stream of legendary African creatures keep readers engaged and invested in the tweens' predicament. Mixing in hard choices, believable emotions, tough lessons, and mistakes made with the best of intentions, Barron has created a must-read tale." —School Library Journal (starred review)
Upper Middle Grade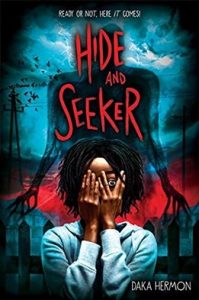 HIDE AND SEEKER by Daka Hermon
(Scholastic Press)
One of our most iconic childhood games receives a creepy twist as it becomes the gateway to a nightmare world.
I went up the hill, the hill was muddy, stomped my toe and made it bloody, should I wash it? Justin knows that something is wrong with his best friend. Zee went missing for a year. And when he came back, he was . . . different. Nobody knows what happened to him. At Zee's welcome home party, Justin and the neighborhood crew play Hide and Seek. But it goes wrong. Very wrong. One by one, everyone who plays the game disappears, pulled into a world of nightmares come to life. Justin and his friends realize this horrible place is where Zee had been trapped. All they can do now is hide from the Seeker.*
 "This dark nail-biter, set in a small Tennessee town and featuring a largely African American cast…weaves a creepy spin on a childhood game that quickly slips into a Stephen King–esque tale of horror. Can the children trapped in Nowhere gather as allies to evade the Seeker and get home?

A chilling debut—like the Seeker, a tale that doesn't let you go."—Kirkus (starred review)
Young Adult
A SONG BELOW WATER by Bethany C. Morrow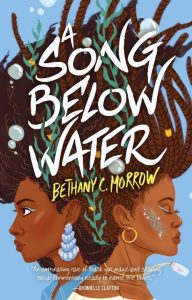 (Tor Teen)
In a society determined to keep her under lock and key, Tavia must hide her siren powers.
Meanwhile, Effie is fighting her own family struggles, pitted against literal demons from her past. Together, these best friends must navigate through the perils of high school's junior year.
But everything changes in the aftermath of a siren murder trial that rocks the nation, and Tavia accidentally lets out her magical voice at the worst possible moment.
Soon, nothing in Portland, Oregon, seems safe. To save themselves from drowning, it's only Tavia and Effie's unbreakable sisterhood that proves to be the strongest magic of all.*
"Morrow expertly and smartly explores race, bigotry, oppression, and injustice against a backdrop of ordinary life with a dose of the supernatural added to the mix. A Song Below Water is a must-read for lovers of fantasy and contemporary stories alike."—Booklist (starred review)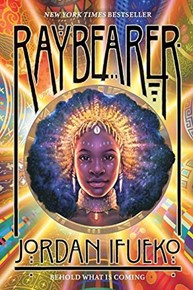 RAYBEARER by Jordan Ifueko
(Amulet Books)
Nothing is more important than loyalty. But what if you've sworn to protect the one you were born to destroy?
Tarisai has always longed for the warmth of a family. She was raised in isolation by a mysterious, often absent mother known only as The Lady. The Lady sends her to the capital of the global empire of Aritsar to compete with other children to be chosen as one of the Crown Prince's Council of 11. If she's picked, she'll be joined with the other Council members through the Ray, a bond deeper than blood. That closeness is irresistible to Tarisai, who has always wanted to belong somewhere. But The Lady has other ideas, including a magical wish that Tarisai is compelled to obey: Kill the Crown Prince once she gains his trust. Tarisai won't stand by and become someone's pawn–but is she strong enough to choose a different path for herself? With extraordinary world-building and breathtaking prose, Raybearer is the story of loyalty, fate, and the lengths we're willing to go for the ones we love.*
"Ifueko's mesmerizing debut stuns as it weaves a tale of loyalty, fate, destiny, family, and revenge. Moreover, it places a dark skinned heroine front and center, who is beautiful and powerful, deadly and compassionate, and vulnerable and tough, giving YA literature more of the diverse representation teens need." — Booklist (starred review)
Adult
THE CITY WE BECAME: A NOVEL by N. K. Jemisin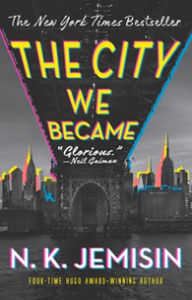 (Orbit)
Three-time Hugo Award-winning and New York Times bestselling author N.K. Jemisin crafts her most incredible novel yet, a "glorious" story of culture, identity, magic, and myths in contemporary New York City. 
In Manhattan, a young grad student gets off the train and realizes he doesn't remember who he is, where he's from, or even his own name. But he can sense the beating heart of the city, see its history, and feel its power. In the Bronx, a Lenape gallery director discovers strange graffiti scattered throughout the city, so beautiful and powerful it's as if the paint is literally calling to her. In Brooklyn, a politician and mother finds she can hear the songs of her city, pulsing to the beat of her Louboutin heels. And they're not the only ones. 
Every great city has a soul. Some are ancient as myths, and others are as new and destructive as children. New York? She's got six.*
"Some of the most exciting and powerful fantasy writing of today… Jemisin's latest will attract … even those who don't typically read genre fiction."—Booklist (starred review)

* Publisher Description