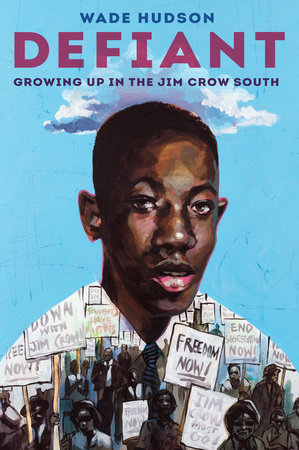 "With his compelling memoir, Hudson will inspire young readers to
emulate his ideals and accomplishments." –Booklist, Starred Review

Getting to know Wade Hudson is such a treat and a privilege, and his middle grade memoir DEFIANT: Growing Up in the Jim Crow South, is a genuine blessing. In DEFIANT, readers will get a glimpse of how editor, publisher, poet, educator, advocate and activist Wade Hudson became the giant he is today.
From his bio:
Wade Hudson is an author, a publisher, and the president and CEO of Just Us Books, Inc., an independent publisher of books for children and young adults. He has published over thirty books, including the anthologies We Rise, We Resist, We Raise Our Voices, which received four starred reviews; The Talk, which earned four starred reviews and was a New York Times Best Book of the Year; and the most recent, Recognize: An Anthology Honoring and Amplifying Black Life. These powerful collections were co-edited with his wife, Cheryl Willis Hudson.
DEFIANT is Wade's homage to the Black people he knew in Mansfield as much as it is his story about growing up there. These were the people who nurtured and loved him even as they fought for their own survival under Jim Crow. It is also the story of a youngster trying to find meaning and purpose in a defining era where issues such as civil rights, women's rights, immigrant rights, and resistance against the Vietnam War played out regularly on the news. It is about finding one's voice and joining the fight for justice and equality.
This powerful memoir reveals the struggles, joys, love, and ongoing resilience that it took to grow up Black in segregated America, and the lessons that carry over to our fight for a better future.
I had the chance to chat with him about sharing this story of his growing up, his family, and the community that nurtured and challenged him. Grab a cup of tea, or just sit and drink in the wisdom of Wade Hudson — like me, you'll be inspired.