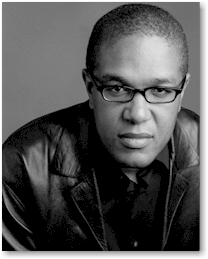 Many people may know, and recognize Christopher J. Farley as the Senior Editor for the Wall Street Journal, where he penned informative editorials, and conducted numerous interviews with famous actors and musicians. Today, we want to spotlight Mr. Farley for his work in children's literature, as author of GAME WORLD, a  middle-grade fantasy novel loaded with diverse characters and adventure!
On this, the 1st Day of February, 2015, The Brown Bookshelf is honored to spotlight:
CHRISTOPHER J. FARLEY
Born in Kingston, Jamaica, and raised in Brockport, New York, Christopher John Farley is a former music critic and senior editor for Time magazine, and a graduate of Harvard University, where he worked as an editor on the staff of the Harvard Lampoon. He's currently a senior editor at the Wall Street Journal. Christopher John Farley is the author of "Game World," a children's fantasy adventure tale which Kirkus Reviews called "Exhilarating, thought-provoking and one of a kind" and The Wall Street Journal dubbed "Narnia for the social media generation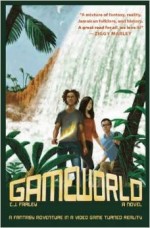 ." He is also the author of two novels for adults, "My Favorite War" and "Kingston by Starlight," and a number of nonfiction books including the national bestseller "Aaliyah: More than a Woman," which was adapted into a hit movie for Lifetime television. Farley co-wrote and co-edited the book "The Blues" (Harper Collins) the companion volume to Martin Scorsese's PBS documentary series (Scorsese called him a "great biographer and critic"). Farley's short fiction has been featured in a number of anthologies including "The Vintage Book of War Fiction," a survey of the best war stories of the last 100 years, and "Kingston Noir," a short story collection that came out in 2012. Farley was a consulting producer for "Mr. Dynamite: The Rise of James Brown," a critically-acclaimed HBO documentary on soul singer James Brown. He has won numerous awards for his work including honors from the National Association of Black Journalists and the Deadline Club of New York, and his biography "Before the Legend: The Rise of Bob Marley" was nominated for an NAACP Image Award. *
http://https://www.youtube.com/watch?v=omNXn8F7Wqo
THE BUZZ:
From School Library Journal:
… here (finally!) is a middle-grade action novel that showcases West Indian mythology and features protagonists of color: an Afro-Caribbean boy, Hispanic-Caribbean boy who also is a wheelchair user, and a Korean girl.
From Booklist:
… Farley blends video gaming and Jamaican folklore in this intense, fast-paced middle-grade fantasy that is sure to quickly grab readers.
Thank you, Christopher Farley, for your contribution to children's literature!
Learn more about Christopher J. Farley at his website:  http://cjfarley.com
You can also follow him on twitter:  http://https://twitter.com/cjfarley