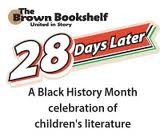 The Brown Bookshelf believes in promoting the work of Black children's book creators year-round. At the same time, we shine a special spotlight on select authors and illustrators during the month of February, in honor of the traditional Black History Month observance inspired by the efforts of historian Carter G. Woodson, who strove to illuminate the vast history and myriad contributions of African Americans at a time when society was particularly resistant to such. In that spirit…
Today begins our 28 Days Later celebration of our 14th class of honorees!
First up is attorney, educator, essayist, commentator, and award-wining author, Tricia Elam Walker! Her debut picture book, Nana Akua Goes to School (illustrated by April Harrison and published by Schwartz & Wade) has garnered starred reviews from School Library Journal, Kirkus, Publisher's Weekly, and Booklist. Born in Roxbury, MA, Elam currently resides in Tacoma Park, MD where, according to her website, you can find her "working on short stories, essays, another novel, more children's books and plays".
On Day 1 of 28 Days Later, we welcome Tricia Elam Walker to share her story in her own words: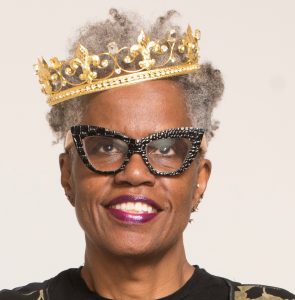 THE JOURNEY
My "path to publishing" three books thus far (an adult novel, Breathing Room and two children's books, Nana Akua Goes to School and the forthcoming, Dream Street) has been very smooth, I must say.
I always loved reading and writing, mainly because of my mother who was a children's librarian and made us read. There was non-existent to minimal TV watching. At some point I grew to love books like her. I dabbled at writing as well and majored in English in college. But I became a lawyer and practiced law for 16 years because I couldn't see a way forward with writing. I knew I loved and enjoyed it but how could I make money? As a lawyer, I was always writing on the side. After winning a prize and getting some articles published I returned to grad school for an MFA in creative writing. My thesis ultimately became my first novel. After graduation I continued taking writing workshops and one of my instructors introduced me to her agent who took me on and acquired my first book deal. We had an auction. It was all very quick and pretty magical! Definitely a dream come true.
THE BACK STORY
I wrote and published writing for adults (essays, articles, short stories, plays, commentary) but always wanted to write a children's book. As noted above, my librarian mother adored children's literature which she read often and with much glee. Actually she read everything! She definitely is the reason I'm a writer in the first place. At first her required reading felt like a punishment/burden but as I became transported to new and different worlds I wanted to do the same for others. I even wrote a children's book when I was maybe 7 or 8 about a little girl whose beloved dog dies. My mother showed me how to literally sew the pages together because I wanted it to open like a real book.
So back to my wanting to write a children's book: My dear cousin, who I essentially grew up with, is an artist and had begun working as an illustrator. We often discussed creating a picture book together. She had some collages laying around and asked how I felt about writing some words to go with her art. I was a little hesitant at first because I'm used to being the "boss of the story" and instead, I'd have to find the story in her art work. Hmmm but okay, I'm often up for a challenge so I agreed. The collages weren't related but they mostly featured people of various ages and activities so I decided to write about different characters who all lived on the same street. That book became Dream Street and we began shopping it around but heard a lot of No: no it's not a story, no, it's not a picture book, maybe it's a coffee table book but no, it's not for us.
Undaunted, we made some changes but both of us felt the book was more authentic in its original form so we went back to that and finally found an agent who loved it as is. She sold it to Random House! Because my cousin had so many projects ahead of Dream Street, the publisher gave me a separate contract to create a book that would come out first. That's the origin of how Nana Akua goes to School came to be!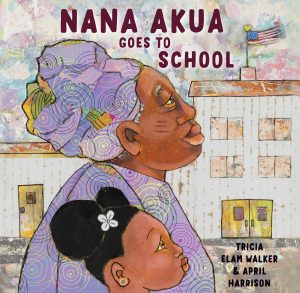 THE PROCESS
I don't know if I have a process because these are the first two children's books I ever wrote. All I can do is talk about the (stumbled-upon) process for each. With Dream Street, as mentioned above, I had to find the story in my cousin's already created artwork. Thus that was not necessarily a process I would repeat unless similarly situated, needing to write something to go along with another person's creation.
For Nana Akua goes to School, I had the contract and a deadline but my agent rejected several of my ideas and I began to get anxious. I decided to chant about what to write. (I've been a Buddhist for 30 years.) The place where I happened to be chanting had two African masks on the sides of the altar and as I was praying I felt the story come to me through the masks. Yes, I know it sounds hokey but nonetheless I began thinking there would be a little girl ashamed of her tribal markings. Later my research showed it would need to be someone older so I made it the grandmother.
I wrote several drafts of course. Reading aloud is critical every step of the way for pacing and rhythm. I also needed to do a great deal of research about Ghana, the Akan people, Adinkra symbols, names, etc.
In general, I keep a bunch of journals with notes about whatever I'm writing. When I'm trying to know and understand a character more deeply, I often journal as if I am that person. Trust me, it helps a great deal. Most of that never enters the actual story but I definitely come to know more about them which is absolutely necessary.
I did have a writing office pre-Covid but I let that go and currently write from home.
THE STATE OF THE INDUSTRY
The state of the publishing industry appears to be much more inclusive than it has been in the past. I hope it is not simply a phase or a trend because this wealth of options is important for all people, not just people of color. The industry needs to recognize that we have the same needs, desires as others and our book choices should reflect that. Also it is important to promote black literature for all people!
That said the offerings should be expanded to include more books about black children doing everyday things as well as magical things without race being a factor. In other words, keep showing black children just living their lives. I would also like to see more books about children with other differences such as abilities, circumstances and gender-wise. For example, I'd like to see more about coping with death in a way children can comprehend and feel hope nonetheless, more about coping with illness, a parent's joblessness, houselessness, etc. So much of what is happening in our country currently affects our children.
To learn more about Tricia Elam Walker, visit her website: triciaelamwalker.com.