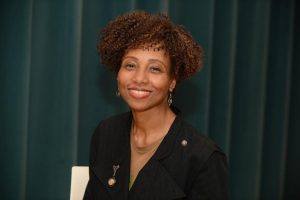 Humble, loving and sincere, Laura Pegram believes in celebrating children's book creators of color and Native creators but shies from shining the spotlight on herself. We're delighted to turn the table and share some of her many accomplishments. Whether crooning jazz, painting murals, teaching or writing her own stories, Laura's talent dazzles and glows. She counts literary trailblazers like June Jordan, Angela Johnson, E.B. Lewis and Virginia Hamilton as mentors. Laura's first children's books were board books published in the mid '90s.  Kirkus said this of her picture book, Daughter's Day Blues:
"Pegram's understanding tale is a balm for readers with similar longings, and it provides an opportunity to discuss the importance of every family member in a household."
Today, Laura not only encourages and mentors emerging authors and illustrators, she is editor in chief of Kweli Journal and leads the Kweli Color of Children's Literature conference. This year's April conference features keynotes Samira Ahmed, Jacqueline Woodson and Dr. Rudine Sims Bishop and a schedule packed with panels and conversations. Laura has a ready smile and warm welcome to let you know you're home.
We are proud to honor Laura Pegram as a vanguard author who continues to make a difference. Here, she shares her publishing journey and the founding of Kweli which is in its 10th year.
Path to Publishing
I was a premed student and artist who painted murals as a teenager. My mother was a brilliant self-taught visual artist and I suppose you could say that my apprenticeship as an artist started in the womb. My childhood was filled with paper bags stuffed with paints and brushes. I lived in the local library and my head was always in a book. Spiral notebooks were full of poems and sketches and AP calculus problems. I loved both art and science and math equally. That being said, I was still surprised by the response to the stories I shared in a freshman seminar on children's book literature with poet and activist June Jordan. After my reading, my classmates predicted that I would be published one day, but I didn't see it at the time. It was only after June told me that the sky was my ceiling that I began to believe the possibilities. June became mentor and second mother.
Successes
Cozbi Cabrera and I became sister friends while we were in college. Working with Cozbi on two board books was a joy. Illustrators and writers don't usually communicate during a book project. The art editor serves as the go-between. But the rules can be bent when you work with a small press like Black Butterfly Children's Books (now  defunct). Cozbi and I had free reign to create the board book we envisioned . Glenn Thompson gave us the freedom to fly.
Struggles
I worked with at least three or four different editors at Dial. Daughter's Day Blues took ten years, from contract to publication.
The Back Story
Daughter's Day Blues
During one Mother's Day celebration, my niece Monique asked me if there was a day for daughters like the one for mothers. She must have been about three or four years old at the time. I immediately told her yes, and Daughter's Day became a family tradition.
I shared my Daughter's Day Blues manuscript with the Bank Street Writers Workshop. I discovered the workshop by accident, on reading the flap copy on a book by an author I admired. Claudia Lewis was the workshop facilitator. After my reading, Claudia Lewis suggested that I send my manuscript to a friend of hers. That friend just happened to be Phyllis Fogelman, the President and Publisher of Penguin Putnam. She told me that I was a good writer and with some revisions, she felt sure they'd want to publish my story. I had my first book contract for Daughter's Day Blues within the year.
A Windy Day
I was spending the day in the park with a friend and his daughter, Isis. It was a windy day, in September or October, and I watched Isis chase a butterfly, and then run after an autumn leaf. She was about two years old. Each time she got close to the butterfly or the leaf, it would take flight. The board book took shape at that moment. I imagined a shy butterfly, a wind that carried different items away from the reach of a little girl's small hands again and again until it finally gave her a gift at the end. I shared the idea with Glenn Thompson at Black Butterfly Chilldren's Books and he loved the idea. He was also equally excited about the idea of Cozbi Cabrera and I working together as a team on two board books; they were printed in twos. It didn't take long to come up with a concept for the second board book: a bath time / bedtime story.
Rainbow Is Our Face
Cozbi was working at SONY at the time, designing album covers and we would snatch free time whenever we could to work on the board book. I would meet her at her SONY office and she would share a dummy with me and the book would come alive on those small pages. Cozbi and I talked about creating a bath time board book that showed the rainbows that can exist within families of color. The opening scene in the board book showed two sisters painting a rainbow for their parents and a favorite doll. The rainbow theme is evident in each spread Cozbi painted. You even see a rainbow quilt on the bed in the final spread. Beautiful! I was so happy that I had that experience.  I learned a lot as a writer.
The Inspiration
There are so many, so I will simply focus on my first mentors: Joyce Carol Thomas, Angela Johnson, the Dillons, Tom Feelings, E.B. Lewis, Virginia Hamilton, John Steptoe, Eloise Greenfield. Musicians like Nina Simone, Sarah Vaughan, Cassandra Wilson, Dianne Reeves, Lizz Wright, Audra McDonald inspire me, as do Hazel Scott, John Coltrane, Miles Davis, Vinx, Horace Silver. The actors Viola Davis, Danai Jekesai Gurira, Denzel Washington, Avery Brooks, Chadwick Boseman, Michael B. Jordan and Lupita Nyong'o are all exceptional and have incredible range.
The Process
It varies. A niece or nephew could stop me in my tracks with a line that is pure magic on a summer day and an idea will take shape. Sometimes I will be on the bus and I will overhear a line that catches me and inspires an idea. At other moments, a history book can coax a new project to the surface.
I never outline. The story always unfolds in bits and pieces over time. The surprise of that sudden bit, is always a cause for celebration. It is almost like having an unexpected gift quietly delivered outside your door without a note.
Revision is when the hard work begins. Every word has to have weight. I listen to the lyric in the line. I can spend an hour on a single line. I usually work at home, but I also found a quiet place downtown.
The Buzz
School visits and personal letters from students are magic. I treasure them. A child's response to a book or song I composed is an important measure of success for me. I composed a few songs for each book I created. During the African American Children's Book Fair and the Multicultural Children's Book Festival at the Kennedy Center, I was able to perform Hey, Mr. Wind and other songs and invite the children in the room to join in and sing along with me. Those moments probably means the most to me. That being said, there is no denying that the CSK or Caldecott and other award honors can dramatically change the trajectory of a writer or illustrator's life. The Coretta Scott King Award is approaching its 50th anniversary, while awards like the American Indian Youth Literature Award has a younger history. They all honor the gifts of exceptional artists. But there are so many deserving artists who produce beautiful works of art each year.
The State of the Industry
Change is slow, but I try to focus on elevating the work of the emerging artists I meet. I follow the example of Toni Morrison and Toni Cade Bambara and June Jordan. Every day you have the chance to make a difference, to help open a door for a new and emerging voice.
Kweli
I have an autoimmune disease and it's on the rise in the black community. In 2007, I spent over a month in the hospital after a major setback and came home in a wheelchair. I tried to be optimistic about my prognosis. The arts community was my oxygen and I felt cut off from it. From my fifth floor walk up, I joked with my at-home nurse and at-home physical therapists and listened to second hand accounts from friends about the arts world that was now in my rear view mirror. Then one day I realized that it didn't have to be behind me; I could create an alternative arts community from my living room.
In the summers of 2008 and 2009, I gathered three of my former students from Frederick Douglass Creative Arts Center (FDCAC) to serve as editors and readers, and four friends and colleagues from FDC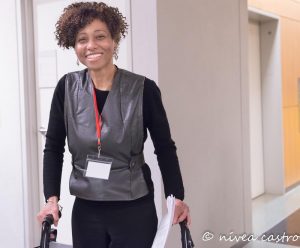 AC to join our founding board of directors. We had our first board meeting in a Harlem brownstone in early 2009, with donated food and space, wholly owning our vision for a multicultural literary community. In December 2009, we happily pushed Kweli out into the world after a hard labor. Over the past ten years, a small army of volunteers has helped Kweli grow from a biannual journal to a thriving community organization. Our first tentative steps are noteworthy. Our online literary journal and free Reading and Conversation series, presented in partnership with Black@NYT, have allowed bold new voices to share both page and stage with Hodder Fellow Cristina Garcia, MacArthur Fellow Edward P. Jones, and other notables. In addition, our Kweli: Color of Children's Literature Conference provides emerging writers of color with tools for success as well as access to industry insiders. For those with limited resources, our scholarships provided local writers, as well as those living around the country, with tuition-free writing classes and mentorship.
Kweli is staffed by a small circle of volunteers and I am the only full-time volunteer. As the ED, you become accustomed to wearing multiple hats, from teaching and fundraising, to event planning and line editing. Funding is a challenge for most non-profits, particularly smaller organizations and Kweli is no different. But we remain optimistic about our sustainability efforts and building our community.
Register for Kweli here. Follow Kweli on Twitter @kwelijournal.