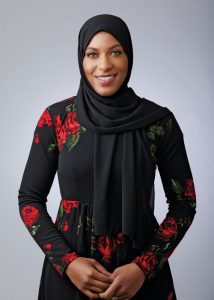 Changemaker and fencer Ibtihaj Muhammad breaks barriers. She was the first Muslim American woman in hijab to compete for the United States in the Olympics. She was the first Muslim American woman to earn a medal in the games, scoring bronze in the women's saber team event. She inspired the first Barbie in hijab, a doll that was made in her likeness.
It's no surprise that the Olympic medalist's books have uplifted people around the world. Her memoir, Proud: My Fight for an Unlikely American Dreamer and the young readers edition, Proud: Living My American Dream, won accolades for sharing her moving story of blazing a path and achieving Olympic success. Her picture book, The Proudest Blue: A Story of Hijab and Family (Little,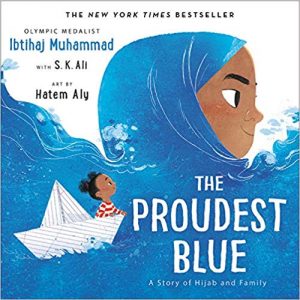 Brown) authored with S.K. Ali, illustrated by Hatem Aly, was an instant New York Times bestseller.
In the story, Faizah admires her big sister Asiya as she has the honor of her first day of wearing hijab. It's a magnificent blue, "the color of the ocean, if you squint your eyes and pretend there's no line between the water and the sky." Faizah, with light-up shoes and a sweet spirit, sees her sister as a  princess. But some kids see something else. They taunt and laugh at Asiya. Faizah, through her sister's example and her own strength and pride, rejects those hurtful words and celebrates the beauty of hijab and her faith.
Inspired in part by memories of her own childhood experiences, Ibtihaj created a lyrical story that affirms and enlightens. We're thrilled to salute her outstanding work on Day 13 of our campaign.
The Buzz on The Proudest Blue:
"Memorable and inspiring… Triumphant and true."―Kirkus Reviews, starred review
"A lovely blend of emotional lyricism and closely observed everyday life."―Publishers Weekly, starred review
"Aly's ink-wash-and-pencil illustrations settle and soar along with the language…. This story, as both window and mirror, inevitably educates, but more important, it encourages pride in and respect for hijab through a tale of two sisters, their bond strengthened by faith."―Booklist, starred review
"This excellent story about identity, visibility, and confidence, touches on rites of passage, bonds between sisters, and bullying and is unapologetic in tackling misconceptions and demanding equality."―School Library Journal, starred review
"Inspiring… The lovely, playful illustrations by Aly capture the spirit of imagination and sisterly solidarity in the face of bullying."―New York Times Book Review
Learn more about Ibtihaj Muhammad here.