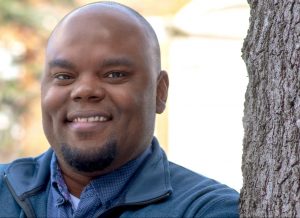 One of the highlights of the many highlights Kwame Mbalia has received is definitely the Coretta Scott King Honor Award for TRISTAN STRONG  PUNCHES A HOLE IN THE SKY. Kwame said, "It rattled me to my core. I never dreamed that my book would resonate with readers like it did, and I'm incredibly grateful, thankful, and seconds away from tearing up at any given moment." Congratulations Kwame from all of us at The Brown Bookshelf!
Kwame has taken time from his writing and family life to share his writing journey. Your fans would love to know more about you and your writing life, Kwame.
* * *
I'm a husband, father, writer, a New York Times bestselling author, and pharmaceutical metrologist in that order.  My debut middle-grade novel, TRISTAN STRONG PUNCHES A HOLE IN THE SKY (October 15, 2019) is published by Rick Riordan Presents/Disney-Hyperion.  I'm a Howard University graduate and a Midwesterner now in North Carolina, and I enjoy impromptu dance sessions and Cheezits.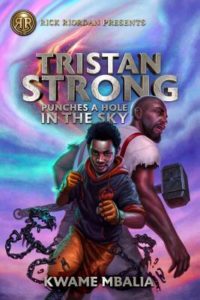 Kwame's Journey
I've always been a writer. It was the only way I knew how to express myself for a long time, whether it was leaving bad poetry for crushes, exploring the neighborhood where I grew up one sentence at a time or trying to write a story about cities I only visited in my head. My mother was a writer, and I guess it rubbed off on me, even though I never dreamed of actually getting published. Writing was just an extension of natural bodily functions, like eating and breathing. But—and this is the power of community—when I joined an online writing group and we shared our stories, the encouragement and feedback I received pushed me to think about pursuing a writing career.
His Inspiration
It's hard to pick from the amazing creators I consume on a daily basis. And make no mistake, there are tons of them out there, known and unknown. One of my favorite things to do is just browse social media and boost or comment on the work of creators trying to make their mark on the world. Hashtags like #DrawingWhileBlack, #amwriting, and #1000wordsofsummer collect a broad array of creators, and seeing their energy boosts my own.
The Process: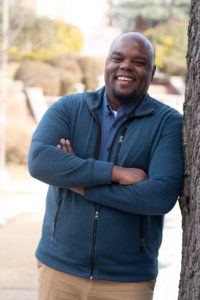 The only thing I really need to start is a character. Because first and foremost, I am a pantser. I find that creativity flows best when I sit down in front of a blank screen and let the character guide me. I discover their personality, problems, and motivations this way. Of course, being a pantser means the revision process has to be thorough. I read through my drafts several times, collecting ideas about organization and flow, and then make an outline (or a fancy list) of what I envision the manuscript becoming. I like to think of it as being analogous to pottery: those first drafts are blobs of clay that vaguely resemble the fancy sculpture I had in my head. Revision is where those blobs become a fine art.
Under The Radar
Tracy Deonn (LEGENDBORN, Fall 2020) and Jordan Ifueko (RAYBEARER, April 14, 2020) are two authors and women of color that I think will set the world on fire when their books are released. Please put them on your radar and don't take them off until I tell you.
What do you wish the children's publishing industry better understood about Black children's books / Black authors / Black illustrators?
More. More more more more more more. More more more, more more. More. MORE MORE MORE, more. More m-m-m-more.
What is still need in books centering on Black people and Black experiences?
Laughter. Love. Friendship. Healing. Growth. This isn't to say that books with these ideas don't exist, but I am saying that we need more of them and we need them highlighted and showcased.
More about Kwame:
Kwame enjoys presenting, including school author visits. Click on his website for more information –  www.kwamembalia.com.
Check out his fascinating interview with Rick Riordan.
https://www.readriordan.com/2019/10/01/rick-interviews-kwame-mbalia-tristan-strong
Follow Kwame on Twitter and Facebook
Twitter: @KSekuM
Facebook: https://www.facebook.com/kwame.mbalia