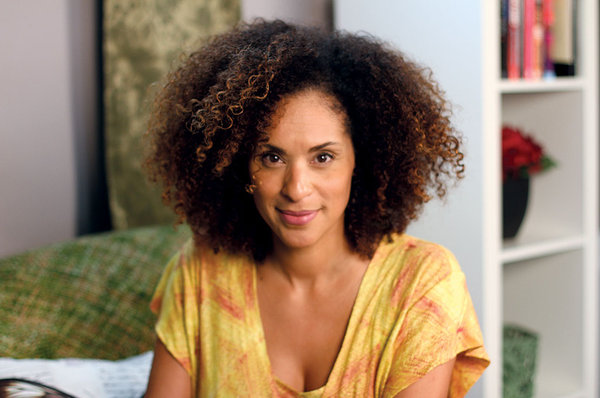 Back in 2017, I had the pleasure of chatting with Karyn Parsons about her nonprofit organization, Sweet Blackberry, she talked about her love of history, fostered by her mother's ability to tell stories "in ways that made them come alive."
Parsons went on to develop a series of award-winning animated films, bringing "little known stories of African American achievement to children everywhere."
When I asked what was coming next, she promised that it was gonna be good. And good isn't even the word. HOW HIGH THE MOON, Parsons' middle grade debut, In a starred review, Kirkus called it  "a captivating novel that sheds new light on Black childhood….A riveting read, this novel masterfully presents Southern and Northern conflicts through the perspective of a no-nonsense kid who is trying to find her place in the world." HOW HIGH THE MOON is lovingly and lyrically told, with vivid characters, and a deep respect for the middle grade audience. School Library Journal declared it "stunning", noting that Parsons "doesn't flinch from describing the realities of history, yet she imbues Ella's story with hope."  (Yep, a star on that one too.)
It's an absolute joy to welcome Karyn Parsons back to The Brown Bookshelf today as she shares the story of HOW HIGH THE MOON.
On the Journey:
"I think I was six years old when I began telling everyone that I was going to be an actress. My mother was a librarian and among the many books I pored over while waiting for her to get off of work were a series entitled simply Plays. Each volume contained two or three plays and I'd study every character, every line, every stage direction, all the time imagining myself performing the piece.
As the years went by, my desire to act never wavered. Eventually, I got involved in classes and workshop, got an agent, began auditioning and then booking work. It was relatively soon before I landed the role that would change my life: Hilary Banks on the Fresh Prince of Bel Air.
Over the years of working on the show, I constantly scribbled poems, outlines for stories, scripts for television and film, into my notebooks. But I never thought much of it. I certainly didn't think of myself as a writer. I was an actress. I'd been saying it for years. I'd made it happen. The title stuck.
When the Fresh Prince ended, a friend encouraged me to take a class at a community college with a creative writing instructor that she thought was really special. I wasn't sure why she was pushing so hard for me to take his class, why she was so persistent, but I agreed and went.
Everything changed for me on Day One. It was like I'd been starving for this my entire life and didn't know it. I loved all that I was learning. Loved writing. Couldn't get enough. For every assignment the teacher gave us, I did five. When he forgot to give us homework, I'd raise my hand and remind him (I made no friends in that class). My enthusiasm helped me earn a trip to the Squaw Valley Community of Writers Workshop through the college. There, I got to sit in on lectures by Amy Tan and Anne Lamott. I asked Richard Ford to read a short story of mine and he did! He even made notes on it and sat down to discuss it with me before the retreat ended. I was surrounded by other writers. I was in workshops with writers. In our workshops and outside of them, we read each other's work and helped each other with the pieces we were writing. It was new and scary and exhilarating. I was a writer.
I went home floating. I was convinced that this was what I was supposed to be doing. Over the next few years, I spent my time – the time I'd spent for years on a set acting – writing. I found writing classes and formed writing groups. I wrote for hours every day. And I clearly remember meeting with my writing group with my huge, pregnant belly pressing up against the dining room table.
However, once the baby came, things changed.
I was consumed. And while I was still constantly thinking about writing, I never seemed able to find the time or the energy. Eventually, I did pull myself together and start Sweet Blackberry, the organization that had been germinating in my brain for years. I wanted to bring little-known stories of African American achievement to children. Since self-publishing was new and mostly a mystery to me, I created animated films. And even though they weren't books they needed scripts. So, I wrote them. Still, I never thought of writing the Sweet Blackberry stories as a way to scratch my writing itch, but simply as a necessary evil. I was so busy juggling so much with the new company that I didn't think about my author self. Luckily for me, others were paying attention. To Sweet Blackberry and to me authoring the stories.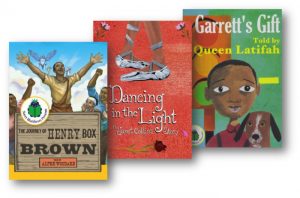 One day I ran into an old friend at a party. He and I first met when I'd just finished the Fresh Prince and even though he knew I was an actress and was familiar with the show, he became my friend when I was spending my days at my computer writing. When we bumped into each other, we hadn't seen each other in years, but had loosely kept up through Facebook. I knew he was married and had a little girl. He knew what I was doing with Sweet Blackberry. I didn't find out until the party, however, that he was now a literary agent. I was excited to hear about his success, but in no way made any connection between what he was doing and my writing. How could I? As far as I was concerned, I wasn't writing. I was constantly, quietly, berating myself for not doing the thing that I longed to do. I was ashamed of myself.
This friend suggested we get together and even though we were meeting at his office, I thought we were going to grab a drink and catch up. Instead, he told me that he thought it was time I write a novel. I was caught completely off guard, was at once embarrassed and ecstatic. Someone saw me as a writer. And with that show of faith, with that encouraging nudge, I found the time, sat my ass down, and wrote How High The Moon.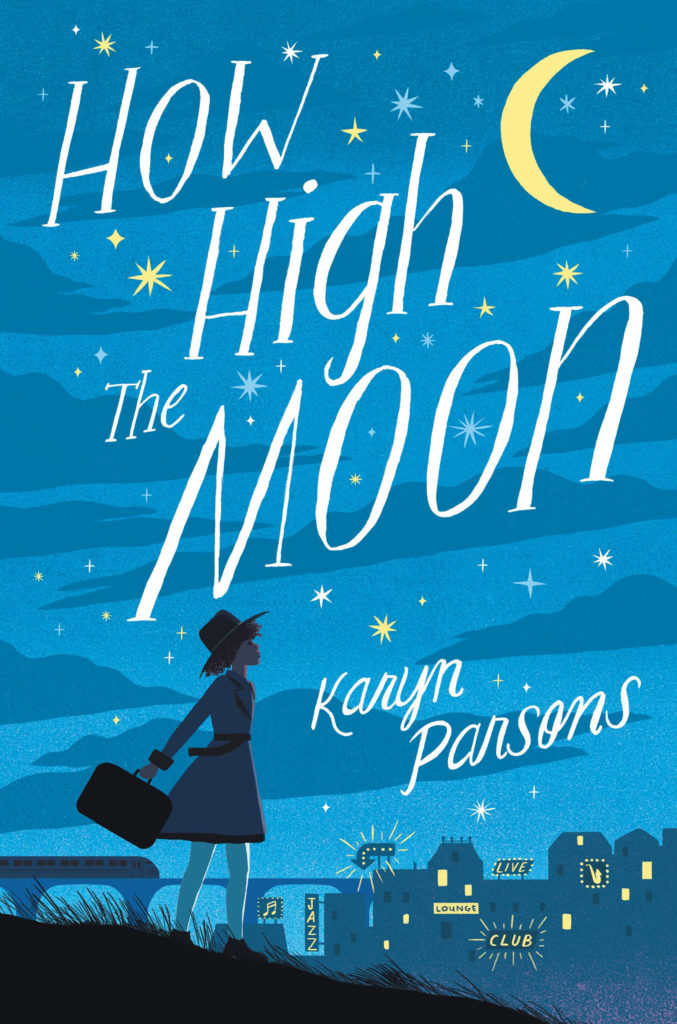 "You may recognize Parsons as the actress who portrayed Hilary Banks opposite Will Smith on the 1990s sitcom "The Fresh Prince of Bel-Air," but with How High the Moon, she proves her talent as an author, adroitly packing plenty of plot, characterization and feeling into this story. Begging worthy comparisons to One Crazy Summer and Brown Girl Dreaming, How High the Moon heralds an exciting new voice in historical fiction for young readers." — Bookpage

On Inspiration:
Jacqueline Woodson makes my heart sing. Her grace is unmatched. She leaves so much love on the pages she touches. You can feel it. I could never write like her, but I feel such warmth when I read her. I love that her writing doesn't feel like it's just for kids. I find myself forgetting that I'm reading a young person's book when I read her. And having met her and heard her speak, I can say that I find her just as inspiring a person as a writer.
Toni Morrison inspires the f*ck outta me.
One of my favorite things to do is listen to a Toni Morrison book read by Ms. Morrison. THAT IS THE BEST. And while no part of me expects to ever be able to write like the queen, I'm so inspired to write after reading or listening to her. It's almost like there's a subliminal "Get off your ass and write!" being shouted under the text.
On Process:
In terms of where I do it, I can't tell you how much I wanna do like Maya and get a hotel room. Unfortunately, it's a luxury I cannot afford, so it's mostly cafes and the Writer's Room in NYC (a small amount of luxury I finally gave in to, and has been worth every cent).
I'm the sort of writer who does better in a closet than perched in a window seat. I need ZERO distractions. Any outside stimuli can pull me away and I find it hard to get back. I can't help but feel that growing up an only child, I became conditioned by always having lengths of uninterrupted time to myself. To be alone with my thoughts. Now, I live in a circus with my husband, kids, animals. Chaos 24/7. The only child in me can't get a lick of writing done in the house. I need a quiet space, nobody calling me, nothing to look at (unless it informs what I'm writing), NO music (why I traded cafes for the Writer's Room)… some space to let my mind wander.
In terms of approaching story… I began work on my new book in an entirely different way from my last. And I still started off feeling as scattered as last time. I would love a magic formula for hopping on the horse and taking off full gallop. Haven't found it yet. Been told I probably won't.
In Gratitude:
I can't say enough about the outpouring of love and support I've been welcomed with by the black writing community. Particularly authors of children's books. I think I really expected to be dismissed because of my actress background, but instead people have been warm, encouraging, and eager to help guide me on this new journey. And the Brown Bookshelf has ALWAYS supported me. Back when I started Sweet Blackberry. Before How High The Moon.
I cannot thank you enough for that love.
We can't thank you enough for this gorgeous book! Looking forward to what's next.