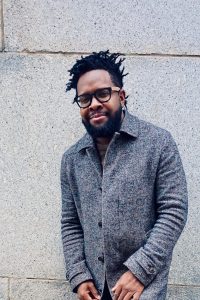 Today we're meeting debut YA author Justin A. Reynolds. His time-jump romance is FIRE. No joke. We asked Justin to talk a little about his work and his burgeoning career.
THE JOURNEY
My journey to publication was, in many ways, outside of the traditional path. After years of rejection and a few almost-made-its, I finished Opposite of Always right around the time I heard about a Twitter pitch contest called #DVPit, or Diversity Pitch. It was created by a literary agent named Beth Phelan with the express purpose of providing marginalized voices an opportunity to showcase their in front of agents and editors. I almost didn't participate in the contest, though; primarily because I didn't think there was much chance my work would be seen amid the hundreds, if not thousands, of other pitches. But in the end, because this was not only a direct path to a few agents who did not accept unsolicited manuscripts and because it didn't cost me anything but the time it took to craft a few Tweets, I decided to try anyway. And by the end of the day, I had many agents and editors expressing interest in my story. I then submitted a query to a handful of those, and eventually I had a few offers of representation, including one from Beth Phelan, which I went on to accept. We worked on fine-tuning the manuscript together and then we went out on submission, and within a day we had great feedback, and a couple of days later we had a couple offers. Eventually, because of the interest level, we held an auction, which resulted in a partnership with Katherine Tegen Books, an awesome imprint full of incredible people.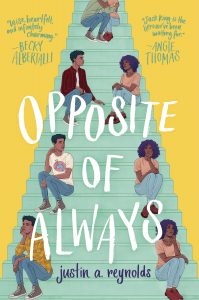 THE BACK STORY
I was born to a mother who loves to read, to a woman who was always crafting stories of her own. I can recall her sitting at her word processor and her fingers flitting across the keyboard in great urgency. This was a person who was also a middle school teacher, and who would later become a librarian at a public library. She put books into my hands, into my sister's hands, well before we could read the actual words, which didn't deter us because we just made up our own stories to match the pictures we saw. And this love for reading fueled my own love for writing, and from an early age I knew that one day I would be in a position to share my stories with others, even when I wasn't always clear on how that would happen. I could feel it, intrinsically. I was constantly writing short stories and poems and plays and comic strips just for my own enjoyment, but I was also fortunate enough to have many other people–teachers, librarians, educators–also fan those creative flames. But yes, my story absolutely starts with my mom. Love you, mom!
THE INSPIRATION
This story was born out of great personal loss. In rapid succession, I loss my aunt and one of my best friends; and around the same time a patient whose life I had the pleasure of being a small part of as a registered nurse working on an oncology and hematology unit, a patient who lived with sickle cell disease, until it eventually contributed to her untimely death at age 24. I was deeply saddened by the absence of those three people, but also I was angry. All of the things I believed in, all of the faith I had, felt misplaced. I couldn't understand why bad things happened to good people. I had more questions than I had answers because the old answers were no longer enough, no longer satisfied this urgent desire to understand what we were supposed to do with our lives. Why were we even on the surface of this planet? Opposite of Always was my attempt to understand this world, to understand what it means to be human, and why it's important to be vulnerable even when we know pain is an inescapable eventuality. But most importantly, for me it was a celebration, not of these deaths, but of the way they led their lives–with grace, empathy, humor, and compassion. I hope they live on within those pages.
THE BUZZ
The book has received, sometimes to my surprise, a great deal of attention. It's been published in 19 languages and counting. The film rights were sold to Paramount Players at auction. It actually made an end of 2019 list for books that made the most 'Best of 2019' lists, which is mind-boggling. It's received starred reviews from trade publications that mean a lot to me personally. But most of all, and far and away the coolest things that's happened since its publication, is being able to meet so many incredible kids and teens who are excited to see two black kids on the cover, who are ecstatic to be the heroes in a story and not just the funny sidekick, who tell me how awesome it is to see themselves wholly in my work, and then bestow upon me the amazing privilege of hearing their stories, their experiences, there's nothing better.
THE STATE OF THE INDUSTRY
First, before my opinion, I'll start with facts. The latest independent studies clearly bear out that the publishing industry has not made nearly enough progress in supporting and promoting the work of people of color and other marginalized communities. The statistics show the diversity gap looms as large as ever–which means we still have a lot of work to do. More to the point, the current gatekeepers of the industry have a lot of work to do. The most common misconception when it comes to the push for diversity is that these marginalized communities are looking for a handout, are asking for charity. This couldn't be further from the truth. They simply want an equal opportunity. Black children book's creators are as resilient as ever, yes, because perseverance is woven into our fabric, is inscribed in our DNA. But we need more change. And for the sake of all of our children, we need it now. The only way this will truly happen is to have more people from these marginalized communities in positions of power and real influence. If our goal is lasting and meaningful diversity within our children's books, then we need that same diversity among acquiring editors, agents, executive boards, and leadership staff. But I'm hopeful. I know many people who are pushing for this change to happen and who are working tirelessly to ensure it does. I'm thankful, and happy, to be a small part of that. And I'm excited for what our future holds!
Thank you so much for inviting me to share my story, Brown Bookshelf!
You can connect with Justin A. Reynolds on his website: https://www.justinareynolds.com/ on Instagram: https://www.instagram.com/justinwritesya/ and on Twitter: https://twitter.com/andthisjustin