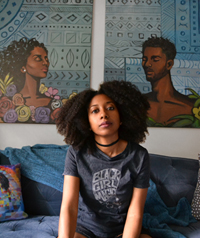 Born in Toledo, Ohio with strong family roots in Detroit, Michigan, Keturah grew up with parents that instilled in her the importance of individuality and creativity.
Many of her illustrations depict empowering messages of black women and girls. Her paintings are renown for having large bold beautiful hair styles and representing an underserved, but growing, population of self-aware people within the African diaspora.
And one look at the abundance of her products online is all you'll need to see exactly what we mean. Keturah is literally a one person shop that features everything from hand-painted denim jackets, to Tees, to prints and mugs all adorned with her beautifully rendered black women.
We asked her about her journey, her backstory and her inspiration.
These are her words:
THE JOURNEY
As an artist it is my duty to make art that inspires, uplifts, and advocates for my community. Nothing is more important in my art than this. I have been consistently working as an art entrepreneur since 2013. Creating my own body of work and doing freelance art projects ranging from logos to entire bodies of work. I was contacted by HarperCollins in 2016 and they were interested in working with me on Grace Byer's children's book "I am Enough."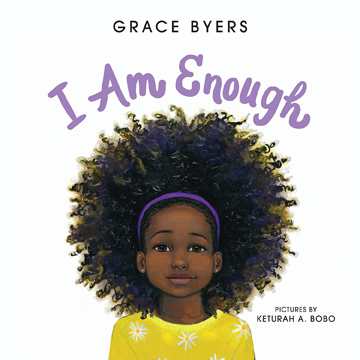 THE BACKSTORY
HarperCollins was familiar with my work via social media and presented various artists to Grace and she chose my work because the intention behind my paintings so closely relates to the purpose of "I am Enough."
THE INSPIRATION
My favorite writer by far is Toni Morrison. She has the ability to utilize words in such a visual way, I'm inspired to paint something every time I read one of her books. My favorite illustrator is probably Kadir Nelson; I love the way he alters perspectives and makes the characters he paints appear monumental. I love music and it is always apart of my creative process.
---
You can learn more about Keturah and see more of her work at www.arielbrands.com