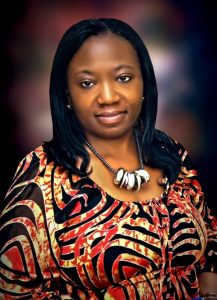 A Visit to Grandad: An African ABC is an "alphabetical adventure" set in Modakeke, Nigeria, with characters who are "positive models for the African culture, food and way of life." It is written by today's picture book author honoree, Sade Fadipe. A Visit to Grandad was first published in England as A Fun ABC before its U.S. release under a different name. Both versions of this lively story are published by Cassava Republic Press and richly illustrated by artist Shedrach Ayalomeh.
Fadipe, an educator and literacy advocate, is also a wife and mother to two teenage daughters.  She loves cycling, sings in a local choir, and is addicted to solitaire. Fadipe currently lives in Essex, UK.
Join us in welcoming author Sade Fadipe to The Brown Bookshelf!
What was your journey to becoming a children's book author?
On becoming a Children's Author: the journey was a blind one, with crooked tunnels obstructing the light ahead. Born in London and raised in Rolvenden in Kent till age six, I concluded my primary school in Nigeria as my parents returned to 'homeland', after their education. In secondary school, my go-to subjects were English and Literature; doing poorly in everything else. Short story: with loads of encouragement, hard work and parental support, I earned a BA English (Linguistics) and Post-Graduate Degree in Education. My teaching career commenced in England, in the early nineties and that was when my interest in children's picture-books blossomed. Though, never once, did I dare to dream; I could write one too!
Please share the back story on how A Visit to Grandad came to be.
During a sojourning season, I spent time out in Northern Nigeria. This was new territory for me as my parents are from the Yoruba tribe of South Nigeria. Whilst there, I had the opportunity to run workshops based on my UK teaching expertise. For instructional purposes, I drafted an abecedarian script (reflecting the setting, life and culture of the people) to use during the training sessions. I included objects the children could relate to – rather than the typical 'A for apple', they had only ever seen in books.
My path to publishing was orchestrated. Two weeks after creating the abecedarian script, I sat next to a Caucasian doctor (at an autism seminar) who coincidentally, happened to know a publisher in search of authors with indigenous content! I returned home to flesh-up the abecedarian script into an adventure of a girl visiting her grandad in a rural setting. I did not want it to be a recital book, purely for the sake of learning the alphabet. A few months later, I signed the book contract – I couldn't have worked that out myself; it was sheer destiny!
I continued to write. Within the same year, I put myself forward for a children's story-writing competition, organized by the Spanish Embassy. After being awarded Second Runner-up, I perceived it a sign to follow the path set before me. By June 2016, A Fun ABC was published in England. Three years later, it gained further recognition in the USA but under a different title and format: A Visit to Grandad.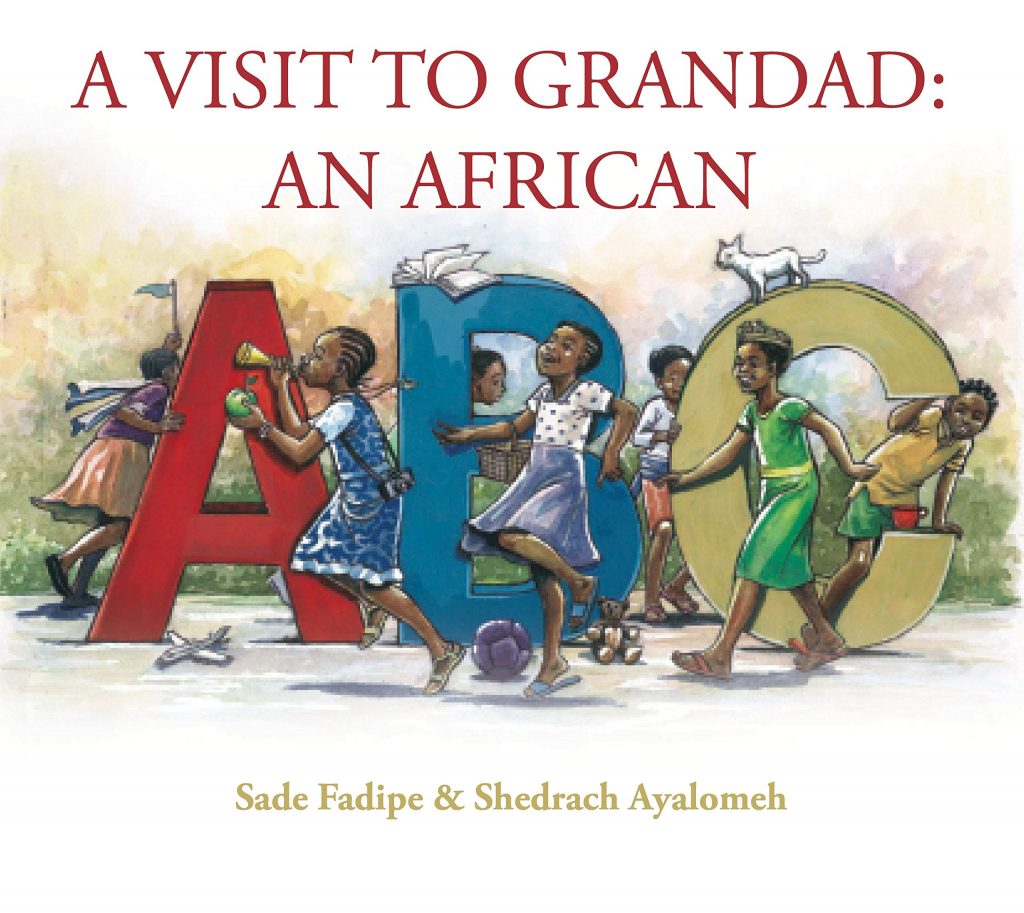 Whose work inspires you?
I admire John Burningham's work; it inspires me beyond all other traditional picture books! He crafts his stories so simply, yet the moral behind them lingers for more than a while. There is always a subtle message that is presented for children to understand with ease. I also like Quentin Blake. First, because I have met him in person. He once did an author visit at a school where I taught for many years; I was mesmerized by his craft. Second, because he is the acclaimed illustrator of Roald Dahl's picture and chapter books.
Most of all, the Legend, Maya Angelou inspires me beyond words. I love her poetry and marvel at how she celebrated others, unaware that she was the bigger star.
How do you work? Do you start with a character…a concept…an idea?
I believe my characters are rooted within me: somewhere. My writing process is quite traditional as I start off with pen to paper, then appallingly, sketch it. I revert to the draft times over, checking on a solid structure before typing it out. Once I've typed it and it's on the screen, I toy around with the plot and word-appropriateness.
Who are some authors or illustrators of color you believe are rising stars?
Carrol Nelson whose first book, Dolly May and the Magical Enchanted Garden is written to inspire, educate and stretch the imagination of children: to dream big and to realize they can be whoever they want to be. Carrol is a Personal Development Coach, Mentor and Educator.
Cynthia Reyes, now a Children's Author, an acclaimed Canadian journalist and children's television producer (retired). She is the bestselling author of the "Myrtle the Purple Turtle" series – illustrated books for children. She published her first children's book twenty years after reading it to her then young daughter, in addressing self-esteem and confidence. The Myrtle Series are still touching young lives, as much as it did her daughter's.
What are your thoughts on the state of kidlit by authors of color specifically, or your views on children's book publishing more generally?
One side of the coin would be: As people of color, we need to cleanse our subconscious from the left-overs of colonialism. The effects being that we are yet to fully trust picture books with black kids on the front covers. In addition, a good number of black people tend to read mainly educational and self-help books. As a result, we buy similar genres for our children. A work of fiction is an invention and the power to imagine is what brings about its creation. We need to engage our children in the creative process by exposing them to books they can relate to (identity-wise) and books that have to potential to widen their horizons, empowering them to be the best version of themselves.
The other side of the coin being: Well-established publishers need to support black children's authors (and the smaller presses) to ensure a buoyant circulation of books. All children need to gain access to literature that speaks to and about them, as global citizens. I commend Cassava Republic Press UK & USA, who (despite being a young publishing outfit) continue to ensure high-quality books are subsidized for the African continent: to keep children and adults reading.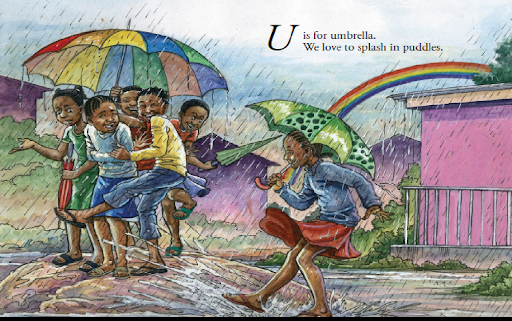 The Buzz
"Unlike ABC books that are primarily informational, this rhyming, poetic one has a continuous narrative that is more prominent than the walk through the alphabet.
During a school break, Adanah, a little (probably Nigerian, like the author and the illustrator) girl with cornrows, leaves her mother and little sister at home and rides with her father to Grandad's house. On the C page, before she leaves home, the protagonist says she will take her camera on her trip, and at the end of this circular journey, she shares all of her photos with her little sister—Zainab.
From Nigeria, a wonderful story of community that will encourage readers to see both mirrors of their own lives and windows into another fascinating place. (Picture book 3-7)" –Kirkus review, 2019
A Visit to Grandad (Cassava Republic 2019) has an older twin-sister, titled A Fun ABC (Cassava Republic Press – UK, 2016).
My latest book for mid-grade readers is garnished with cultural spices beyond its Eurocentric title! NOW ON AMAZON: Snowy Joy (released on 3rd Dec 2019).
I have featured at national events in the UK such as Africa-Writes – The Malcolm X Centre, Bristol; Africa Utopia – The Royal Festival Hall London; Libraries, Schools, Book Festivals, etc.
WATCH OUT for A Bouncy 123 (Cassava Republic, 2020) due in June.
Follow Sade Fadipe on Twitter!